In gruesome celebration of the release of Zombieland: Double Tap and Deering Banjo Company's second edition of their Goodtime Zombie Killer (available only until October 31!), we thought now would be the perfect time to ask Jamie Deering a few practical questions about how, why, and when a banjo can best be utilized to prevent zombie armageddon — and all sorts of other disasters.
This grotesque, ornate, and patently practical instrument is perfect for all manner of uses, from jamming on "Spooky Mountain Special" to "Over in the Zombieland" to bashing whatever monster may stand between you and your favorite brand of snack cakes.
Let's go with the "chicken or the egg" paradigm to start us off. Did the films inspire these banjos, or has Deering been sitting on the confidential information that banjos are useful as part of zombie elimination strategies this whole time?  
Jamie Deering: We wish we'd been the one to come up with the idea, but the hilariously creative minds of the Zombieland team get all the credit. As to why Deering took it to the next level, incarnating the Zombie Killer Banjo originally back in 2013, this is thanks to a few years of dads and scouts in [Deering Banjos founder] Greg Deering's Boy Scout troop reminding him around the campfire that banjos kill zombies — based on the fateful Zombieland grocery store scene. 
After hearing about it enough, Greg decided the rest of the world deserved to be prepared when the apocalypse happens, and no other banjo would do!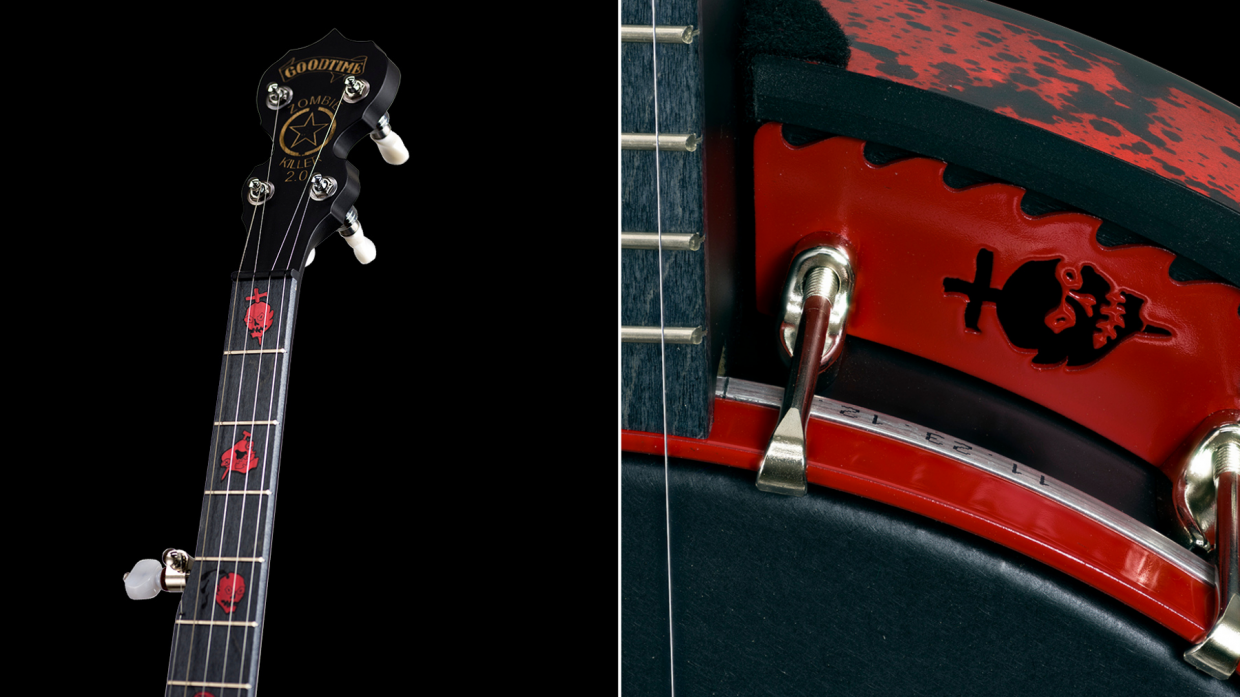 Deering is known for stunning detail work, and this banjo takes it to the next level! What inspired the inlays, the flange details, the resonator look, and all of the little intricacies that make this banjo so special?  
To be sure it was fully effective in subduing the living dead, Greg first changed the traditional smooth edge of the flange pieces to be serrated like a saw blade. As it is well documented, an effective way of ridding oneself of a zombie problem is decapitation.  
 The inlays and flange art serve as a sort of handbook of what it will take to deal with zombies and help one from getting too squeamish when faced with the bloody mess they are destined to confront while saving the world from the undead. 
The pre-blood smattered resonator is a popular feature; if we made it beautiful, out of curly maple, any self-respecting banjo player would lose precious time debating whether their life or their banjo was more important when face to face with a zombie.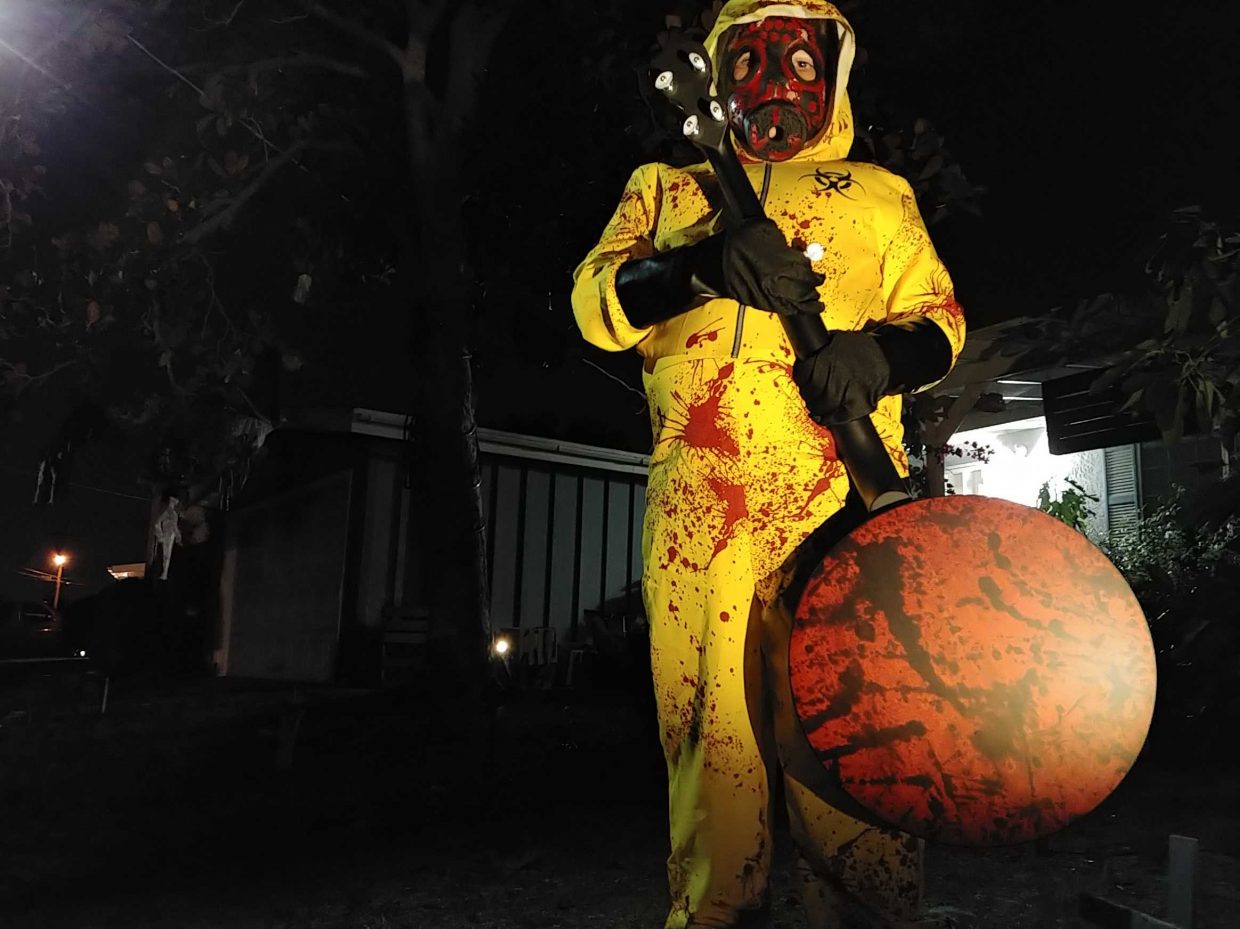 Banjos — and bluegrass, as a whole — have big moments in the spotlight, on screens large and small, every few years. Why do you think these moments have such broad reaching cultural impact?  
It's banjo and bluegrass! They have a liveliness and bright energy to them. From the beginning bluegrass has been musically sharing a vibrant feeling of life; it takes the good and the bad and celebrates them in ways that make it almost fun to remember when "great aunt Betty" poisoned "cheating uncle Willy."  When it gets in front of a larger audience there is a draw to it and a desire for that kind of music that makes one feel whole and alive.  
 The banjo also carries a cool factor that most instruments just can't pull off. Whether it's Zombieland or O Brother, Where Art Thou? or Kermit the frog, banjos have this natural tendency to pique viewers' interest. They hear the sound and say, "Whoa, that's cool!"  
Except Deliverance… that scene is memorable for entirely different reasons.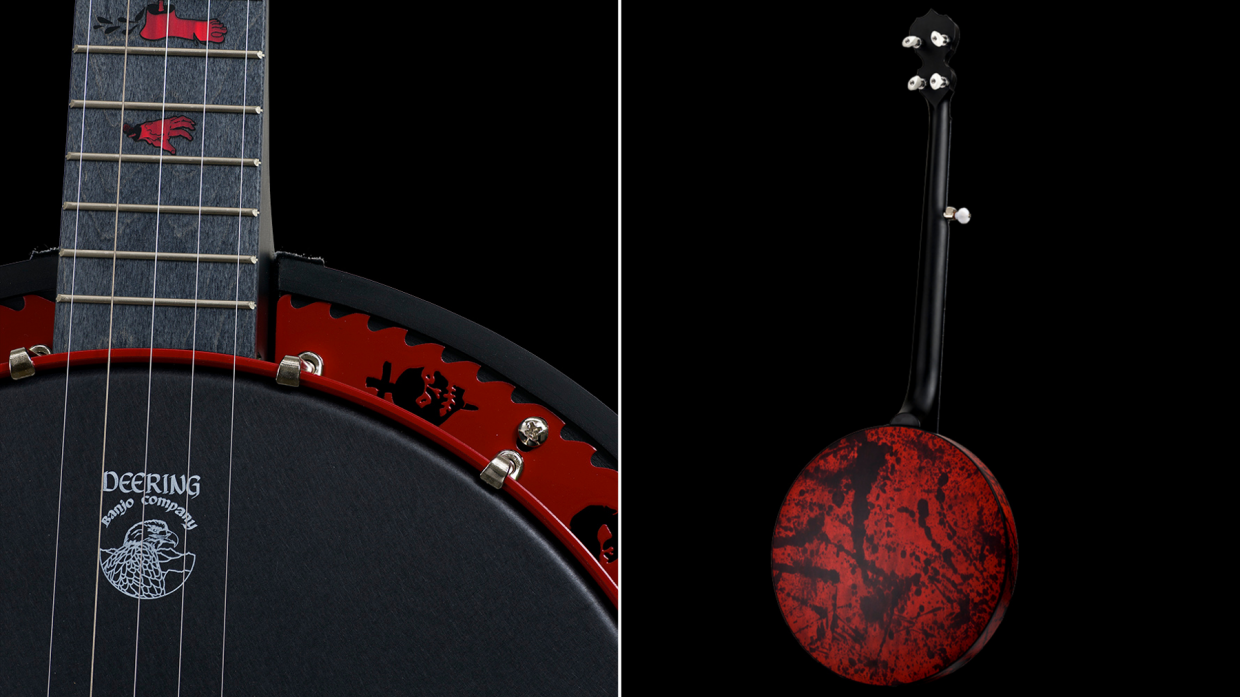 Does Deering have any other exciting, unique, or slightly twisted concepts coming our way? Do you have any favorites from the past that follow in the vein of the Zombie Killers I & II? 
We recently launched the Custom Goodtime Banjo Builder page. It is a brand new interactive page that allows one to create their own Custom Goodtime Banjo! Simply pick the model you want and have a ball customizing it. Choose your stain, hardware color, head type, and more. You can even personalize it with a name on the peghead. It has been a dream of ours for years to be able to offer this! We are stoked to have been able to launch it. It's like a video game for banjo players while you are deciding on your perfect look. You see the colors change as you adjust it. We have found ourselves playing on it way more than is probably right!  
Finally, we know these machines surround hate and force it to surrender, and just a few weeks ago a man used a banjo to smash the infamous Wall Street "Charging Bull" statue, what is it about the banjo that lends it to these uses of… direct action?  
Surprisingly, we have given this topic some thought since that fateful day on Wall Street. Luckily for the banjo's reputation with TSA, what the man wielded was not in fact a true banjo. It was a weapon made to symbolically resemble the shape of one. 
 That aside, the banjo is truly the people's instrument. If you look into the history of the instrument, while it has some dark spots, since the early days it has been an instrument at the core of uniting people in communities no matter one's background or status, bringing joyful moments and the feeling that things can get better. When one hears banjo music, even when it is a sad song, it uplifts and gives one a renewed sense of belonging and vitality.  
 As a result, it tends to show and evoke deep feelings in people when used in addressing social issues in protest songs, attacking bulls, and the like.  
What does Deering give out to trick-or-treaters on Halloween? I.e., should we all add Deering to our list of stops on beggar's night!? 
While all the Deering Banjo Elves head home by 5pm every weekday and have the weekends off, during the day on Halloween we will have a variety of sweet, as well as twangy, treats one can come forage. Ghouls and goblins of all kinds are welcome to haunt us that day.  
For those causing mayhem year-round we do offer factory tours contact us to schedule your drop in! 
---
Photos of the Goodtime Zombie Killer II courtesy of Deering Banjos