Home to the University of Arkansas, the northwest Arkansas town of Fayetteville is an artful and musically inclined college town surrounded by the scenic Ozark Mountains. Maybe there's something in the water, because northwest Arkansas is home to some big businesses, as well, including Walmart, Tyson Foods, and J.B. Hunt. More than 300 Fortune 500 companies can be found here — one reason the area continues to be a destination for international businesses. It's not all business, though. Explore Fayettechill like a local by biking the Frisco Trail, stopping for local beer and music along the way.
Getting There
Fayetteville has a regional airport with direct flights from select big cities to northwest Arkansas Regional Airport (XNA). It's a quick 30-ish mile trip from Missouri and Oklahoma, and a couple of hours from Springfield, Illinois, and Tulsa, Oklahoma.
Where to Stay
The Dickson Street Inn is the top-rated bed & breakfast in the city and is in a Victorian house built in the 1800s. If you want the local flair, your best will be AirBnb accommodations to avoid chain hotels and stay like a local. Prices range from $80-100 per night.
What to Do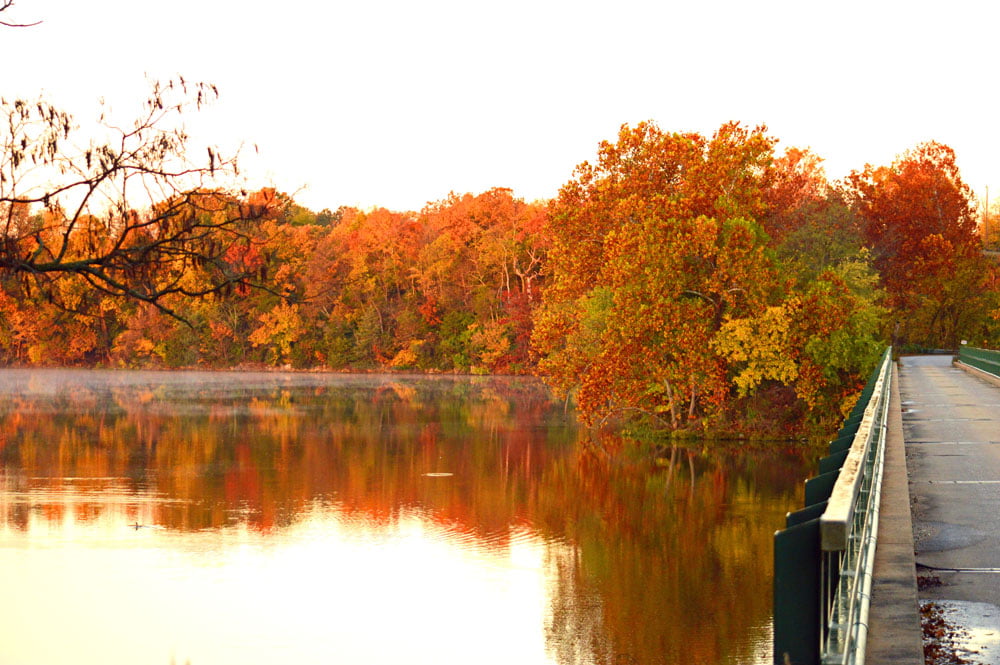 Lake Sequoyah, courtesy of Fayettevillear.gov
Our Traveler locations all have a common thread: natural beauty. We're admittedly nature enthusiasts, and picking Fayetteville was no exception. Lake Sequoyah sits on 1,400 acres of land and is a notable bird watching and swimming spot. Home to more than 40 miles of trails, Fayetteville's trail system is designated as one of 37 International Mountain Bicycling Association Ride Centers in the world. The Frisco Trail is a great way to explore Fayetteville by bike, connecting Dickson Street to south Fayetteville.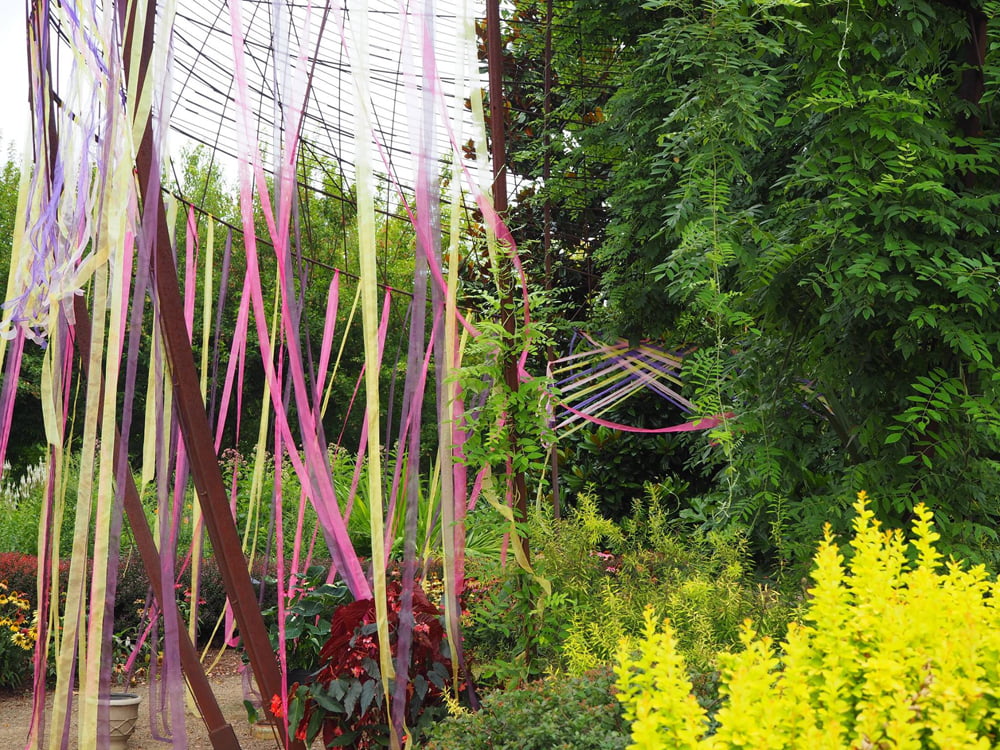 Botanical Gardens, courtesy of the Botanical Garden of the Ozarks
The Botanical Garden of the Ozarks hosts 12 themed gardens and a butterfly house on an immaculately maintained property showcasing the woody, herbaceous, and exotic plants and flowers that thrive in northwest Arkansas.
Embrace your inner nerd and visit the Fayetteville Public Library, ranked one of the top libraries in America by USA Today. The library has the busiest self-service checkout kiosk in North America, and is a notably green building. For the politically inclined, the Clinton House Museum is of note. Home to the first family of Fayetteville, Bill and Hillary's former abode and marriage venue is located near the University of Arkansas' campus, where both taught in the 1970s.
What to Eat & Drink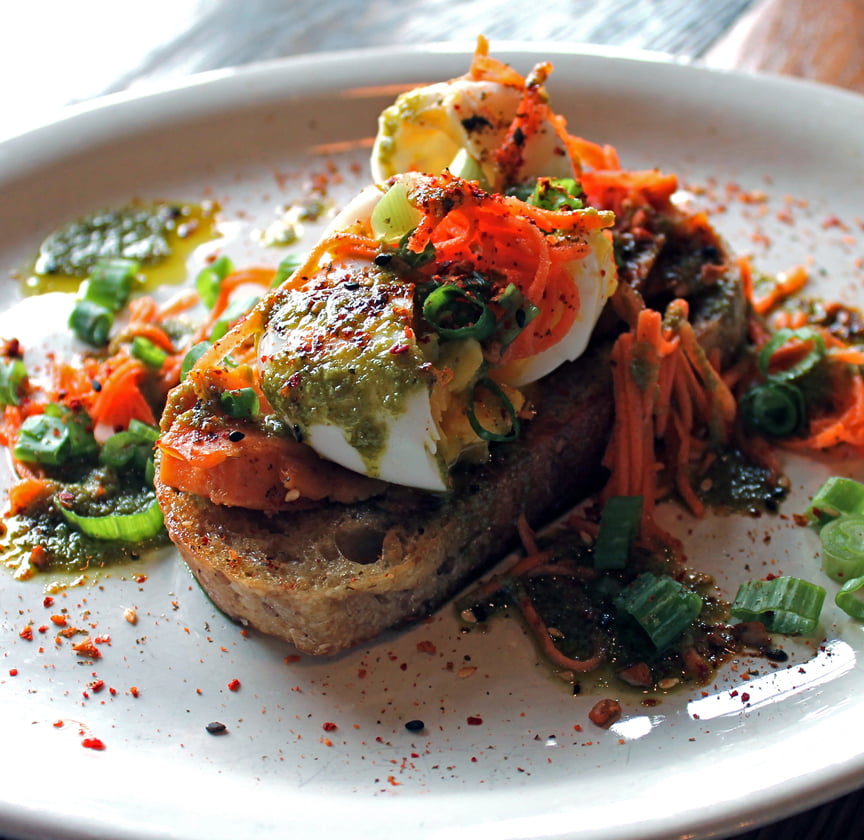 Arsagas eats, courtesy of Arsagas Depot
Arsagas Depot is housed in an old freight depot, specializing in crepes, coffee, and a full service, locally focused menu. Get your fancy 'za fix at Wood Stone Craft Pizza with Thai curry pizza and $2 local draft beer during happy hour. For the veggies, Greenhouse Grille is the local go-to. A gem of the town, Little Bread Co's motto is, "Everything tastes homemade, because it is!" Grab Seinfeld-themed bagel sandwiches and coffee right off the square at this spot. Dirty Apron Bakehouse is another new bakery in town that comes highly recommended. Head to the College Avenue Yacht Club for all kinds of food truck fare.
Get your mixology on at Maxine's, one of the oldest bars in town, while whiskey aficionados will love Smoke and Barrel. For all other drinking needs, Dickson Street's got ya covered. It's full of a variety of a mix of dives and fancy cocktail spots.
The Arts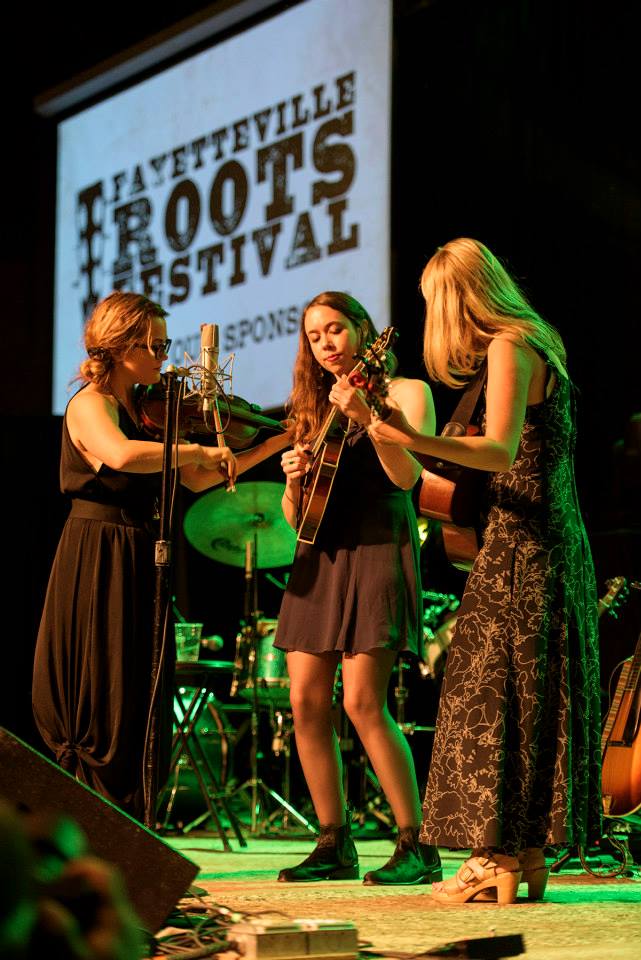 I'm With Her, courtesy of Fayetteville Roots Festival
George's Majestic Lounge opened its doors in 1927 and has been hosting live music ever since. It's the longest-running venue in Arkansas and hosts BGS faves like Elephant Revival and Nikki Lane. The performing arts thrive at Walton Arts Center on Dickson Street. Block Street Records is a not-so-hidden gem of a record store, hosting local music and art shows.
Perhaps the pinnacle of the music scene in Fayetteville culminates with a widely renowned festival called Fayetteville Roots. Recurring each August, the annual event spans four days and features dozens of musicians on indoor and outdoor venues throughout downtown. Catch BGS there this August alongside performers like the Wood Brothers, Rodney Crowell, River Whyless, and many more BGS sweethearts.
Fayetteville's art community is evidenced in the bustling gallery scene, and> Fayetteville Underground stands out among the rest as a hotspot for local artists. Nightbird Books is a great small contemporary book shop that has readings and art shows fairly regularly.Dickson Street Bookshop is another local bookshop and our favorite place to buy used books because of the vintage, European vibes.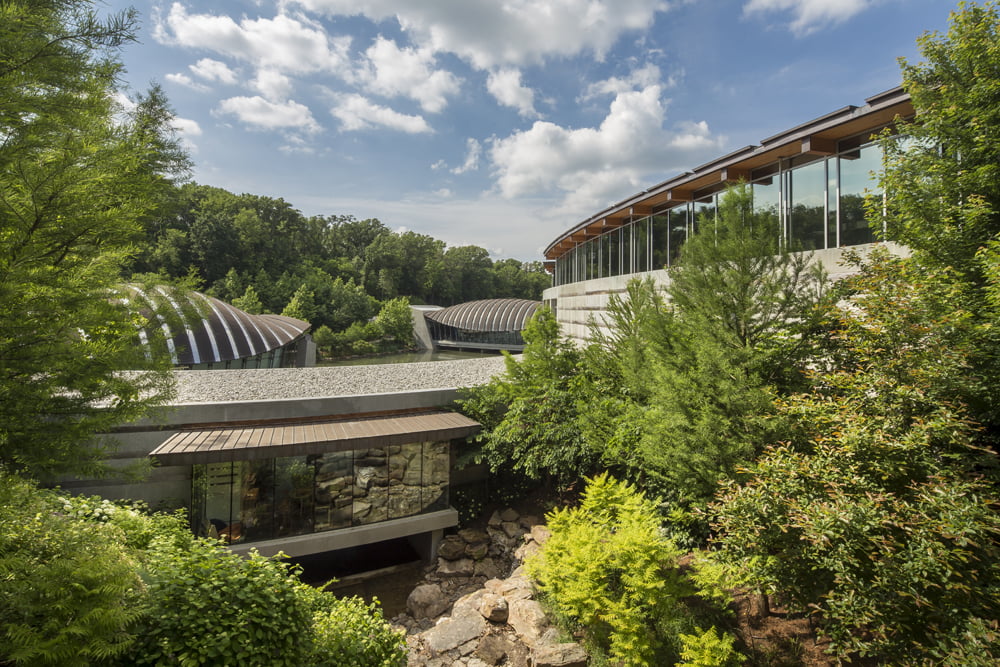 Crystal Bridges, courtesy of Crystal Bridges Museum of American Art
The world famous Crystal Bridges Museum of American Art is a worthy day trip away. Everything from the art it houses to the architecture of the building to the free admission make it a great experience.