"Hi, bonjour, hello," is the greeting when you walk into any spot in the faux-Euro artsy port city of Montréal. This vibrant, French-speaking city is full of open-air markets, intricate architecture, vintage shops, and every kind of art. With just a quick hop over the U.S. border, English speakers may get cold feet upon arrival, but 56 percent of the population can speak English and French. Between Mont-Royal, the walkable streets of Old Port, and the array of diverse museums, you'll want to pack your walking shoes, then refuel with the carb-heavy signature dishes of the city.
Getting There
Montréal has an international airport named for everyone's favorite hunk of a prime minister's dad: Pierre Elliott Trudeau International Airport. It's 12 miles from downtown and a quick city bus ride into town. Multiple railway lines service Montréal, including a daily Amtrak train to and from New York City. From Montréal, you can also hop on a train for a quick trip to Québec City or Toronto.
Accommodations
A variety of quality hostels, like Hi-Montreal in downtown or Auberge Saint-Paul in Old Port, range from $15-25 CAD for shared rooms to $85 CAD for private rooms. Most of them have free wi-fi, free breakfast, and an upscale European vibe, unlike many seedy American places that give hostels a bad rap. There are also plenty of Airbnb options and quaint hotels, if you're looking to spend a little more. Check out Hotel Nelligan or W Montréal. Staying in or near downtown is a good idea, if you're sans car.
Entrée Libre Attractions (Free Entry)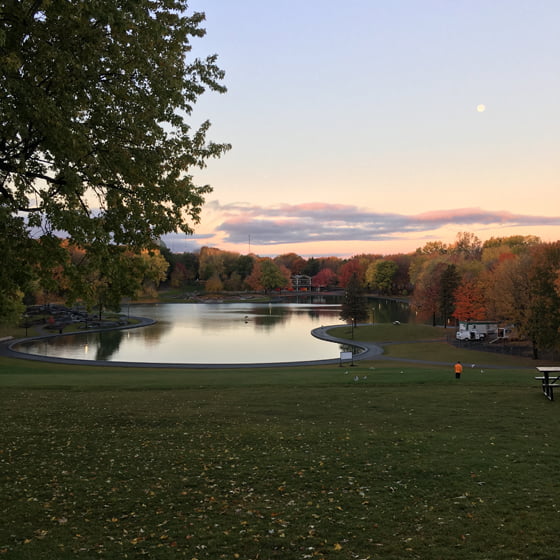 Just walking the streets of Montréal could take up a whole trip to the city. There's also a lot to take in if you're strapped for cash. Mont-Royal was designed by Frederick Law Olmstead (Central Park, the Biltmore) and is a great people-watching spot, with lots of room to hike, bike, picnic, etc. Highlights include Beaver Lake, a chalet that overlooks downtown Montréal, and an old cemetery. It's also home to Tam-Tams, weekly drum circles held on the lawn — a uniquely Montréal tradition.
Saint-Laurent Boulevard is peppered with murals, vintage shops, a stretch of Chinatown, clubs, and the best bagels you'll ever eat.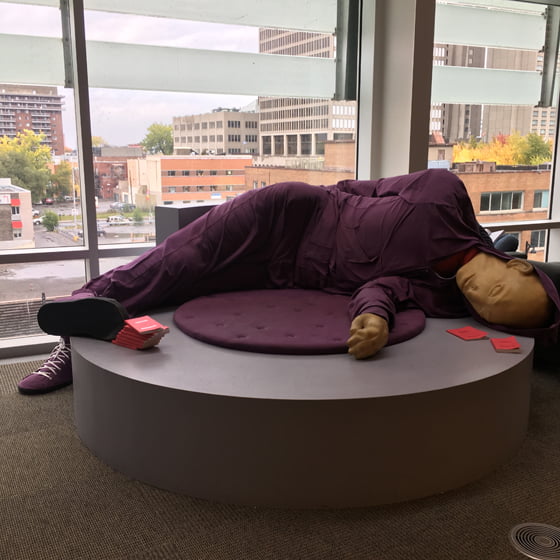 Nerds will agree the Montréal Main Public Library is something special. The large, modern building is centrally located and is worth stopping by for a look. Plus, there's an art gallery downstairs.
Montréal has some of the oldest buildings in North America, located near the port in Old Montréal. Bonsecours Market, Montréal City Hall, and Notre-Dame Basilica are among the buildings not to be missed. The 17th-century architecture borders Old Port, which is exactly what the name says — an old shipping port. Both areas are major tourist attractions, but worth the crowds. Parc La Fontaine in the Plateau also has a skating pond during the winter that is free.
Paid (and Worth It) Attractions
Getting lost in the Museum of Fine Arts is a must. Artists from Edmund Alleyn to Toulouse to Robert Mapplethorpe have recently been on display in this contemporary-leaning museum. It's half-priced on Wednesday evenings and costs a well-worth-it $10-$14 CAD.
The Jardin Botanique is the second-largest botanical garden in the world. History buffs and plant lovers will both dig this spot, opened in 1931, featuring 10 greenhouses.
Music
Montréal's music scene is plentiful and diverse. Catch Hillbilly Night at the Wheel Club , the Montréal Orchestra, or an indie band at myriad venues across town. Get fancy at the Theatre Rialto, a neo-baroque dinner theatre hosting all types of music, or visit La Sala Rossa and Casa Del Popolo, sister venues located across the street from each other — the latter is where Arcade Fire got their start. PDB Ritz, Club Soda, and Divan Orange are hipster haunts for live alternative music.
Eats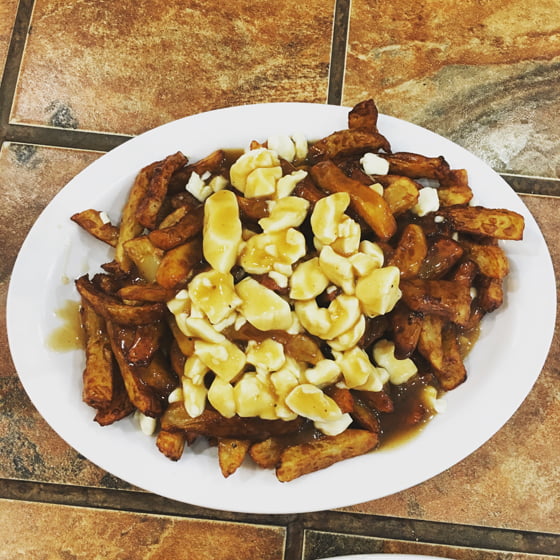 Get ready to carb load. Poutine, bagels, thick sandwiches … Montréal's food scene is home to some heavy-hitting dishes. Highlights include:
Patati Patata — Best burger $2.75 can buy ya, tucked in a lively neighborhood.
Chez Broussard — Because you have to have poutine.
Tommy — The coffee scene is alive and well in Montréal, boasting homemade croissants almost as good as in Paris. Almost.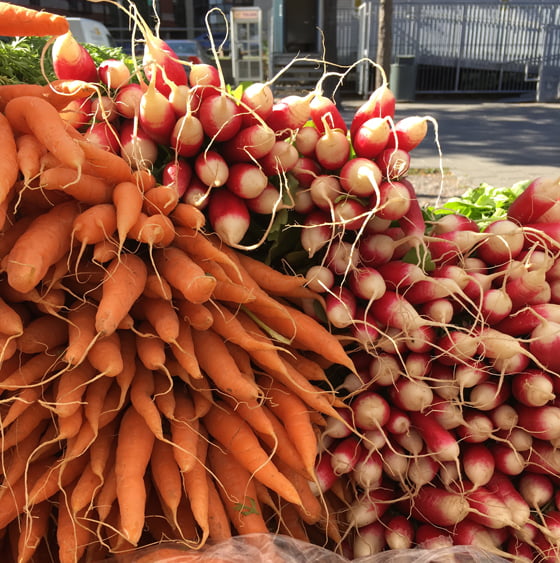 Local Marches are a trademark of the city's culture. You're sure to run into fresh produce, if you go during the Summer or Fall. Check out Jean-Talon Marche.
Getting Around
Montréal's public transportation is award-winning. Four lines service 68 stations across town, allowing you to get to — or within walking distance of — almost anywhere in the city via metro, or bus the Société de transport de Montréal (STM) for $3.25 CAD/trip or $18 CAD/weekend. The city is easy to navigate, and there are plenty of ridesharing services available. They also have a network of rental bikes located throughout the city, if you're feeling active.
---
Lede photo credit: szeke via Foter.com / CC BY-SA. All other photos by Josephine Wood.