Point yourself in any direction from the San Francisco Bay Area and you will find a weekend getaway to fulfill every desire. I've gotten into a bit of a regular routine which involves heading north through the Napa Valley to take in the waters in Calistoga with a few select stops in the valley going up and coming back. The basics include good food, plentiful wine, the valley of the moon, and the waters.
My driving music for this trip? A CD of the five songs from NPR's First Listen of Brandy Clark's new album, Big Day in a Small Town with "Love Can Go to Hell" on repeat and the sunroof open.
Getting There and Where to Stop on the Way Up
From downtown Oakland to Calistoga, the distance is about 68 miles. Driving time depends how many stops you make once in the valley on CA-29 which is full of strip malls until you get through Napa. Eventually, the road narrows to two lanes as you enter the valley.
My first stop is always Thomas Keller's Bouchon Bakery in Yountville for a mid-morning coffee and sweet. Thomas Keller is known for the French Laundry, Ad Hoc, Per se, and the Bouchon collection of restaurants and bakeries, but as a sometime pastry chef, Bouchon Bakery is my perfect storm. Everything is just exquisitely beautiful and elegant in its simplicity. Honestly, I like to look more than taste. Visiting Bouchon is my ritualistic entrance to the valley.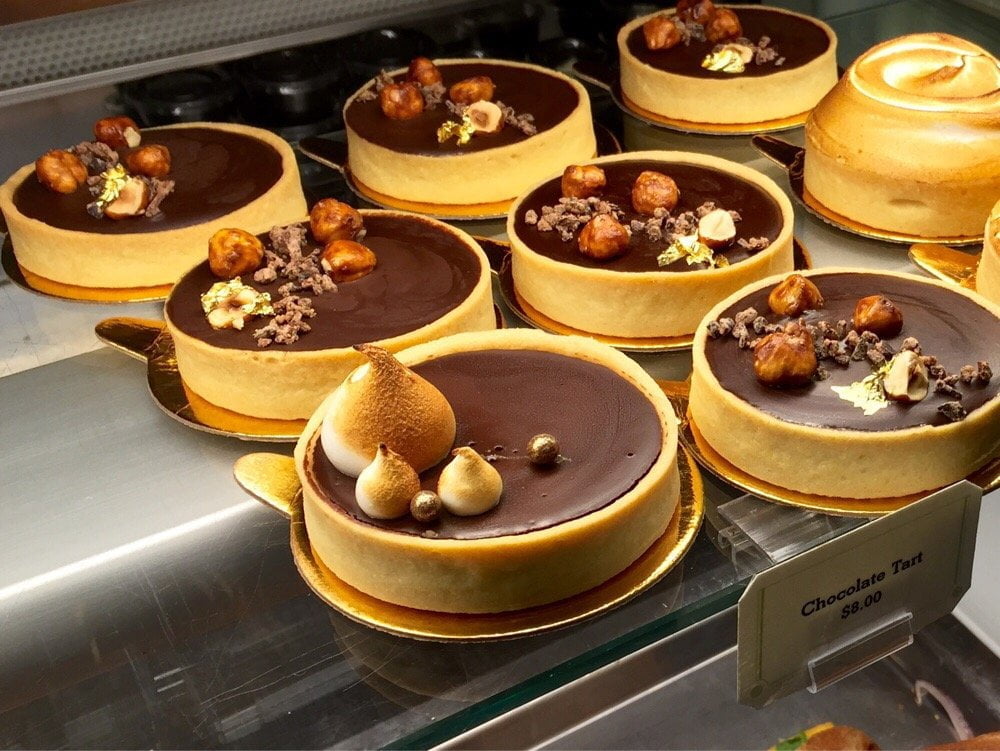 Chocolate tarts at Bouchon Bakery.
In terms of wine, I allow for exploration and stop at new places when I am headed north. I like to just go where the winds take me. But if there are places you have your heart set on stopping to taste, it is best to call ahead as some wineries taste by reservation only.
Next stop on the Food & Wine Highway is the historic Oakville Grocery, which has been in operation since 1881, as evidenced by its rustic charm brought into the 21st century after a recent restoration without cliché. This is my picnic stop — perfect for picking up sandwiches, cheeses, and other specialties to go with the wine you will soon taste and purchase at a newly discovered winery for your picnic along the way.
If picnics just aren't your thing, another option for lunch is farther up the road at Gott's on Main Street in St. Helena — a locally sourced, roadside burger joint with picnic tables under the trees and a fair wine and beer list or $5 corkage when you bring your own bottle.
Shopping
Main Street in St. Helena is perfect for window shopping or shopping shopping, depending on your pleasure. Park and walk up one side of the street and down the other.
Accommodations
Napa Valley is awash with hotels, B&Bs, and Airbnbs. My favorite place to stay is at Indian Springs in Calistoga in one of the original cottages. This place has recently undergone a big facelift with new buildings added to the old, an "adult" pool added to the original geyser-fed pool built in 1913, new landscaping, and a new restaurant. My whole goal in Napa Valley is to take to the waters. Even a day spent floating in the Olympic-sized pool (temp 92-102 degrees) has the effect of a vacation. My preferred weekend involves two nights and a full day at Indian Springs. Sleeping in, a big pile of catch-up magazines and a good book, a good hat and naps on the lounge chair when I am not floating, and getting a spa treatment (volcanic ash mud bath) or two in the spa. I just love this place.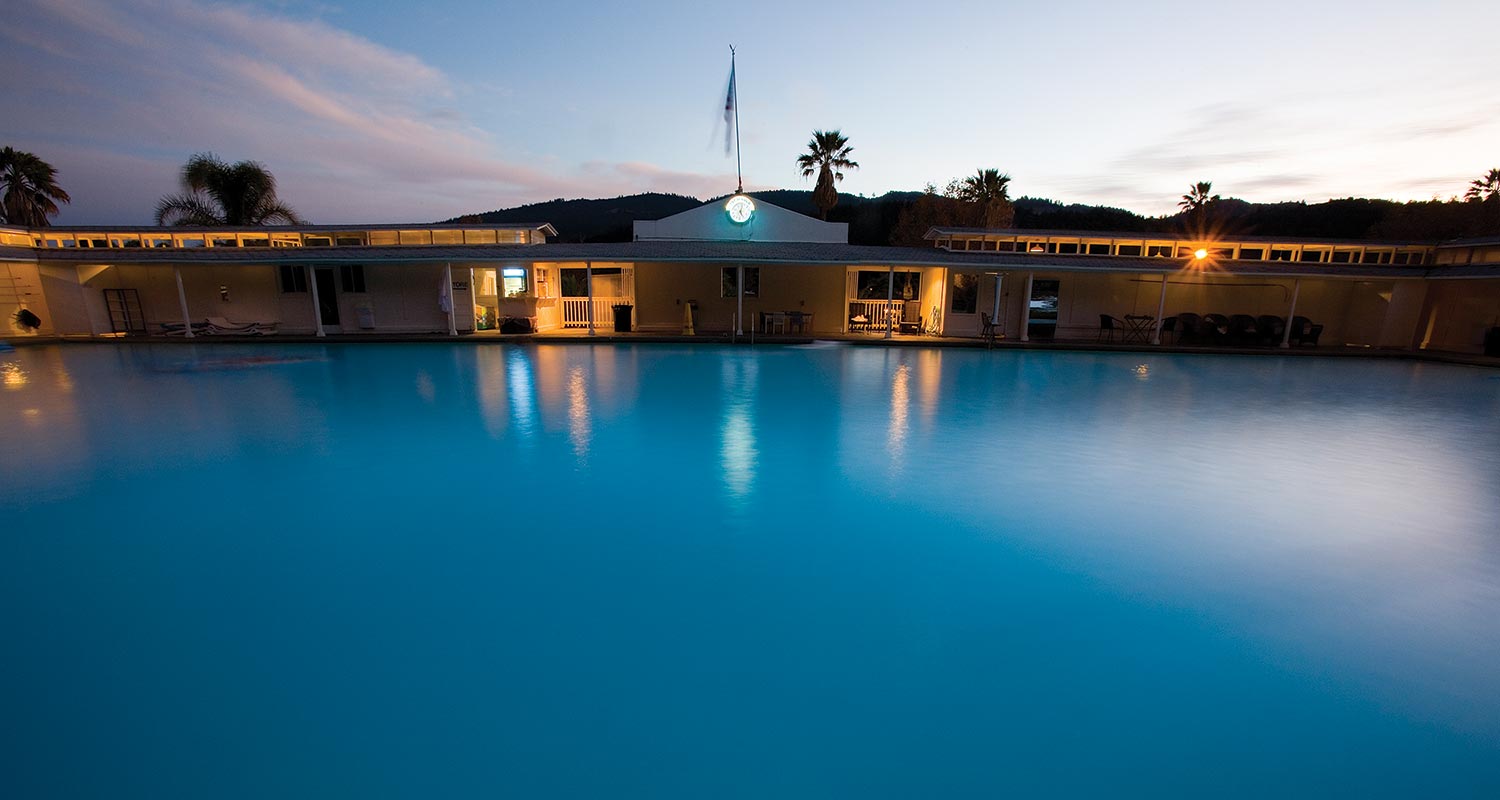 The healing waters at Indian Springs.
Another, less expensive option is the El Bonita Motel in St. Helena. The El Bonita is a classic, retro chic motel replete with a classic neon motel sign, a pet-friendly policy, a pool, jacuzzi, and nice grounds. The best deal in the valley.
Food
It is hard to find a bad meal in Napa Valley. The chefs in the valley are interested in working with fresh, locally sourced ingredients. I have my favorites, and one is Cindy's Backstreet Kitchen in St. Helena. Created by Cindy Pawlcyn — the James Beard Award-winning cookbook author, chef-owner of Napa Valley's Mustards Grill, and numerous restaurants in the San Francisco Bay Area — Cindy's Backstreet Kitchen is housed in a building built in the 1800s which was a bordello in the '20s. The menu meets a certain home cooking jones with a modern flair in a friendly warm environment. A creature of habit, I always start with the artichoke with black garlic and tarragon aioli. My traveling companions usually go for oysters or mussels and then we go from there. They have a monthly feature called Cindy's Supper Club which focuses on whole beast cooking from local farmers and growers. This month is the month of fried chicken. Be still my heart: Exploring fried chicken recipes from around the world for an entire month.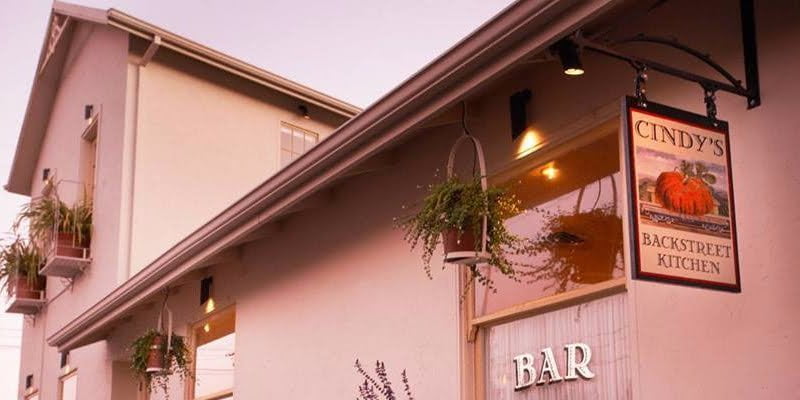 Cindy's Backstreet Kitchen.
If you are in the mood for a different and unique culinary experience, I suggest going to the Culinary Institute of America's Greystone. The CIA has a number of special events and dining options on a spectacular terrace with vineyard views. Your chefs are culinary students at the Institute, and your dining pleasure is a crucial portion of their culinary education.
A trip to Calistoga is never complete without breakfast at Sarafornia on Lincoln Avenue, the main street of Calistoga. You can walk the couple of blocks from Indian Springs. Sarafornia is an old-school diner. Considered the best breakfast in Napa Valley, the menu includes home-made corned beef hash, Belgian waffles, big omelets, and plentiful servings. Classic.
Drink
I do have a couple of favorite wine stops which I try to save for my last day in the valley — my return home day which I do in an extremely relaxed and leisurely fashion having reached a peak state of mellow from my time in the healing waters.
From Calistoga, start the return trip south on the Silverado Trail.
Robert Sinskey Vineyards does an "unscheduled flight" meaning, on a first come, first served basis, you can stop in and taste wine. Using organic grapes grown in the Carneros region, two of their offerings have always been favorites: Their pink is a Vin Gris of pinot noir and the pinot blanc, which only comes in a half-bottle, always bring on the happy. I've shared both of these bottles on numerous occasions with dear friends which probably goes a long way toward my warm fuzzy about these wines.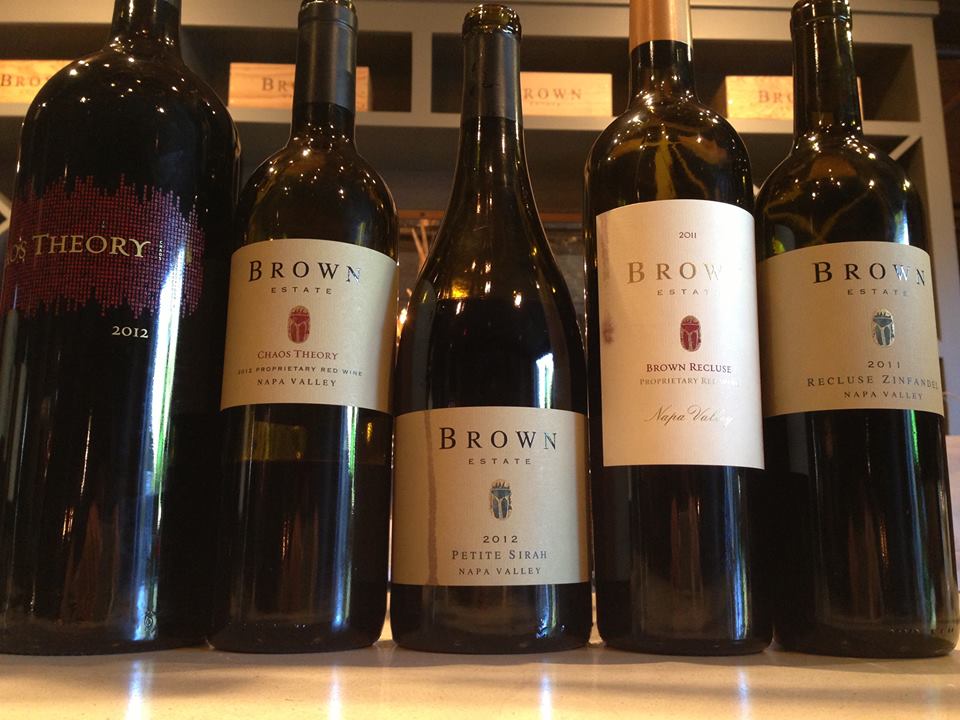 Tasting wines at Brown Estate.
Brown Estate is what one might call a well-known secret, especially among zinfandel aficionados, the gem you want to keep all to yourself at the same time as you want to share it with the world. Visiting this winery is by appointment only and it is well-worth planning ahead — it's that special. Brown Estate is a family-owned winery not really in the valley but above it. Reading their tasting notes is like reading poetry. To drink their wine is to take in beauty. Everything they do is gorgeous — the wines, the environment, the hospitality. Once, at a special luncheon tasting, one guy took his first taste and was so overcome he blurted out for all to hear, "Oh my God. These guys aren't fucking around!"
Zinfandel isn't all they do. The winemaker, David Brown, has over the years created a perfect summer sauvignon blanc and a lovely pink. They have a new white I have yet to try, but it is sure to become a regular on my Summer table. This Fall will mark their 20th vintage. Don't miss Chaos Theory, Brown Recluse, Mickey's Block, and the Big Damn Cab. Did I mention they are all poets at Brown Estate?
After my Brown Estate visit, I come down the hill and make my last stop at Rutherford Grill for a lite dinner on their patio before heading home — a grilled artichoke and iron skillet corn bread, for example. On a warm Summer day, it just feels light years from the madding crowd, like Italy maybe, but by this point, only 30-some miles from home.
Music
If you really want to stretch things out, plan your weekend to include a stop at the Uptown Theatre for a show and drive home after. I've done just this on numerous occasions with Rosanne Cash, Brandi Carlile, and Lyle Lovett. The Uptown is a classic Art Deco movie house recreated into a beautiful, intimate live performance venue.
---
Lede photo credit: Urban_Integration via Foter.com / CC BY-SA.