In Santa Fe, New Mexico, the winter holiday is a holiday like no other. The oldest U.S. capital — and the third largest art market in the country — Santa Fe sits at 7,000 feet above sea level at the most northern point of the Camino Real trading route. Settled as a Spanish Colony in 1610, the area was home to the Tewa Pueblo People for centuries before. Much has been written about Santa Fe … the art, the light, the culture, the geography — all of which go toward making a Santa Fe holiday a rare and memorable experience.
Getting There
Santa Fe is about 45 minutes north of Albuquerque, the most likely place to fly into. Rent a car and head north on I-25 or take the Sandia Shuttle which departs from the Albuquerque Sunport hourly from 8:45 am to 11:45 pm — reservations recommended. Santa Fe also has an airport with very limited commercial service from Dallas/Ft. Worth and Phoenix (American Airlines) and Denver (United Airlines). Another option for getting to and from Santa Fe is to take the Rail Runner from Albuquerque to the Santa Fe Depot. While the train departures are frequent, the shuttle bus to and from the airport is infrequent so I would consider a taxi to and from. You know you are almost there when you come up over the last hill and see the jeweled lights of the town at the base of the Sangre De Cristo mountains.
Lodging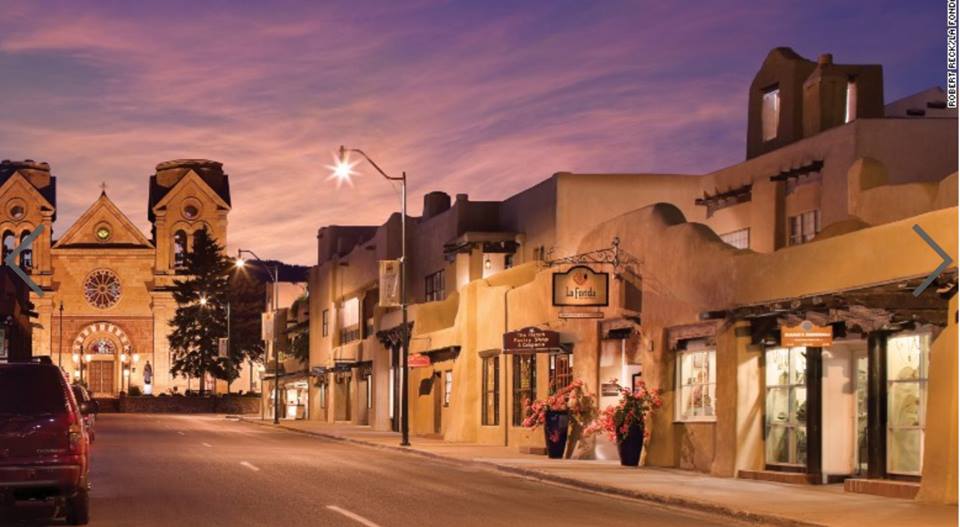 Photo courtesy of La Fonda Hotel.
For maximum holiday impact, stay within walking distance of the Plaza, the heart of historic Santa Fe. To be car-free and on foot allows for exploration of hidden lanes and alleys. If it snows, all the better. The stars are within reach, and the air is crisp and scented with piñon and cedar wood from the kiva fireplaces warming most adobe structures.
La Fonda Hotel is an iconic and classic hotel built in 1922 sitting just off the Plaza. Another historic property slightly off the beaten path up Palace Avenue, covering six acres and comprised of a series of adobe casitas, is La Posada Hotel, while St. Francis, on the southern side of the Plaza, is the oldest historic hotel. A little farther afield and one of the best deals in Santa Fe is the El Rey — a classic southwestern motor court on the original Route 66. Of course, there are vacation rentals aplenty, if you want that "I live here" experience.
Celebrations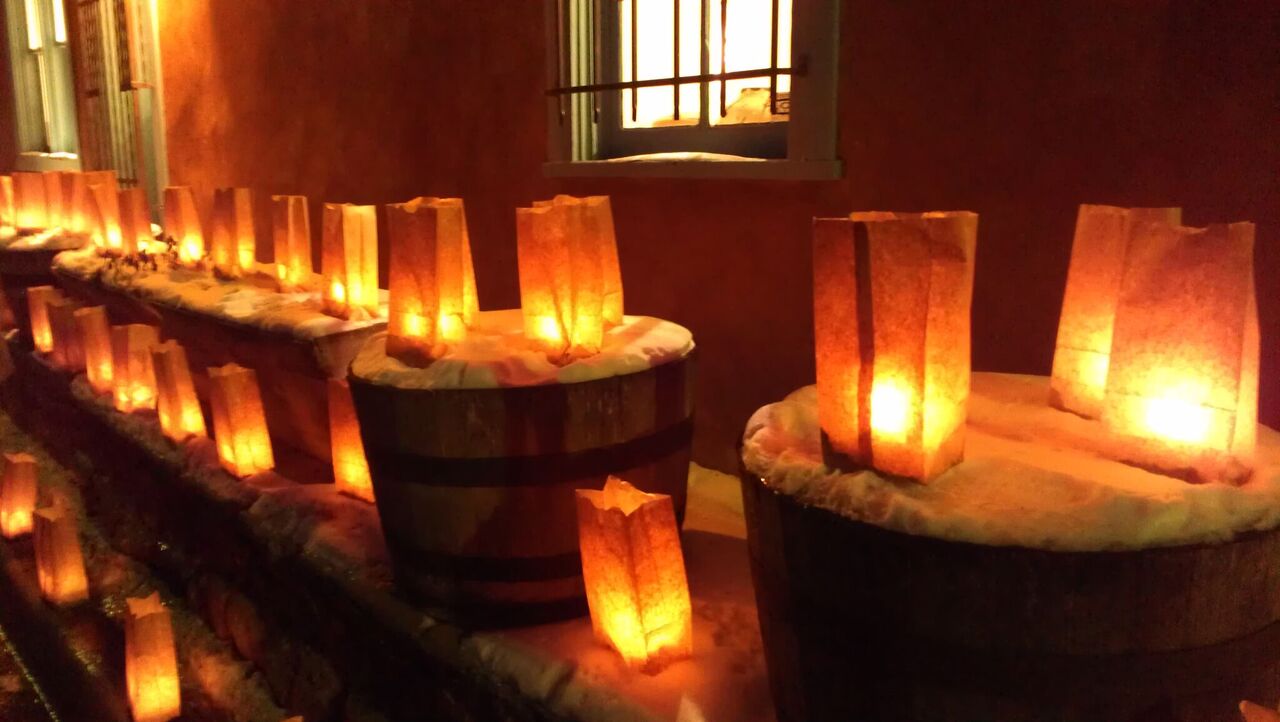 Photo courtesy of Melissa Howden.
The Spanish colonization of Santa Fe means celebrations have a generous Catholic imprint. However, it is the prevalence of firelight that sets this holiday experience apart from others. Buildings, homes, and streets are outlined with farolitos — lunch-sized paper bags filled with sand and lit from within by votive candles. Little do you know, as you drive north on I-25, you will cross an important border pretty much delineated by La Bajada Hill. To the north of La Bajada Hill, the little light bags are called farolitos. To the south, they are referred to as luminarias. The history of both derives from the night before Christmas, when they lit the way for Mary and Joseph as they searched for a place to stay before their baby was born, and/or to light the way for the Christ child.
For a true display of farolito (and luminaria) magic, head to Canyon Road on Christmas Eve. The community comes out to stroll, join or listen to carolers, warm hands and chat over the luminarias (in this case bonfires) and revel in the company of one another.
Las Posadas translates to lodging or accommodations, and it is a traditional celebration joining Spanish folklore and Christian tradition in which people re-enact Joseph and Mary's search for a place to stay on Christmas Eve. Joseph and Mary are followed by the community, and they proceed from door to door and are turned away, all the while taunted by devils on rooftops. You don't need to be a believer to join in this centuries-old tradition. This year, the community event is scheduled for December 11, though many churches in the region have their own throughout the season.
The Glow Event at the Santa Fe Botanical Gardens brings music, nature, food, and drink together in a particular kind of holiday glory.
Make sure your schedule allows for a visit to one of the nearby pueblos for Christmas Eve and Christmas Day dances. As the original people of this land, the pueblos of the Rio Grande Valley generously welcome visitors to many of their dances and celebrations which are exquisitely beautiful. These are prayerful celebrations, not tourist entertainment. As a good guest, one is sure to go away changed by the majesty and an unrivaled glimpse into a living ancient culture.
Food and Drink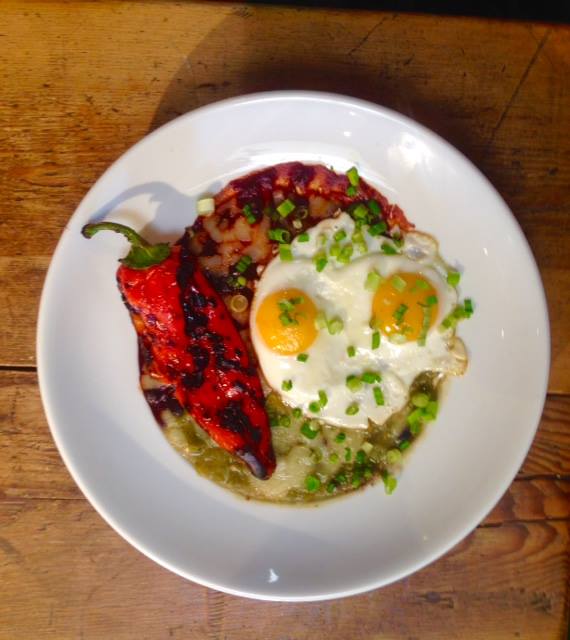 Photo courtesy of Café Pasqual's.
Santa Fe attracts both diverse and adventurous chefs and eaters, and it is hard to keep up with the latest and greatest in town. Breakfast at Café Pasqual's — named after San Pasqual, the patron saint of kitchens and cooking — has been a favorite for almost 40 years. This is organic, noble food lifted up by tradition. If you like a good diner, the Plaza Café is one of Santa Fe's oldest restaurant and fits the bill with windows on to the plaza. The chile is hot, the sopaipillas made to order, and the coffee cup always full. On the old Route 66 — and not far from the El Rey if you stay there — the Pantry is a classic café with good food, friendly people, families, and deal makers. Be prepared to wait. It's just like that.
Lunch calls for the Shed. Perhaps one of the most known and visited restaurants in Santa Fe, it is much-beloved by visitors and locals, alike, as it has been owned by three generations of the same family. Try the Blue Corn Green Chile Chicken Enchilada. Vinaigrette is a "Salad Bistro" in a charming adobe. Owner Erin Wade grows much of the produce on her 10-acre farm in Nambe and each salad can be customized with protein or not. For those not salad-inclined, there are soups, sandwiches, and specials, as well as a revolving beer and wine list. Eat Your Peas is a favorite with its sweet green peas and lettuce with crunchy bacon, a white mushroom sauté, and Asiago cheese with a tart vinaigrette. Shake Foundation is a traditional drive-up with a modern twist, preserving the classic green chile cheese or no cheeseburger with local hormone and antibiotic-free beef and turkey, and shakes from natural, organic, and hormone-free Rasband Dairy in Albuquerque.
Dinner at La Boca guarantees a good meal with a small plate selection of seasonal goodness influenced by the Spanish Tapas tradition. If you are lucky, you might hit a night when local fave Nacha Mendez is playing. Chef Joseph Wrede began his distinguished, award-winning career in Taos, New Mexico, with the first and second incarnations of Joseph's Table. He is an artist in all ways, combining traditional and contemporary cuisine into something uniquely memorable and Joseph. Locally sourced, divinely prepared, and lovingly presented, the fare at Radish and Rye is abright new-ish addition to the Santa Fe restaurant scene — with an extensive bourbon list, to boot!
Before or after dinner, make a point of going to the La Fonda Bar. Try to make it on a night when Bill Hearne and his trio play. It's a combo of honky-tonk, country swing, and slick guitar licks. Whatever the make-up, it is a joyous event with couples popping up to two step and swing. It doesn't matter if you are a dancer or not, this is distinctive and evocative Santa Fe action.
Things to Do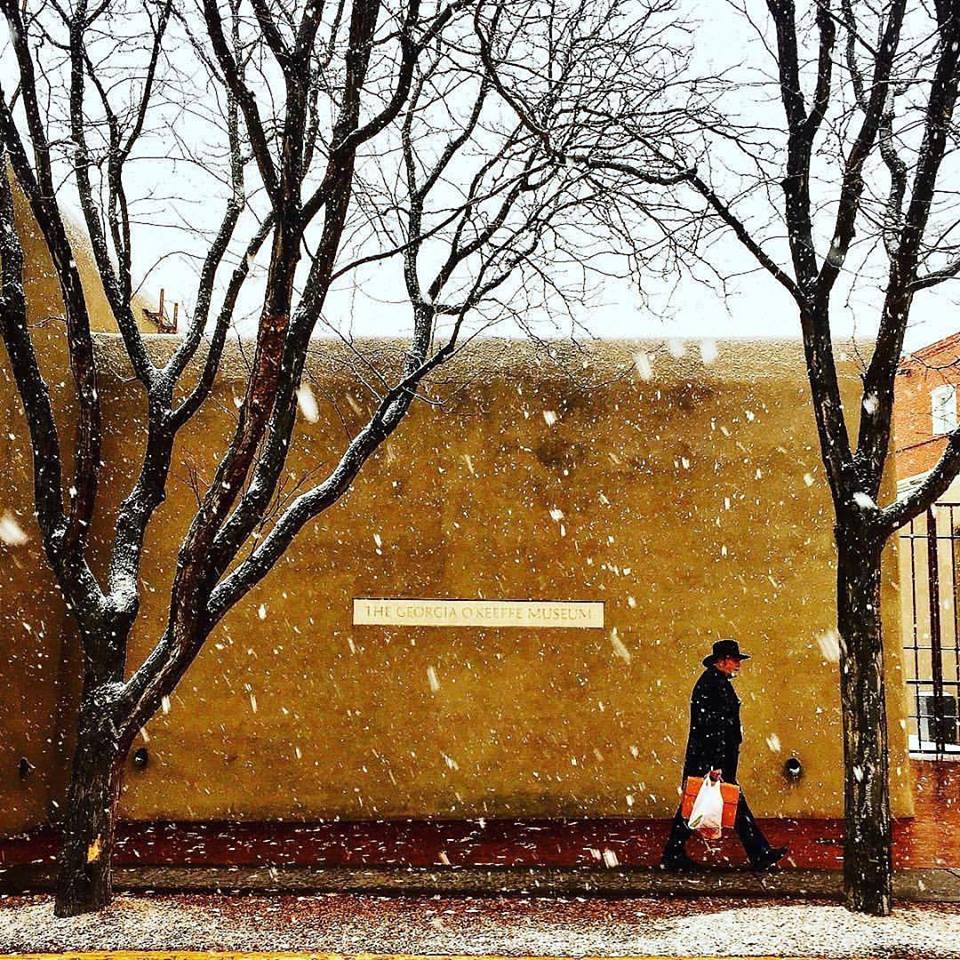 Photo courtesy of the Georgia O'Keeffe Museum.
Must-hit museums include the Georgia O'Keeffe Museum, the New Mexico History Museum, and IAIA Museum of Contemporary Native Arts. Doubletake is one of the greatest consignment store experiences ever. Todos Santos Chocolates in Sena Plaza is a tiny chocolate shop of wonder known for chocolate confections in the shape of Milagros covered in silver and gold leaf. If you have a weakness for cowboy boots, there is no place better to oooh and aaah than Back at the Ranch.
One last thing about Christmas in New Mexico. Three particular dishes are required for the holidays: tamales, posole, and biscochitos.
Strictly speaking, tamales are not New Mexican; rather, they are a Mesoamerican dish to which New Mexicans have added their own twists. A tamale is made of a corn masa/dough then stuffed with any combination of cheese, chile, meat, and vegetables then wrapped in a corn husk and steamed. Families have their over versions of Christmas Tamales that, in some cases, include a special chile or a sweet tamale version. Posole is a hominy stew — usually made for celebrations — with pork and garnished with shredded cabbage, chile peppers, onion, garlic, radishes, avocado, salsa, and/or limes.
Finally, biscochitos — an anise and cinnamon cookie which are traditionally made with lard. Every family has their particular twist and take on the recipe, which is most often learned in the kitchen with an abuela or tia passed down by oral tradition. They are also the New Mexico State Cookie.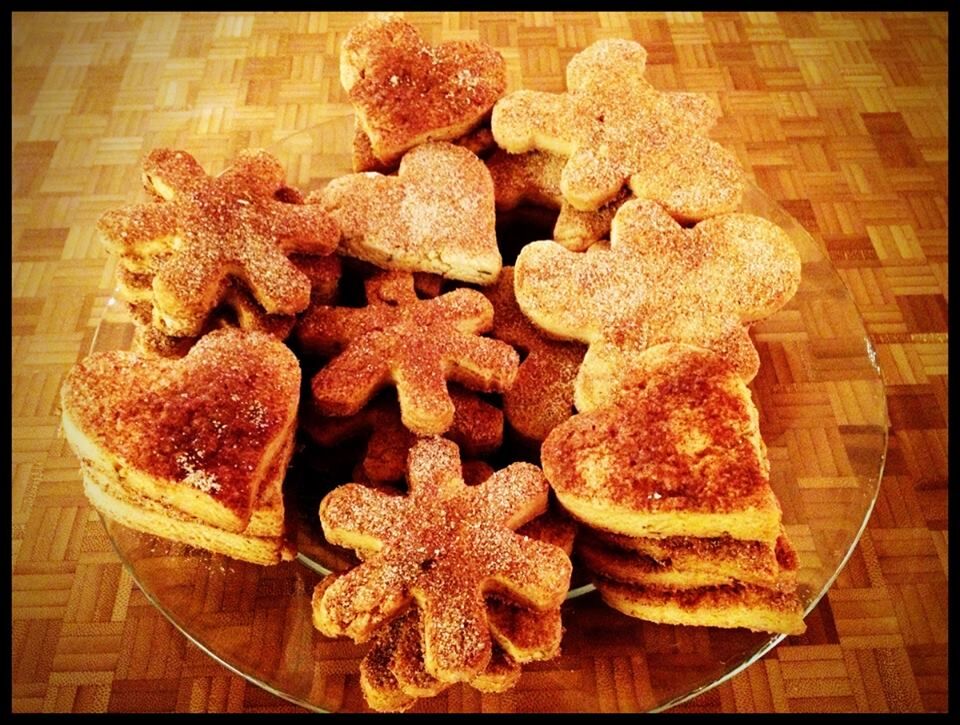 Photo courtesy of Melissa Howden.
Here is a basic recipe to try:
Ingredients
1 ½ cups lard, chilled*
1 cup plus 3 tablespoons sugar
2 eggs
2 teaspoons anise seeds
4 cups all-purpose flour
2 teaspoons baking powder
½ teaspoon salt
About 3 tablespoons brandy, whiskey, or brandy.
2 teaspoons ground cinnamon
Directions
Preheat oven to 350°F. Beat lard and one cup sugar in a bowl until fluffy. Add eggs and anise seeds, and beat until very light and fluffy. Sift together flour, baking powder, and salt. Add to creamed mixture, along with the brandy. Mix thoroughly to make a stiff dough.
Place dough on a long piece — about three feet — of waxed paper at one end. Bring the long end over the top, and press to about one inch or slightly less in thickness and refrigerate until chilled.
Roll out dough between waxed paper to just under ½ inch thickness. Cut with flour-dusted cutters into your preferred shape. Combine the three remaining tablespoons of sugar and the cinnamon into a bowl; Some people dip the unbaked cookies into the cinnamon sugar, some sprinkle after just baked.
Place cookies on ungreased baking sheets. Bake 10 to 12 minutes or until tops of cookies are just beginning to brown. Cool cookies on wire racks.
*You can substitute Crisco or butter for the lard, but you will sacrifice crispness and taste. You can also substitute the whiskey or brandy with a juice or milk, but again, it's a different cookie with changes.
---