Watch Musicians for Marquita above on October 20, 2020 at 6pm CT / 4pm PT. 
BGS is proud to support the musicians, writers, comedians, and creators banding together to help Tennessee elect south Memphis native Marquita Bradshaw, the first Black woman to ever be nominated for U.S. Senate by a major party in Tennessee.
Nashville musicians William Tyler, Tristen, and Erin Rae have partnered with Third Man Records to host a modern day telethon fundraiser on October 20 to raise awareness about Bradshaw's historic campaign and mobilize Tennesseans to support her at the polls. Artists, musicians, poets, writers, and athletes have been invited to submit casually recorded videos of songs, testimonials, or written pieces, along with their endorsements of Marquita Bradshaw for Senate. Among those confirmed for the broadcast are Margo Price, Emmylou Harris & Rodney Crowell, Kyshona, Caroline Randall Williams, Becca Mancari, Langhorne Slim, and many, many more.
You can find out more about Musicians for Marquita and DONATE to support Bradshaw for Senate here.
More about Marquita Bradshaw's campaign: In a surprise upset, Marquita Bradshaw won the race for Democratic nominee with 33.5% of votes, a 9-point lead, defeating her opponent James Mackler's 2.1 million dollar fundraising haul with her $8,420 grassroots campaign. In one of the most inspiring outcomes in decades, this win validates that Bradshaw represents the needs and wants of Tennesseans across the state, and that she will bring this work ethic and vision to Washington, D.C. With an extensive history of environmental activism, Bradshaw supports common sense policies that defend and promote the long-term health and well-being of Tennessee and its citizens. In a race where popular vote decides, Tennessee has a real chance to make change if we can mobilize an unprecedented number of progressives to vote on Nov. 3. Get more information here.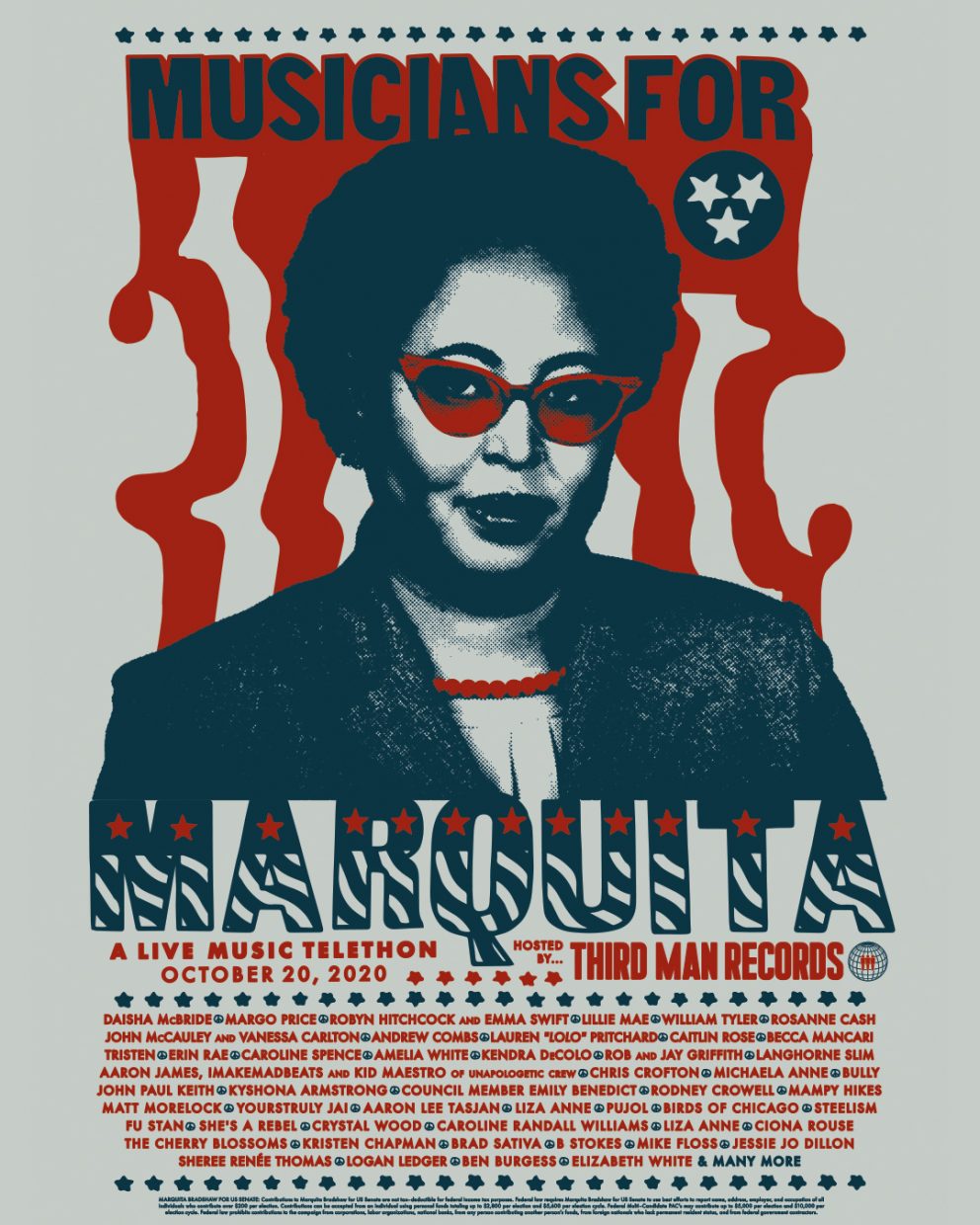 ---
Poster art courtesy of Musicians for Marquita