There's a bit of dramatic license baked in to the title of Buddy & Julie Miller's new album Breakdown On 20th Ave. South. The wheels are not coming off this epic 35-year marriage, most of which has been spent on that very street in Nashville's Belmont neighborhood. But the long haul doesn't come without strife and tests, as older married folks know. And when a songwriter as unguardedly emotional as Julie Miller began to express her feelings about being sidelined during the busiest-ever stretch of Buddy's long and fruitful career, the results were bound to be provocative.
"We started out writing a record and my brother died right in the middle of it and I just sort of fell apart," said Julie in late May in an interview in the home in question. "And I had fibromyalgia, so combine the two, and you're not good to go. I just sort of went to pieces. So Buddy went and made a living."
"And I kind of shut her down in some ways," Buddy said. "I took that opportunity, which I shouldn't have done, away from her to make Universal United House of Prayer at that time and then took every gig that came along for the next 12 or 13 years. She was kind of put on…"
"I took care of dogs," Julie said with a wistful laugh.
Thus the songs on Breakdown — songs of yearning, of incompleteness and the striving for connection — have that specific power that comes from being both personal and universal.
Buddy Miller has been as in demand as any musician in Americana for more than a decade. He produced stellar albums for Richard Thompson, Shawn Colvin & Steve Earle, and others. He steered the music on the television show Nashville for multiple seasons. He hosts a radio show for SiriusXM with Jim Lauderdale. It's evidence of the respect and the singular place Buddy has carved out since picking up the guitar in the early '70s and heading to the ferment of Austin, Texas.
That's where he met Julie Griffin, and soon he was auditioning for her band and then for her hand. Julie recorded a handful of solo albums for a Christian music label in the '90s, and Buddy's been releasing music nearly as long. Yet when the Millers started to focus on recording as a unit, the results have been particularly spectacular. Their self-titled duo debut in 2001 earned the Americana Music Association's first-ever Album of the Year award. Eight years later Written in Chalk took the same honor, though Buddy concedes that was part of the difficult time for Julie and it was not truly a 50/50 creation.
If anything, Breakdown is a Julie-dominated project, written by her on her timetable, recorded over a long stretch in unusual circumstances. That's where we pick up our conversation with the first couple of Americana music.
Buddy: After [Nashville] was over we just spent time together, just sitting together watching TV, something we'd never done before — or for a long time. Then slowly, we started approaching music at her speed, whatever that was. When we started recording, we didn't record it in here [his much-admired home studio on the main floor]. We recorded in a little corner of the bedroom. She'd write a song and I'd slowly bring up little pieces of gear and something to record on — a laptop. Instead of live players we'd just play the two of us and build tracks.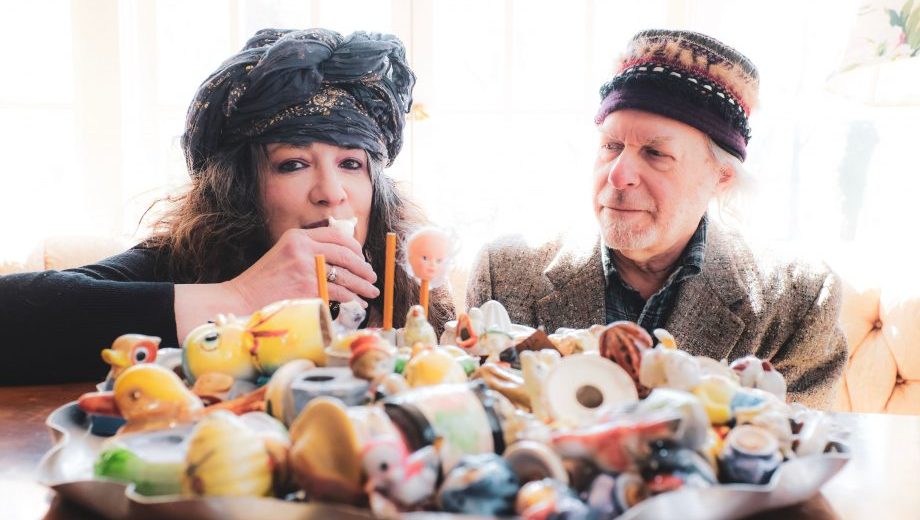 BGS: Were you trying to sort of trick yourselves into recording, instead of the full production with everybody coming over at a set time?
Julie: Exactly! It was like, let's pretend we're not really doing it. We're just having fun!
Buddy: We would say we're not doing a record. We were getting the songs recorded but we would never say we're doing a record. But we like how it sounded. … I want to look at somebody if I'm making a record. I love playing with players and having a drummer to look at and play off of. And upstairs I was looking in the dog's face this far from me. But it was a really great experience doing that.
Julie, respecting your privacy, what can you say about your fibromyalgia and how you've been feeling lately?
Julie: Well I've had it since 1978 maybe — a really long time — more than half my life. And you get sort of used to a certain amount because it's always there. But it gives you wallops now and then. And being on the road with fibromyalgia is such stress. It's indescribable. And Buddy, because I'd always been heave ho you know, he didn't get it. I could say it, but it didn't click. Which is understandable. You have to be sick to get it, you really do. It's progressively gotten more painful over the years, so it's pretty painful at this point. But I'm never pessimistic about it. God will do something. The medical professional will acknowledge something.
I understand that's a big challenge of this disease — getting validation from doctors.
Julie: It was incredible how many years I had it with doctors going 'I guess you're crazy' in so many words. And that was making it twice as bad. You know good and well you're in pain and you're crying and you're not crazy – or maybe you are crazy, but crazy people can be in pain, too. [Laughs]
Is there a connection between music making and the creative headspace, and feeling relief?
Julie: You know what? That's interesting you'd say that because when I was writing I could focus on one thing. I could focus on the writing or the fibromyalgia. And I was just lost in the writing, so I was oblivious to so much — [to] a degree of my fibromyalgia. It made me realize I was meant to write songs.
Was there a stretch when you were estranged from the writing process?
Julie: There was a long time I was estranged from it. In fact, ten years or more after we'd signed with New West and I'd gotten sick and my brother had passed, I thought they were done with me. And Buddy said, ten years later, "No they're just waiting for a record!" I was like what? They're willing to take a record now? "Yeah, they're just waiting for it." So I was so excited. And ten years before I had written a lot of songs for the record, but they didn't make it on this record. In fact the songs I wrote for this record didn't make it. Accidentally other songs came that ended up on the record, so I've got a lot of songs.
Buddy: We started with a whole different list. When we knew we were working on a record, the list would change on a weekly basis because she'd write a new song. And it's just the two of us working, and it's hard to have a perspective on what we're doing when it's just one bouncing it off the other. She'd write a song and we'd record it that day.
So you have a lot of work tapes and demos.
Julie: Oh, you wouldn't ever want to ever hear 'em! There are so many of 'em that you'd lose your mind.
Buddy: And some of them are on the record.
Julie: For the first six years, from 18 to 24, I'd try to write a song and I'd get so disgusted with how bad it was, I'd write it and throw it in the trash. But after I came to know the Lord… Here's what the big thing was with him — he loved me and accepted me whether my song was good or not, and that enabled me to learn how to write a song.
Was getting involved with HighTone Records in the '90s a real pivot point?
Julie: Well it was really funny because Christians didn't really like my music! [Laughs]
Buddy: There was that too — I meant to say that! That's one reason it was easy to get out of it, because they didn't get it at all.
Julie: They kind of let me go, and off I went, and the next people who wanted me to sign up were some Jews from San Francisco! So I just did it, you know? They heard me sing harmony on Buddy's record. They got Buddy first, and then they got me and so that's how it happened. I mean, I didn't leave Christian music. I just went with who wanted me.
Buddy: Yeah, I was playing guitar with Jim Lauderdale. We all met when he moved to New York around 1980. Jim was working in the Rolling Stone mail room and we were all playing together. We moved to LA and I called Lauderdale and I said, "If you need a guitar player let me know," and that's when I got back into playing with Jim. HighTone asked Jim if he would do a track on this Points West record [a 1990 compilation of West Coast country music]. He said, "I can't, but my guitar player would probably do it for you."
So I did a couple tracks for them and based on that, a couple years later after we moved to Nashville, they must have had a hole in their release schedule, and they asked if I could do a record. I said, "Absolutely, yes." They said "Do you have the songs?" I said, "Absolutely." And we didn't, at all. [Julie laughs] But we got that record together in a pretty quick time. Then they heard Julie singing on a song called "Hole in My Head" on that record that I wrote with Jim. Larry Sloven, who owned the company along with Bruce Bromberg heard her, and he said, "She sounds tough. She's great." He liked her voice.
Julie: [Laughing] Just a sweet little girl and they said I sounded tough. I'll never understand it.
Buddy: At that point, Emmylou Harris had cut Julie's song, "All My Tears," on Wrecking Ball, so they knew she was a writer, and they said, "Would she want to do a record?" That was shortly after my first record, I think, and she was happy about it at the time at the time.
Julie: Very happy!
Buddy: They were really supportive. One thing we got with HighTone — and we probably got it because they had no budget so they had no oversight, and we made our records at home — we just turned in a finished record. There was nobody looking over our shoulder. There was no A&R department. They were just encouragers who had hopefully come up with a tiny budget, and they were really good folks over there, in that respect, and they gave us freedom to make whatever kind of records we wanted to make.
---
This interview was recorded for WMOT's talk show The String. The full conversation can be streamed here.
Illustration by Zachary Johnson
Photo credit: Kate York