My grandmother was a horrible cook. She had many fine qualities, but cooking was not one of them. In her kitchen, nothing was ever cooked enough.
There was one dish, however, that I remember as always simply satisfying and consistently good — sopa seca de fideo. I remember this dish as a regular at every family gathering of four or more. Actually, everyone in my family had a version of it and, in some ways, that is the nature of it — flexible, open to interpretation, simple, and inexpensive. Basically, fideo is Mexican pasta, probably most familiar served in a soup as in sopa de fideo. Fideo seco leans toward casserole and can be made as a side or main dish, vegetarian or not. In Mexico, the sauce is most often made with chipotle, guajillo, and passilla chile. The version my New Mexico family made uses just green chile that is served and added to just about anything and everything in New Mexico. When preparing this dish for friends, I offer several bowls of garnish on the table for everybody to add as they wish — cilantro, lime, julienned chipotle chile, crumbled queso fresco or cotija cheese, and avocado. The recipe is easily cut or multiplied, depending on how many you want to serve and if you want to serve it as a main dish or a side dish.
All the fideo standard bearers in my family are gone now, so I often turn to this dish as an easy comfort-bearing memory food and continue to add my own little twists each time. In my grandmother's time, most everything came out of a can. That is perhaps the key difference in my version. The basic ingredients are onions, tomatoes, green chile, and fideo — basically, vermicelli pasta somewhat similar to angel hair pasta. My preferred version of the pasta is coiled into little nests. The packets I buy are "La Moderna: Mexico's #1 Pasta," but if you don't have a Mexican grocery accessible, it is fine to use straight vermicelli and break it into shorter pieces.
Luckily, I have gardeners in my tribe, so I am able to use tomatoes that my friend Bill grew and put up at the end of the last growing season, onions from the year-round growers' market, and green chile purchased in a fresh-roasted bushel in September and packaged in the freezer to get me through to the next growing season.
What sets fideo seco apart from other pasta dishes is that you first fry or toast the dry pasta, which gives it a bit of a nutty flavor.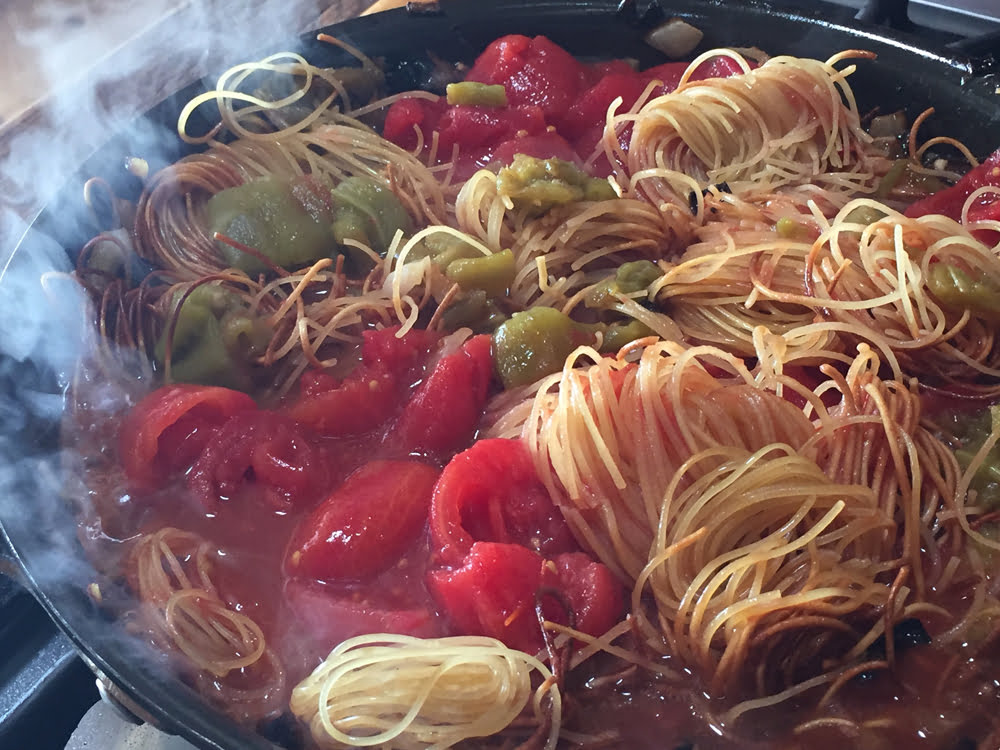 Ingredients
(Serves 6 with leftovers)
Olive or Canola oil
1 large yellow onion sliced
2 packets of Fideo (La Moderna 6.3 oz each)
1 large yellow onion
Tomatoes Approximately 16 oz. (I do this to taste and it depends on whether you use fresh, canned or preserved garden tomatoes).
green chile (I chopped up 10 medium hot chiles . Heat is good but the flavor is most important to me).
vegetable or chicken stock
salt and pepper to taste
Garnishes as desired and available — avocado, cilantro, lime, cotija and/or queso fresco cheese, chipotle chile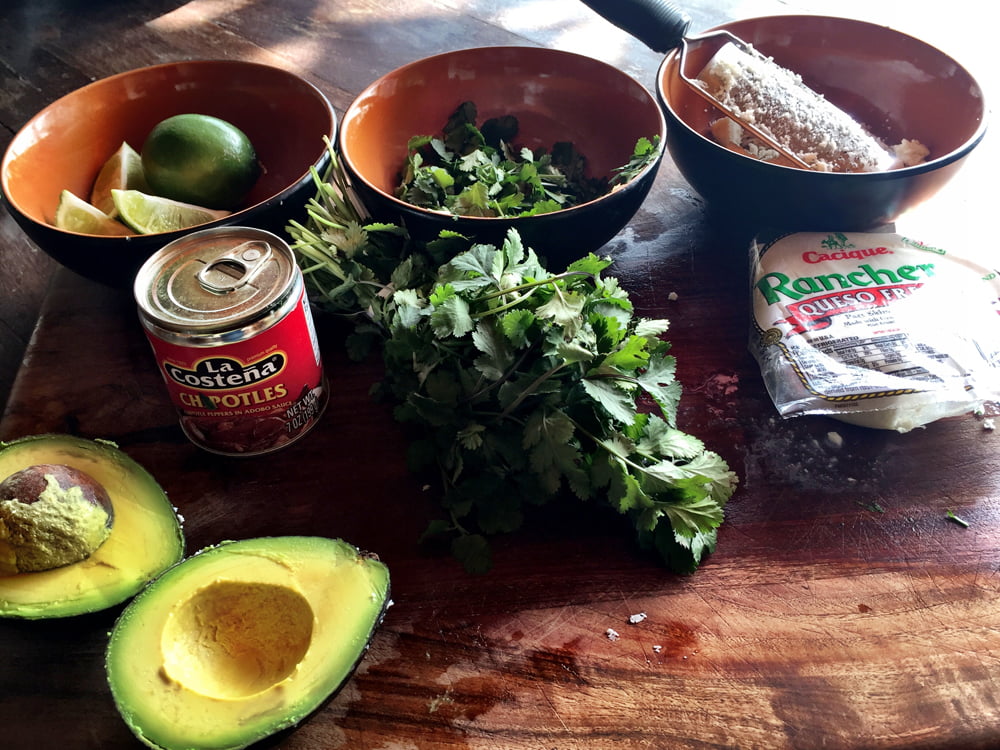 Directions
Heat 1/3 cup oil in the pan (just enough to cover the bottom of your pan). Add slices of onion — cooking the onion beyond translucent until brown around the edges adds another layer of flavor. I put the onions in first to give them a head start toward browning and then push them to the side when adding the pasta.
Add the pasta and brown it on both sides. Once both the pasta and onion are browned, add a little of the juice from the tomatoes to stop the browning process. Add the tomatoes and chile. Some people prefer to purée the chile and tomato together, but I like them chunky. This would also be the time to add cooked shredded chicken, if you want to go in that direction. Add vegetable or chicken stock, as needed. The amount will be determined by how much juice you have from the tomatoes. You want the combined liquids to just cover the pasta. Let it all simmer together on the stove for about 10 min.
At this point, put the whole shebang in an oven-safe baking dish and bake it at 350 degrees until the liquid has been absorbed (approximately 15-20 min) and the pasta is tender. I prefer this method because I add cheese to the top for "melty" deliciousness and the dish is then transportable (remember the part about family/friend gatherings) and easily refrigerated for leftovers. Some folks prefer to just simmer it on the stove until the liquid is gone.
Making this dish always puts me in the company of my nana and the extended family gatherings at which this dish always appeared. If it was a birthday, a Mariachi band sometimes made an appearance. When sentimentality prevails, the cooking tunes shift with them. I cooked to a Nicaraguan duo, Guardabarranco (Katia and Salvador Cardenal). I knew them some years back, when the label I worked for distributed their album Si Buscabas (If You Were Looking). The title track is on my "most beautiful songs ever written" list.