The music on Place of Growth, the new third album by the Nashville acoustic string band Hawktail, calls a lot of things to mind. One thing it decidedly does not call to mind is the late country singer and songwriter Roger Miller.
And yet, here on a Zoom chat, the quartet's bassist Paul Kowert is singing the opening line from Miller's kids song, "Robin Hood."
"Robin Hood and Little John and welcome to the forest," he intones in a goofy, sing-songy, Miller-esque voice, from a hotel room in Seattle where he's on tour as a member of the Punch Brothers. That, understandably, cracks up Brittany Haas, Hawktail's fiddler, also on the Zoom from her Nashville home, just back from a duo tour of Europe with her cellist sister Natalie.
What the album does evoke is a lovely nature walk in a spirited suite of pieces including "Antelopen" (German for "Antelopes"), "Updraft" and "Pomegranate In the Oak Tree," and three short linking "Wandering" interludes. Kowert, who is releasing the album on his Padiddle Records label, is cautious about overplaying that angle, though.
"It's not programmatic and the titles aren't even prescriptive," he insists. "It's just you need a title and what's more universal than nature? It kind of pulls it all together, and there's sort of a storybook quality to the music."
Hence the Miller ditty.
Kowert, keeping a remarkably straight face, adds, "So that's not inherent to the piece."
But it works.
"It works, yeah," he says. "It's just that the album would take your imagination on a journey of its own creation and that each thing that comes leads you a little further on your trip. It was the desired effect."
So yeah, Roger Miller is an unlikely reference. But how about Mussorgsky's Pictures at an Exhibition, with its Promenade interludes, and — dare we say — Beethoven's 6th Symphony, a.k.a. the Pastoral? Given Kowert's strong classical background before he wandered into bluegrass, that's not a stretch.
Place of Growth saunters through landscapes where bluegrass, newgrass, fiddle tunes and, yes, composed classical music blend vividly, reflecting the sensibilities of the musicians, with guitarist Jordan Tice and mandolinist Dominick Leslie filling out the foursome. More immediate antecedents would include the artistic expanses covered by Chris Thile (Kowert's Punch Brothers boss), Béla Fleck, Bruce Molsky and Sam Bush.
Most directly, they cite two mentors: Kowert, who grew up in Wisconsin, studied at the Curtis Institute of Music in Philadelphia with pioneering multi-genre composer and double bassist Edgar Meyer. San Francisco Bay Area native Haas, as a teen, connected with fiddler Darol Anger, a founding member of both the bluegrass-gypsy jazz hybrid David Grisman Quintet and the classical-jazz straddling Turtle Island String Quartet. Not only did he take her on as a student, but put her in his Republic of Strings ensemble.
Underscoring the classical connections, Hawktail has put out a companion to the album: sheet music of the gorgeous Place of Growth piece "Shallows," arranged for violin and guitar by Kowert. Vinyl? Cassettes? Whatever. This is the real throwback format.
The letterpress print is lavishly illustrated with a stately heron and flowering vines by friend Heather Moulder, including a limited-edition hand-tinted version. This follows two earlier, finely crafted poster prints done by Moulder incorporating musical notation.
"That was sort of an early pandemic response," says Haas. "We lost a bunch of gigs and said, 'Let's do something.' You put the music in the hands of people in their homes and they can read it and play it themselves."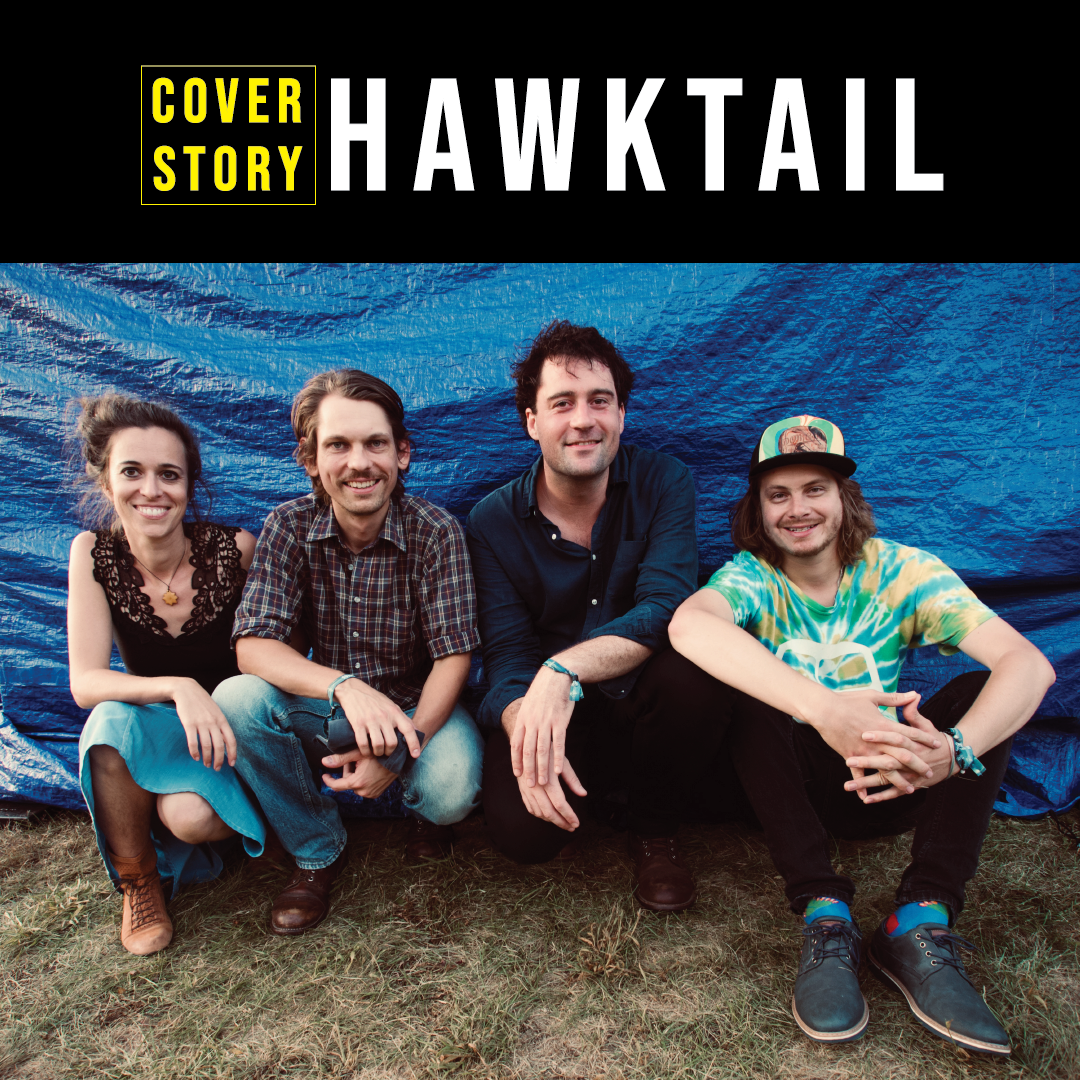 So are fans playing from the sheet music?
"Some people are," Kowert says. "Even if you don't, it's an art piece. It's quality. It's letterpress. You can run your fingers over it. You might not be able to sight-read music. You might not even be a musician. But you can see that the line goes up. you can see it go down, see how long the tune is. It's like sharing the spirit of it, even if you don't read the music."
Ah, but is Hawktail playing from written music? Well… yes and no.
"I prefer as much variety as possible," Kowert says. "Our music will have a segment of five seconds where everybody is composed and 20 seconds where two people are composed, but two are improvising, 10 seconds where one person's composed and one person's improvising and the other two are resting."
"It's pretty fluid," says Haas. "Like, 'This person will take this melody or that stuff.' But it's still like you don't have to do what it says."
They both laugh.
"We still want everybody to be themselves within it," she adds.
Tice and Leslie add bluegrass roots — both of their dads play banjo and Tice's mom is a fiddler — but go far beyond. Tice cites Tony Rice and Norman Blake as influences and has played with the Dave Rawlings Machine (as has Haas), Carrie Newcomer, Steve Martin and Yola, among others. Leslie, who grew up in bluegrass-rich Colorado, has played with Noam Pikelny and is currently on the road with Molly Tuttle.
Haas, Kowert and Tice connected on the festivals-and-camps circuit more than 15 years ago while going to college — Haas (who had joined "chamber-grass" band Crooked Still alongside singer Aiofe O'Donovan) at Princeton in New Jersey, Kowert at Curtis and Tice at Towson University in Maryland.
"When we first met it was clear there was a synergy between us," Kowert says. "Jordan had a car, so he would pick me up in Philly and we'd drive out to see Brit and we would play [Norwegian hardanger fiddle player] Annbjørg Lien and [Swedish trio] Väsen tunes, music that was really suited to our ensemble, stuff we could kind of get excited about and play for fun."
Not exactly the Bill Monroe canon.
"It was also music that was slightly on the fringe of what was most common to be playing," Kowert says.
That carried through with the 2014 Haas Kowert Tice trio album You Got This and the first two Hawktail quartet sets, 2018's Unless and 2020's Formations.
Place of Growth is a culmination of that, meant to be taken as a whole piece. And that's how Hawktail has been playing it in concerts — when they've had chances. Given each of the members' active careers in other pursuits, that's tricky.
"Hawktail's a project that we all hold dear to our hearts," says Haas, who is artist-in-residence and teaching at East Tennessee State University's bluegrass program these days. "So we make time for it when we're able to, and we really value that time and just the kind of musical bond that we've forged between the four of us. It's instrumental music, and in the world at large it's not that there's not space for it. There totally is. But it's not mainstream. And so it kind of finds its way, it curves around through."
Fittingly, she turns to nature for an analogy.
"It's like a little stream that's running alongside the larger flow of music or something. It's something that will always be there for us."
Adds Kowert, "Hawktail has been our avenue to put our own personal twist on it. It's like, 'Oh, it's a string band. They're playing this fiddle tune, but this stuff is happening I've never expected.' And we love that."
---
Photo Credit: Benko Photographics (lead image); William Seeders Mosheim (inset)