J.D. Crowe, Jerry Douglas, Sarah Jarosz, and Ronnie McCoury are just a few of the artists taking part in the IBMA Virtual World of Bluegrass, which begins today, Monday, September 28. Kristin Scott Benson, Doyle Lawson, and Mumford & Sons' Winston Marshall are also confirmed to participate.
IBMA Virtual World of Bluegrass is an annual bluegrass music homecoming and convention that takes place online this year, encompassing the IBMA Business Conference, IBMA Bluegrass Ramble, the 31st Annual IBMA Bluegrass Music Awards, and music festival IBMA Bluegrass Live! powered by PNC running through October 3. See the full schedule.
Conference registration is available at a lower price point than in years past: $99 for IBMA members, and $149 for non-members. Register here.
To stream the following sessions, as well as many others, IBMA Business Conference registration is required. Business Conference registration also allows access to other valuable content: an online version of the Gig Fair (one of the most popular conference events each year) the Songwriter Showcase, two virtual in-the-round Song Circles, the Annual IBMA Town Hall Meeting, the IBMA Virtual Exhibit Hall, and much more.

As previously announced, Sarah Jarosz will deliver the Keynote Address on Monday, September 28 to kick off this year's virtual IBMA Business Conference. "Having attended IBMA as a young kid just getting into bluegrass, and having returned more recently as a performer at their Raleigh conference, I'm deeply honored to have been asked to be this year's keynote speaker. I look forward to helping kick things off!" said Jarosz.
Organizers have added three presentations to lead each day's conference activities, Tuesday through Thursday:
Tuesday at 11 AM ET: Artist-2-Artist with J.D. Crowe, Winston Marshall, and Jerry Douglas
Hall of Famer J.D. Crowe's infusion of new ideas into bluegrass banjo took the music to a decidedly younger and more diverse crowd, inspiring a new generation of pickers and fans. His music would influence a young banjo player across the Atlantic named Winston Marshall, who would take the banjo to millions of fans worldwide. As a member of Mumford & Sons, Winston has helped completely transform the image of the banjo in popular culture. Jerry Douglas has used his dobro to build musical bridges throughout his storied career. He has shared both the stage and the studio with J.D. Crowe and Winston Marshall, and he invites you to join him and these two groundbreaking banjo players for a fun conversation about how music unites.

Wednesday at 11 AM ET: Artist-2-Artist with Doyle Lawson and Kristin Scott Benson
Doyle Lawson has been a leader in bluegrass music for decades. He and Quicksilver played at a festival in Dahlonega, Georgia in the mid-eighties, and it changed the life of a young girl in the audience named Kristin. Three and a half decades later, Kristin Scott Benson is one the most celebrated banjo players of her generation and is the reigning IBMA Banjo Player of the Year. She sits down with Bluegrass Hall of Fame member, Doyle Lawson, to talk about the impact he and his music have had on her and on the bluegrass community at large.
Thursday at 11 AM ET: From the Bay, to Bean Blossom, and Back
Jerry Garcia is unquestionably a towering figure in American culture, and one of the most influential musicians of the 20th century. He and the Grateful Dead set the template for a new style of music that would inspire generations, much as Bill Monroe, The Father of Bluegrass himself, had done. What's less known about Jerry, is that long before, during, and after the Grateful Dead, he was a banjo player, a bluegrass musician, even an aspiring Bluegrass Boy. Join Ronnie McCoury, filmmaker Brian Miklis and others in a conversation diving deep into the relationship of a true giant of American music, and the music that inspired him.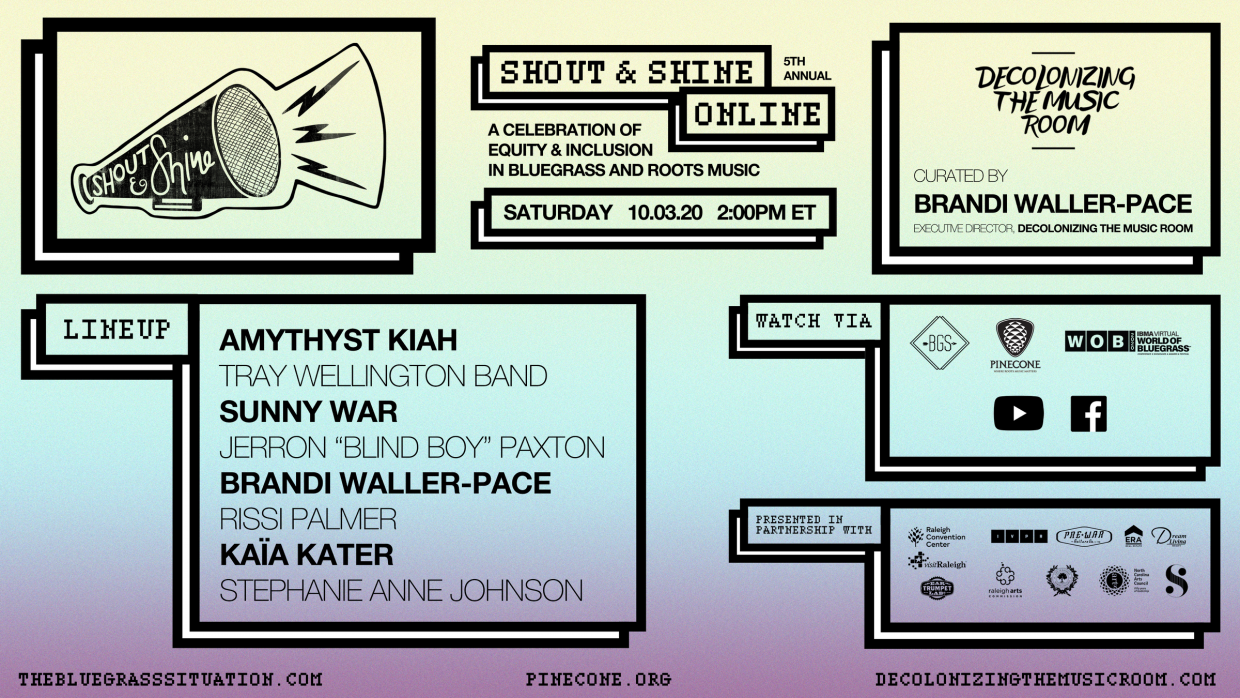 The Bluegrass Situation will proudly present our fifth annual Shout & Shine Online on Saturday, October 3rd at 2pm ET. And at press time, 30 artists have also been confirmed for a series of showcases known as the Bluegrass Ramble.
The virtual music festival IBMA Bluegrass Live! powered by PNC, will take place Oct. 2-3. Special performances by The Travelin' McCourys with special guest Del McCoury; Steep Canyon Rangers; Jerry Douglas & Odessa Settles; Sierra Hull & Molly Tuttle are just some of the highlights that bluegrass fans can look forward to.
In addition, PNC Bank is boosting its support for the IBMA and bluegrass artists experiencing financial hardship due to pandemic-related performance cancellations. PNC Bank, the presenting sponsor of IBMA Bluegrass Live! powered by PNC, has announced it will match all 2020 donations made to the IBMA organization and the IBMA Trust Fund, for a total up to $50,000. (Donate now.)
IBMA is the nonprofit professional organization for the global bluegrass music community — connecting, educating and empowering bluegrass professionals and enthusiasts while honoring tradition and encouraging innovation worldwide. The organization has suffered financially this year due to pandemic-related health precautions that are preventing the IBMA World of Bluegrass event from being held in Raleigh, N.C. The IBMA Trust Fund, which is administered by IBMA, was established in 1987 as a means to offer emergency financial assistance to bluegrass music professionals. In 2020, requests for assistance have increased tenfold due in large part to COVID-19.
As the presenting sponsor of IBMA Bluegrass Live! powered by PNC since 2013, PNC Bank has helped bring bluegrass music and culture to Raleigh for what has become one of the city's most beloved live, free events. While IBMA Bluegrass Live! powered by PNC cannot be presented as an in-person event in 2020, PNC remains committed to supporting this event and community tradition by helping deliver bluegrass programming in a virtual setting, Oct. 2-3.
Donations may be made online; additionally, those registering for the free IBMA Virtual World of Bluegrass Music Pass have the opportunity to make a donation during the online registration process. The Music Pass includes access to all music performances during the week, including IBMA Bluegrass Live! powered by PNC, the IBMA Bluegrass Music Awards presented by Count On Me NC, and IBMA Bluegrass Ramble presented by Count On Me NC.
---