The biggest week in bluegrass has arrived. The International Bluegrass Music Association's annual business conference and festival begins tomorrow, September 26, and continues through Saturday, September 30, in Raleigh, North Carolina. It's the 10th year the event has been hosted in the music-rich state of North Carolina.
From Tuesday to Thursday, industry professionals, artists, musicians, songwriters, lawyers and more will participate in panels and professional development during Wide Open Bluegrass, the conference portion of the week's programming. Highlights will include a keynote address by Matt Glaser of Berklee College of Music (Tuesday), the Momentum Awards Luncheon (Wednesday) and Industry Awards Luncheon (Thursday) — plus a BGS-presented panel on podcasts, An Essential Guide To Podcasting (Wednesday), which will be moderated by Keith Billik of Picky Fingers and will feature Basic Folk hosts Cindy Howes and Lizzie No, among others. During the evenings, when conference events have concluded, attendees and fans will enjoy the Bluegrass Ramble, IBMA's roster of more than thirty showcasing acts and bands at venues peppered throughout downtown Raleigh.
On Thursday evening, it's the so-called "Bluegrass Prom," the 34th Annual IBMA Bluegrass Music Awards, held at the Martin Marietta Center for the Performing Arts just steps away from the conference center and host hotel. Hosted by Ketch Secor and Molly Tuttle, the biggest night of the biggest week in bluegrass will see artists and bands like Billy Strings, Sister Sadie, Tray Wellington, Del McCoury Band and many more vie for awards like Entertainer of the Year, Vocal Group of the Year, Best New Artist and beyond. The Bluegrass Music Hall of Fame & Museum will also induct three new members during the ceremony, mandolinist Sam Bush, innovator and stylist David Grisman and the legendary and chart-topping Wilma Lee Cooper.
The awards show marks the week's transition from conference to festival, as Bluegrass Live! takes over the Red Hat Amphitheater and all of downtown Raleigh on Friday and Saturday. On the main stage, enjoy headliners like Mighty Poplar, Molly Tuttle & Golden Highway, AJ Lee & Blue Summit, Missy Raines & Allegheny and an all-star banjo collaboration of Tray Wellington, Jake Blount and Kaïa Kater. Vendors, artisans, food trucks and more will line the streets of downtown, where dozens more bands will perform for the second-largest bluegrass festival audience in the world – nearly 200,000 bluegrass and roots music fans will make Raleigh their destination this weekend.
Below, find our short list of events, bands, panels, showcases, presentations and shows not-to-be-missed at IBMA's World of Bluegrass and Bluegrass Live!
Panels & Conference Events
The World of Bluegrass business conference gets going bright and early tomorrow morning, with a New Attendee Orientation at Raleigh Convention Center room 304 at 9 a.m. Once you have the lay of the land, check out these conference programs and panels throughout the week. Don't miss your IBMA professional member constituency meeting – they're held throughout the week for the various constituencies – and don't miss the exhibit hall, full of vendors, organizations, festivals and more. It opens Wednesday at 1 p.m.
IBMA KEYNOTE ADDRESS & RECEPTION BY MATT GLASER
TUESDAY 4PM – 5:30PM | RCC BALLROOM
Matt Glaser, who served as chair of Berklee College of Music's String Department for 28 years and has pioneered its American Roots Music Program, will give a "dynamic" presentation for this year's keynote entitled, Hidden Threads: Bluegrass in the American Musical Tapestry." Glaser will explore the many styles, genres and formats that influenced and informed the creation of bluegrass – jazz, blues, gospel, old-time and so much more.
SUPERSESSION – WOMEN IN THE BUSINESS OF BLUEGRASS
WEDNESDAY 9AM – 9:50AM | RCC 306
An absolutely star-studded panel will explore how women and femme folks continue to carve out spaces for themselves, professionally, in these roots music communities. Panelists include: Deering Banjos chief executive Jamie Deering, event planner and promoter Claire Armbruster (Planning Stages), the owner/operator of Elderly Instruments, Lillian Werbin, broadcaster and radio host Michelle Lee, BGS contributor and collaborator Brandi Waller-Pace, a non-profit founder, organizer and educator (Fort Worth African American Roots Music Festival & Decolonizing the Music Room), Rounder Records co-founder Marian Leighton Levy, Mary Beth Martin of the Earl Scruggs Center and Carly Smith of the Bluegrass Music Hall of Fame & Museum.
IBMA MOMENTUM AWARDS LUNCHEON
WEDNESDAY 11AM – 1PM | RCC BALLROOM
Each year during World of Bluegrass the Wednesday luncheon is devoted to awarding up-and-comers in the bluegrass industry, from bands and instrumentalists to industry involved professionals and mentors. You can see the full list of Momentum Awards nominees here. Plus, hear luncheon showcases by a fine selection of Bluegrass Ramble bands.
SUPERSESSION – OH, DIDN'T THEY RAMBLE: THE BLUEGRASS SIDE OF ROUNDER RECORDS
WEDNESDAY 1PM – 1:50PM | RCC 306
BGS contributor and Carolina Calling host David Menconi will release his new book, Oh, Didn't They Ramble: Rounder Records and the Transformation of American Roots Music, next month, so it's perfect timing for this panel examining the historical significance of this record label. The lineup will feature Rounder founders and IBMA Hall of Fame members Ken Irwin, Marian Leighton Levy and Bill Nowlin along with broadcaster Daniel Mullins and, of course, Menconi himself.
AN ESSENTIAL GUIDE TO PODCASTING 
WEDNESDAY 2PM – 2:50PM | RCC 304

We are so excited to convene Keith Billik of Picky Fingers Podcast, Lizzie No and Cindy Howes of Basic Folk, and more BGS team members from our Podcast Network to talk about the essentials of bluegrass and roots music podcasting. If you're interested in learning about distribution, sponsorships, syndication, editing, production, pre-production and so much more, this conversation is for you.
IBMA INDUSTRY AWARDS LUNCHEON
THURSDAY 11AM – 1PM | RCC BALLROOM
On Thursday, the Industry Awards luncheon will recognize achievements and contributions of the industry's sound engineers, broadcasters, writers and more. Plus, IBMA will hand out their second-highest honor, the Distinguished Achievement Award, to a small handful of honorees – of which we're one! BGS is so humbled and honored to be one recipient of this year's Distinguished Achievement Awards. Watch for a feature on BGS and the award presentation later this week.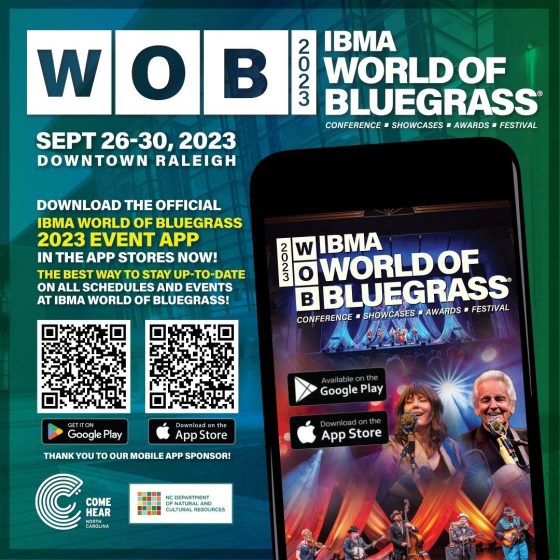 Plus, a few more panels and programs starred on our calendar include:
AVOIDING TOKENISM IN TRAD MUSIC
WEDNESDAY 2PM – 2:50PM | RCC 306
DIVERSITY, EQUITY, & INCLUSION (DEI) TOWN HALL
WEDNESDAY 4PM – 5PM | RCC 306
IBMA TOWN HALL MEETING
THURSDAY 9AM – 10:30AM | RCC 306
YOUTUBE: FINDING YOUR COMMUNITY, GROWING YOUR AUDIENCE
THURSDAY 1:30PM – 2:20PM | RCC 305
IBMA WOMEN'S COUNCIL MEETING
THURSDAY 4PM – 5PM | RCC 306
THE MAKING OF WILL THE CIRCLE BE UNBROKEN ALBUM AND ITS IMPACT ON THE WORLD
FRIDAY 1PM – 3PM | RCC 306
BLUEGRASS IS FOR EVERYONE JAM
SATURDAY 12PM – 2PM | RCC MAIN LOBBY
See the full conference schedule on IBMA's website here.
---
Bluegrass Ramble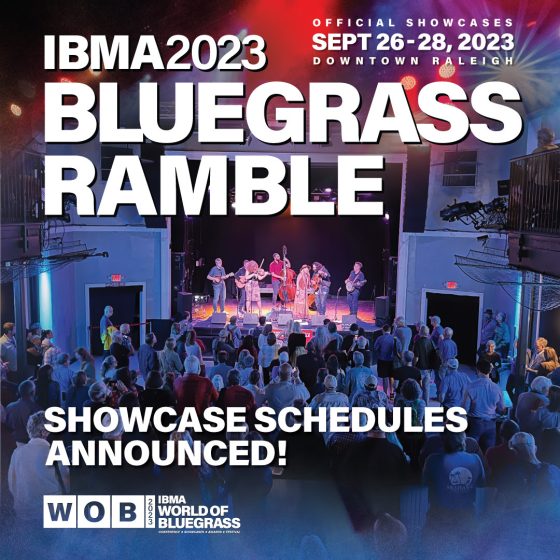 30+ bluegrass, old-time, and roots music bands will showcase throughout downtown Raleigh during IBMA's World of Bluegrass. These shows are open to both conference attendees and the general public. Find out more about ticketing and admission here.
Not sure where to begin? Here are a few bands worth your attention – and perhaps a hasty jog down Fayetteville Street!
ALEX LEACH
Multi-instrumentalist, songwriter and Clinch Mountain Boys alumnus Alex Leach brings a delightful '60s and '70s flair to his brand of central Appalachian bluegrass. We recently premiered his latest single, "Summer Haven," and look forward to catching him live this week during the Bluegrass Ramble.
---
GOLDEN SHOALS
Golden Shoals are Nashville-based duo Amy Alvey and Mark Kilianski, another group we were fortunate enough to recently feature in a video premiere for "Bitter," a song co-written by Alvey and Rachel Baiman.
---
RACHEL SUMNER & TRAVELING LIGHT
You may recognize Rachel Sumner from her time in zany, jazz-inflected string band Twisted Pine. She's since ventured out on her own as a solo artist with her music centered on her New England-influenced songwriting and chambergrass aesthetics – though she originally hails from the Southwest U.S.
---
SEQUOIA ROSE
"Bluegrass is for everyone," after all, and we're so glad to see Sequoia Rose on the official showcase lineup for IBMA! We were first introduced to her jamgrassy music via submission earlier this year and have been itching for a chance to hear it live.
---
THOMAS CASSELL
Mandolinist, writer and songwriter Thomas Cassell – who, you may know, is a BGS contributor as well – makes his home in Nashville, Tennessee, though he was raised in the bluegrass-steeped mountains of Southwestern Virginia. His brand of bluegrass is all at once timeless and forward looking with its keystone being his honeyed voice, like a youthful Dan Tyminski with a dash of Russell Moore.
---
VIOLET BELL
North Carolina string duo Violet Bell are both ethereal and grounded. Their latest album, Shapeshifter, is a stunning conceptual work that is never burdened by the nuanced stories it tells. (Read our feature on the record here.) Omar Ruiz-Lopez and Lizzy Ross subtly and deftly complicate the roots music forms that infuse their music. A must-see at IBMA.
---
WYATT ELLIS
Our readers, followers and fans can't get enough of mandolin prodigy Wyatt Ellis, who gracefully and virtuosically continues the now generations-old tradition of fleet-fingered youngsters shredding the mando. Like Ricky Skaggs, Marty Stuart, Chris Thile, Sierra Hull and many more before him, Wyatt enjoys cross-generational collaboration and has his sights set on a lifelong career in this music. Catch him showcasing at IBMA and tell folks thirty years from now you "saw him when."
Keep in mind, this is merely the tip of the bluegrass iceberg for this week in Raleigh. There's the entire lineup of the street fest plus the lineup of Bluegrass Live!'s mainstage, the Red Hat Amphitheater, to explore, too. In short, there's nowhere else to be this week than Raleigh, North Carolina for IBMA's World of Bluegrass conference and festival.
---
Graphics courtesy of IBMA