The BGS Team is excited to return to Western North Carolina for the second year of the Earl Scruggs Music Festival at the Tryon International Equestrian Center in Mill Spring. Held September 1, 2, and 3, the event will be hosted by Jerry Douglas and will include headline sets by the Infamous Stringdusters (Friday), Greensky Bluegrass (Saturday), and Emmylou Harris (Sunday) plus, on Saturday at 3:30 p.m., don't miss the Earl Scruggs Revue Album Tribute hosted by Tony Trischka and sponsored by BGS. The showcase will spotlight an album by Earl Scruggs' iconic late-'60s to '80s group featuring his sons, the Earl Scruggs Revue, and will include appearances and performances by many special guests pulled from the festival's expansive bluegrass and roots lineup.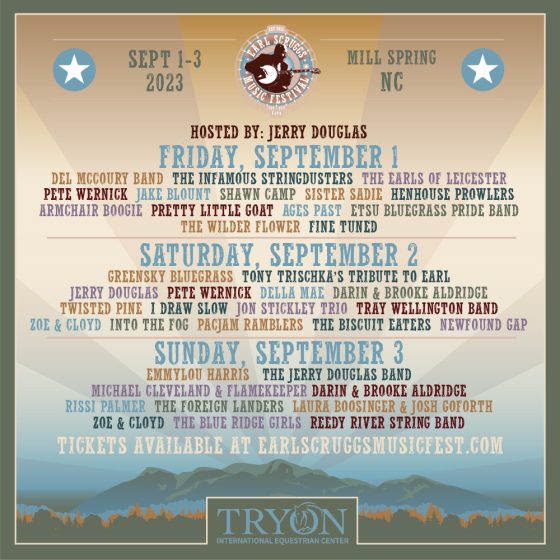 In preparation for the festival this weekend and our trek to beautiful Western NC, check out a few of our preview picks for each day of the event:
Thursday, August 31, 2023
It's the day before the real fun begins at the Tryon International Equestrian Center, but you've already pulled into town and you're rearin' and ready to go – what to do? Travel down the road about 30 minutes and visit Shelby, North Carolina, Earl Scruggs' hometown, and the incredible Earl Scruggs Center. It's open every day of the festival until 4 p.m., but hours vary some so check before you visit.
Not only does the Center co-present the festival, but it's housed in the former Cleveland County Courthouse in the center of the Shelby town square. It's an adorable small town with an outsized impact on American roots music – Don Gibson is from Shelby, as well; Nina Simone is from Tryon, just down the road. (Visit her homeplace on your way back to Mill Spring.) We focused on Shelby for an episode of our podcast made with Come Hear NC titled Carolina Calling. Listen to our Shelby episode while you drive!
Ready to head to the Equestrian Center to check out the festival footprint and do some reconnaissance? You're in luck! The official festival events don't commence until Friday, but on Thursday there will be a FREE concert on-site and restaurants and vendors will be open from 6 to 9 p.m.
Friday, September 1, 2023
The day is finally here! Gates open at 8 a.m. and the fun begins at 10 a.m. with restaurants, vendors, experiences, workshops, performances, and so much more.
Don't miss "Secrets of Scruggs-Style" on the Legends Workshop Stage at 11 a.m. featuring Tony Trischka, Charlie Cushman and Pete Wernick – arguably three of the best living scholars and emulators of Scruggs – a perfect way to kick off his namesake festival. At 3 p.m. on the main stage, affectionately dubbed "Flint Hill Stage," J.T. Scruggs and Jerry Douglas will do an official festival welcome leading directly into a Banjo Kickoff by Gena Britt, Charlie Cushman, Rob McCoury, Pete Wernick, Tony Trischka and Ben Wright.
We'll also be making a point to catch Foggy Mountain Stage sets by Jake Blount (5:30 to 6:30 p.m.) and Shawn Camp (8:30 to 9:30 p.m.) plus Flint Hill Stage appearances by Sister Sadie (4 to 5 p.m.), Del McCoury Band (7:30 to 9 p.m.), and the Stringdusters closing out the night at 9:30 p.m.
Don't go back to your campsite or your hotel yet, though! Foggy Late Night begins at 10:30 p.m. with Armchair Boogie.
Saturday, September 2, 2023
If your schedule is too-tight and you can only make one day of ESMF 2023, Saturday is the day not-to-miss. It's wall-to-wall, superlative programming across all of the stages at the event.
On the Legends Workshop Stage we're eyeing "High Lonesome Songs: Then & Now" at 11:30 a.m., a songwriting workshop featuring Louisa Branscomb, Celia Woodsmith and Jon Weisberger. But you may have to split your time between Legends Workshop and Flint Hill, because Tony Trischka's tribute to Earl Scruggs – EarlJam! EarlJam! – begins on the main stage at 12 p.m. Stick around, because banjo phenom and innovator Tray Wellington brings his tight and tidy band to the main stage directly after EarlJam. Wellington's languid drawl is only one of many traits of Scruggs' he carries on with his innovative sound and truly traditional right hand approach.
We're super excited to see our friends Della Mae (Flint Hill Stage, 8 p.m.) and Twisted Pine (Foggy Mountain Stage, 8:45 p.m.), but the highlight of day two for us will certainly be the Earl Scruggs Revue Album Tribute show on the Foggy Mountain Stage at 3:30 p.m. It will feature a star-studded lineup hosted by Trischka and his band and featuring songs from a classic Earl Scruggs Revue performance. (Hint above.) Our own managing editor Justin Hiltner will be emceeing and updating y'all on the event on our socials, so be sure to follow along.
At Foggy Late Night we'll be dancing along to Della Mae past midnight! See you there?
Sunday, September 3, 2023
When Sunday morning rolls around, we, too, will be wondering where the weekend went so fast. But don't worry, there's still a full day of music and fun before the post-festival depression starts to creep back in.
Sunday begins, appropriately, with Gospel Brunch hosted by Darin & Brooke Aldridge and immediately following, singer-songwriter and host of Apple Music's Color Me Country, Rissi Palmer will "take us to church" on the Flint Hill Stage, too. If you've never had the chance to experience Palmer's heartfelt, modern, and soulful country stylings you won't want to miss her set. For an infusion of a faith tradition less prominent in roots music, check out Zoe & Cloyd on the Foggy Mountain Stage at 4:30 p.m. Their latest album, Songs of Our Grandfathers, combines bluegrass, fiddle music, old-time and Jewish folk and klezmer.
On the Legends Workshop Stage at 1 p.m., get up close and personal with festival host and the worlds premier resophonic guitarist Jerry Douglas before his main stage set with his band at 3:45 p.m.
Then, to close out your weekend full of amazing music, excellent hangs, and so much fun, settle in for Emmylou Harris's headline set on the Flint Hill Stage at 5:30 p.m. As her final notes fade into the Western North Carolina air, cheer up – you don't have to go home yet! Reedy River String Band will give us one last hoorah for their Foggy Mountain Stage performance from 7 p.m. to 8 p.m.
As you drive back home after the second annual Earl Scruggs Music Festival we hope, like ourselves, you'll be making plans to return next year (perhaps as you listen to Carolina Calling).
Find more information on Earl Scruggs Music Festival and purchase tickets here.
---
Graphic courtesy of Earl Scruggs Music Festival.
Photo Credit: Eli Johnson