Unexpected combinations are Trae Basore's specialty in the kitchen. The executive chef of Pearl & Ash in Manhattan's Bowery district presents a menu full of imaginative pairings: Deep-fried sweetbreads are made even more indulgent with the addition of crawfish mousse; sour peanuts add a pop to charred rapini; and scrambled eggs get a briny boost from a few tongues of uni. An alum of Tom Colicchio's highly regarded Colicchio & Sons, he posts his most eye-catching preparations to Instagram.
He may plate fancy, but the Arkansas native prefers more rusticated fare when it comes to his music. After an embarrassing early dalliance with Top 40 — the first CD he ever purchased was MC Hammer's "Addams Groove" ("Watch the video," he advises. "It's hilarious."), while his inaugural concert was Michael Bolton — Basore fell hard for Southern-minded music when he discovered a treasure trove of his father's old LPs, including classics from Johnny Cash, Willie Nelson, and Lynyrd Skynyrd.
Those artists continue to be the backbone of his collection, so his Shift List playlist reflects his upbringing. "It's the music I grew up listening to," says Baesore. "If I go into a bar — I'm a big fan of Paddy Maguire's Ale House on Third Avenue — these are the songs I'm looking for on the jukebox."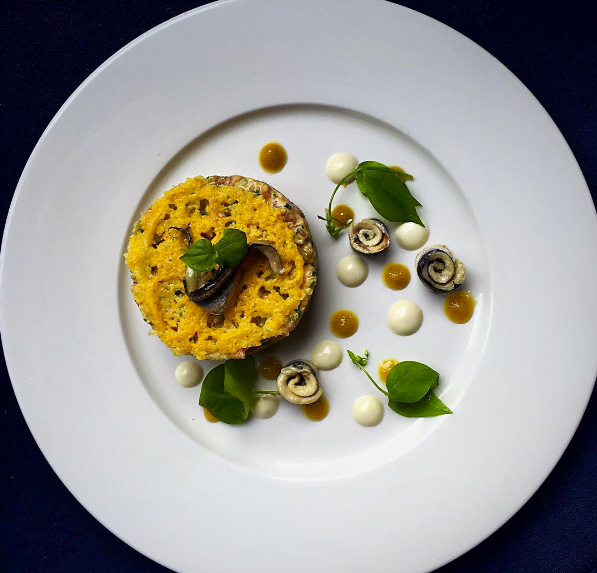 At the tail end of high school and during his years attending the University of Arkansas, Basore began to get into bluegrass, folk, and jam bands. He attended a slew of Yonder Mountain, Old Crow Medicine Show, and Widespread Panic gigs. "I'd bring bongos and congas to shows to play beforehand," says the chef, who also briefly flirted with playing the fiddle and the drums, "but I wouldn't go on tour following anyone."
These days, Basore only gets to listen to his favorites when he's off the clock, though he did manage to catch Devil Makes Three playing at Terminal Five earlier this year. The chef bemoans the fact that he has given his staff free rein to choose what gets played during prep — and their tastes don't exactly match up. "Unfortunately for me, Kanye is pretty big right now," he says. "But as long as they're happy, I'm happy."
Once service starts, the restaurant's official playlist kicks in, which highlights plenty of offbeat '80s rock from Talking Heads, David Bowie, and Paul Simon. "There's no Whitesnake or Bon Jovi," he assures.
Right now, when it comes to music, Basore is focused on finding a bluegrass band for his wedding, which is taking place back in his home state of Arkansas in September. "After picking the food — traditional dim sum for the cocktail hour and barbeque from Penguin Ed's in Fayetteville — it's really my only task," he says. "I'd better not screw it up."
---
Photos courtesy of Trae Basore