The list of singer/songwriters who cite Neil Young at or near the top of their influences is overflowing with names … and with good reason. From his early Buffalo Springfield days on through his most recent solo efforts, the man has carved out a legacy that spans nearly 40 albums across six decades. Songs like "Tell Me Why," "Down by the River," "Heart of Gold," "Rockin' in the Free World," "Southern Man," and countless others offer a master class in what it means and takes to be a songwriter of humbly epic proportions.
Grant-Lee Phillips proudly proffers his name to that lengthy list of Neil Young disciples. Having come of age, musically speaking, in a scene that included R.E.M., Robyn Hitchcock, the Pixies, and Bob Mould, Phillips has written his fair share of alt-rock anthems. Underneath that Sturm und Drang, though, has always been a lover of roots music, and Phillips lets that side of himself shine brightly on his latest release, The Narrows.
What's your favorite Neil Young era and why? He has so many different incarnations.
That's true. Goodness. I mean, I was exposed to Neil Young around the time I was maybe 14, 15, 16. I had a 45 of "Heart of Gold," then I went and saw him when he came through the Bay Area on his Trans tour. He played the Cow Palace all by himself. That kind of opened up my mind. But I found that I instantly began to back-track. I got into the album Decade which was that great collection. Essentially, all of that stuff: After the Gold Rush, Harvest, Tonight's the Night … all of that stuff made the most lasting impression.
So, early era. I would say that's probably true for a lot of people.
Yeah. Now, that said, I was totally into Harvest Moon, as well. I love all of those songs, as well. He's one of those people I've been able to see over the years, to hear him play live and be on a few festival bills where I got to get really up close near the man.
Nice. He's stated his fondness for Elvis, Little Richard, Fats Domino, Jerry Lee Lewis, and a bunch of other early rock 'n' roll pioneers. In what ways do you hear those cats coming through his music?
Oh, wow.
[Laughs] Right? I'm not letting you off easy on this thing, man.
[Laughs] There's definitely a reverence for the roots of rock 'n' roll and all of that primitive, hot blood stuff you mentioned. I read somewhere that Link Wray was even a big influence. I think of that music as being the basic building blocks that inform everything that we consider to be rock 'n' roll today. So, yeah, all of those songs that pertained to dancing, that metaphor — "life as a dance" — I hear all of that kind of stuff merging in Neil Young.
I think what attracted me to his work is that it has all of the strengths of melody and the strengths of poetry, but it has this other element … the element of spirit. And that's really where he operates. He touches upon these feelings that are ageless. It doesn't matter that the songs are written or recorded 50-odd years ago or yesterday; it's pertinent today.
Along those lines, with his guitar playing, is there a technical aspect to what he does that you and so many others admire or is it all about the heart and guts of it?
Yeah, you hit upon it: It's the guts. [Laughs] Yeah. For him, there's a sense that there's a very short electrical nerve between his impulse and his hands. It goes beyond all the technique, beyond whatever knobs he turns to acquire such sounds. Just plug it in, turn it up, and let the emotion rush over you. The greatest musicians in the world … it doesn't matter how well-schooled or how many hours they've spent practicing in the mirror, they could learn something from Neil Young. [Laughs]
[Laughs] How would your music be different without Neil Young in the world?
I can't even imagine what my music would be like, if I hadn't been turned on to Neil Young. I don't know. It might suffer from too much head and not enough heart. There's music for all parts of the body. Some people make music that's appealing to the heavens. I feel like Van Morrison is like that. And some of it's meant to appeal to the butt region. [Laughs]
[Laughs] The lower, nether regions.
[Laughs] Yeah, yeah … the butt chakra.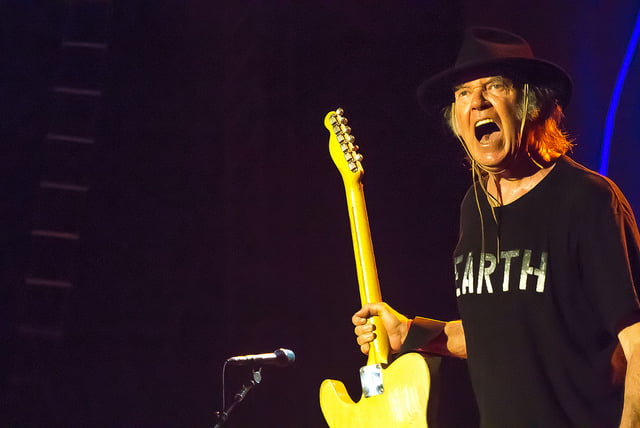 Photo credit: kyonokyonokyono via Foter.com / CC BY.
To me, another part that's so appealing about him and is a huge part of his legacy is his activism — all the way from "Ohio" and other songs to his Bridge School Benefits and everything else he does. He walks the walk. Why is it important for artists to do that kind of work, both through their music and in their lives?
I don't necessarily draw a line between artists and every other civilian. I think it's important for all of us, no matter what we do in our lives, to be informed so that we can live with greater empathy and greater understanding and affect change where we need it. If you're an artist, then you have that opportunity to use your voice in such a way. But, yeah, I think it's imperative for all of us to do that, to have that kind of responsibility.
What I love about Neil Young is that he seems to take a flashlight to the human experience. Some of his songs, I couldn't tell you what they are about. It's like a dream that you're sharing. Then others are quite clearly drawn from a tragedy of a given experience, like "Ohio." It's that whole gamut, the whole range of experience that we have here. On that note, politics needn't be left outside of the conversation. It doesn't have to be the entire conversation, but it certainly has a place.
Considering how many up-and-coming singer/songwriters cite him as an influence, who do you see coming up that seems to have the chops to go the distance he's gone?
Oh, wow. Goodness.
[Laughs] Totally putting you on the spot.
[Laughs] Yeah, it's an unfair question because most of my listening revolves around the same 10 records that I've been listening to for the last 40 years. [Laughs] But I feel like Gillian Welch is in that tradition, in a lot of ways. There's the obvious folk connection, but maybe in that maverick way of not being pinned down to whatever preconceived notion we have about what folk music is or what acoustic music is or what being a singer/songwriter is. You have to be willing to shed all of that in order to be true to your own voice.
---
Grant-Lee Phillips photo courtesy of the artist. Neil Young photo courtesy of Stoned59 via Foter.com / CC BY.