In the world of folk-rock, a few artists reap the lion's share of mentions, with Joni Mitchell, Bob Dylan, and Jackson Browne, among them. One of the great voices of the genre, though, is Linda Ronstadt. As a singer and song collector, she is all but unrivaled — a point most of her peers would agree with. Starting in the mid-1960s as a member of the Stone Poneys and, later, as a solo artist, Ronstadt made a name for herself on the marquees of folk clubs and rock arenas, alike, thanks to albums like Hand Sown … Home Grown (which some consider the first alt-country album by a female), Silk Purse, Heart Like a Wheel, and many more. Her artistry recognized no boundaries as she recorded with the Nelson Riddle Orchestra, as part of Trio with Dolly Parton and Emmylou Harris, and in Spanish. In 2011, however, she announced her retirement brought on by a battle with Parkinson's disease.
"I don't have any great, huge proclamations to begin with, except that I adore Linda Ronstadt," singer/songwriter Tift Merritt says with a laugh. And, really, that's enough. From her debut album, Bramble Rose, to her latest release, Stitch of the World, Merritt has attempted to follow in the footsteps of her musical heroes — women like Harris and Ronstadt — who have blazed a trail of feminine fearlessness. By pretty much all accounts, she has succeeded — a point most of her peers would agree with.
Are you a student of Linda's work for your own artistry or just a fan for your own enjoyment?
You know, I wanted to talk about Linda because she's not singing anymore because she has Parkinson's, so it's almost more important to talk about her now because of that. I think what we need to talk about with Linda Ronstadt is that, at the height of the singer/songwriter movement, she was the one headlining stadiums with the Eagles and Elton John. I think it's really important to talk about a woman doing that. She was bringing all these songwriters she knew and loved, and taking their songs and singing them. She was on the cover of Time magazine. She was a girl next door and a member of the band with a very understated sexuality, but she was also an absolute star and a commercial success. I think we tend to think about women with guitars singing earthy rock 'n' roll as coffee shop acts or something that's going to fall apart in your hands. And Linda Ronstadt was kicking everyone's ass. [Laughs]
[Laughs] What's interesting is that there's a quote of hers from 1999, in which she said, "I always mean to be a singer, not a star." So, even though she achieved that level, like you said, it wasn't necessarily her goal.
I think that's why it's important to talk about, too. Because she is an artist. I think she had a complicated relationship with her success and how she was viewed, sexually, and all of that. But she achieved success through her art. And I know that I first fell in love with Linda Ronstadt records when I was in my early 20s. In fact, when I made Bramble Rose, I wanted to make a record like [Emmylou Harris's] Quarter Moon in a Ten Cent Town or I wanted to make a record like Heart Like a Wheel or Silk Purse or one of the early Bonnie Raitt records. Those first records were so raw and heartfelt and just penetrated your bones and brought tears to your eyes.
I remember that was said in the press release for my first record, and one of my first reviews kind of made fun of me for liking Linda Ronstadt. I thought, "Oh my God. This person doesn't get it." For me, all of those women, and Linda Ronstadt, especially … this was in the late '90s or early 2000s. I sort of came of age in the '90s. Madonna was on MTV in the '80s. And I needed some female role modes who were more like me, who had something to say, who were not intent on acting outrageously, but really wanted to be storytellers. And who had a lot to say and who were masters of their art. You can tell from Linda Ronstadt's discography and her work as a writer and a singer, she's a student of her craft. But she always manages to look so cool in all the pictures of her! And she was in a band, too! You navigate this world of dudes traveling on the road, and she did that with so much grace.
Yeah. Yeah. I feel like, in listening to her and reading about her, to me, her fearlessness as a singer …
Uh huh. Absolutely!
… both in song choices and vocal delivery. You can hear so much in her voice.
She's totally fearless. Maybe that's the source of her power because she's so powerful, as well. I've sung along with those records … I had a break up and I ended up putting on those records to comfort myself and I was right back there. I've been singing along to those records for such a long time, and her voice is an unbelievable instrument. Unbelievable. It's silken and velvet, and also as powerful as steel. And it's fierce. The effortlessness with which she can belt at the top of her range, then go low … any melody is so lucky to end up in her hands. [Laughs]
[Laughs] What does it take for a singer to do what she did — both in terms of breaking down as many genre barriers as she did and finding her way into songs she didn't write, but might as well have? They sounded like they were fully coming from her.
Right. They were realized through her. I don't know her, personally, at all. But my impression is that it's a combination of open-heartedness and intelligence and that fearlessness where you are singing with your heart on the line. Period.
Yeah. You find your way in and bring everybody along with you.
Mmm-hmm.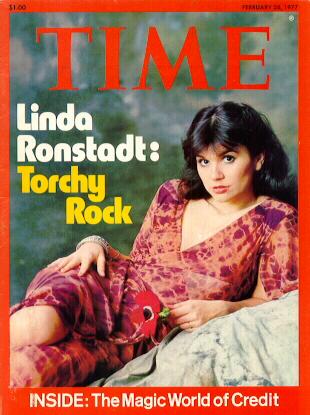 The other thing I feel like … her identification as a singer and, later, a producer … she was no less revered and respected just because she wasn't a songwriter.
No. I know.
Except for with the guy who reviewed your record. [Laughs] Do you think that's changed at all? These days, is being a songwriter, too, a huge part of the credibility factor?
I don't know. I think the world has room for so many different types of careers. I come at this as a writer. But music is such a powerful thing, and to be able to inhabit that … music is a physical and social medium. To be open enough to let that run through you, it's really an awesome thing.
I took some time off from touring and I missed that. It's such a joyful letting go, even if it's a sad song. And I think that's what you hear when you listen to Linda Ronstadt. So much power coming through these tiny muscles in your neck. They're so fragile. They're the size of a dime. There's an electric current that seems to jump out of her. Like a river of feeling coming out. I think it's important to talk about, that music is not about a canvas on a wall. It's not about words on a page. It is a physical, living, breathing type of media. And to be able to do that seamlessly … I love watching and hearing people who have that gift. And it is a gift.
That's a great ending, right there.
Well, we just have to mention that "Long Long Time" and "Blue Bayou" are two of the greatest performances of great songs. Ever. [Laughs] That is all.
---
Tift Merritt photo courtesy of the artist. Linda Ronstadt photo courtesy of Carl Lender.