Although Music City has more than a few country music princesses, it has only one true queen: Marlene Twitty-Fargo. Backed by her band of top-notch players — known collectively as the Twat Biscuits — Marlene puts on what she likes to call "an X-rated show for a Jesus-loving crowd." It's an experience unlike any other you'll have in Nashville, to be sure. At your first show, you'll recognize the melodies of the tunes, but you won't be able to sing along. Why? Because, first of all, Marlene sings the "original" lyrics. And, secondly, you'll be laughing too hard.
This Friday (September 4), Marlene and the Twat Biscuits make their debut in the big room at City Winery Nashville … which is something BGS felt was worth commemorating.
Now I know you're a very private and sensitive person … and rightfully so. Seems like you have some loony fans and, from what I understand, a bit of an untoward past. So I think you should pick a safe word in case there's a question you don't want to answer.
You know what? I say you just ask away. I'm a good country girl and, if I'm not comfortable with something, I'll just tell ya.
Okay. For folks who don't know your story, tell us a little about your background in music. You weren't always a country singer, were you?
I wasn't. I actually grew up singing Southern gospel, bluegrass gospel. My mother, actually, started the tradition. Her name was Neldeen Finger, was her maiden name. In the area where I grew up in Cocke County, TN, she was a member and a sister in a singing group there — a Southern bluegrass group — called the Finger Singers. They were quite popular in our area, so she taught me music. And, like many, many a singer, I grew up singing in the church. That's really where my heart still is, but my life hasn't always lined up with that. Sometimes it's best that I sing country because I don't know if I'm always the best messenger for gospel.
I understand. So, who are your heroes, your inspirations … for both your music and your, shall we say, fashion?
Oh, Lord, let's see … As far as the music goes, definitely one of them has to be Vestal Goodman from the Happy Goodman Family, back in the gospel tradition. In the more country tradition, it would probably be more along the lines of Mother Maybelle, Kitty Wells, probably Loretta Lynn. I tend to gravitate musically, and fashion-wise, toward the stronger, more traditional women. But, now, with the fashion, I do play with that a little bit. Probably some of my big fashion role models would have to be Miss Tammy Wynette and Miss Dottie West. Those are my two fashion favorites.
Tell me about your band because you have some mighty fine young talents backing you up.
I tell ya, every day I thank the Lord for the people who have been brought into my life, musically. Two of the people have been with me since the very start. I used to sing gospel with my sisters [The Dickson Chicks] and when we decided to go our own ways, I met up with a couple of people who had done some work with the sisters. Cousin Vaseline, of course. He's my fiddle player. He's a wonderful young man. I would probably consider him my musical director, as well. We've got Cousin Pussyfoot, who I just adore. She's our drummer/clogger/life coach … she's so much to us. We just depend on her so much.
So she is your cousin and not just some lost soul you found at a clogging competition?
That's true. Most of the people in my life, musically, even though I haven't known them all a very long time, we have found out — through being country and being a little incestuous — we're all a little bit related somewhere along the line. It's easier, rather than making all those distinctions about how we're related. We just call each other cousin. But there is some blood there.
Got it. So we have Cousin Vaseline and Cousin Pussyfoot. And then you have those two strapping young gents on guitar and mandolin, back there.
Yes. That is Cousin Butane and Cousin Acetane. They're wonderful.
How'd you find them?
I picked them up through Cousin Vaseline. He's played in some bands with them. He knows them real well. And we found out, once again, there's some blood there. Distant cousins, two or three times removed. So we picked them up. And we got a new young banjo player who's joining us. Such a talented young man.
Your musical repertoire allegedly includes different versions of songs that were allegedly made famous by other singers. Where does all the inspiration come from?
I will tell you, Kelly, in all honesty. Probably one of the biggest frustrations in my career has been … I guess because I'm not as well known, not in the mainstream as some of these other women in country music … I have done a whole lot of really good songwriting, but one of my biggest frustrations is that these women just keep stealing my music. A lot of these things that you hear on the radio that have been number one hits, Top 10 country, actually were from me. In my younger years, I wasn't so good about getting copyrights on things. So a lot of those were taken from me. The melodies have pretty much stayed the same, but they sort of toyed with the words. My word are a little more raw than a lot of what was on the radio. As I say, I have to bless it and release it, but a lot of those bitches have just stolen things right out from under me.
Sure. Sure. Give me an example. What's your favorite song to sing?
One of them would be … and I almost hesitate to speak it because she's recently deceased … but "Rose Garden" made famous by Miss Lynn Anderson.
Bless her heart. Rest in peace.
Bless her heart. She's gone on to Glory, so I don't want to say too much about her. But she did make it a more mainstream version. Ours is a little more raw. The original lyrics and original intent is more about a young man pleasing a female. And, usually, that's more in the oral way. Sometimes things just aren't terribly pretty down there. So, she never promised him a rose garden every time.
Never did.
Never did. So, in its original version, it's her just saying, "Sorry. But that's what you get when you're down there."
And what would you say is your fans' favorite song?
I would have to say … we've got some real doozies that they like. "Rose Garden" is a big one. We do have one that the fans seem to love. Again, I wrote the original version and Miss Tanya Tucker made it famous. My version, the original, is "Delta's Dong" which is the same tune as Tanya's "Delta Dawn."
Yeah. That one gets stuck in my head all the time.
Does it not, though? It just seems to flow off the tongue. It took me literally about five minutes to write that one. It just came to me, as if I was struck by divine inspiration.
It just came to you?
It did.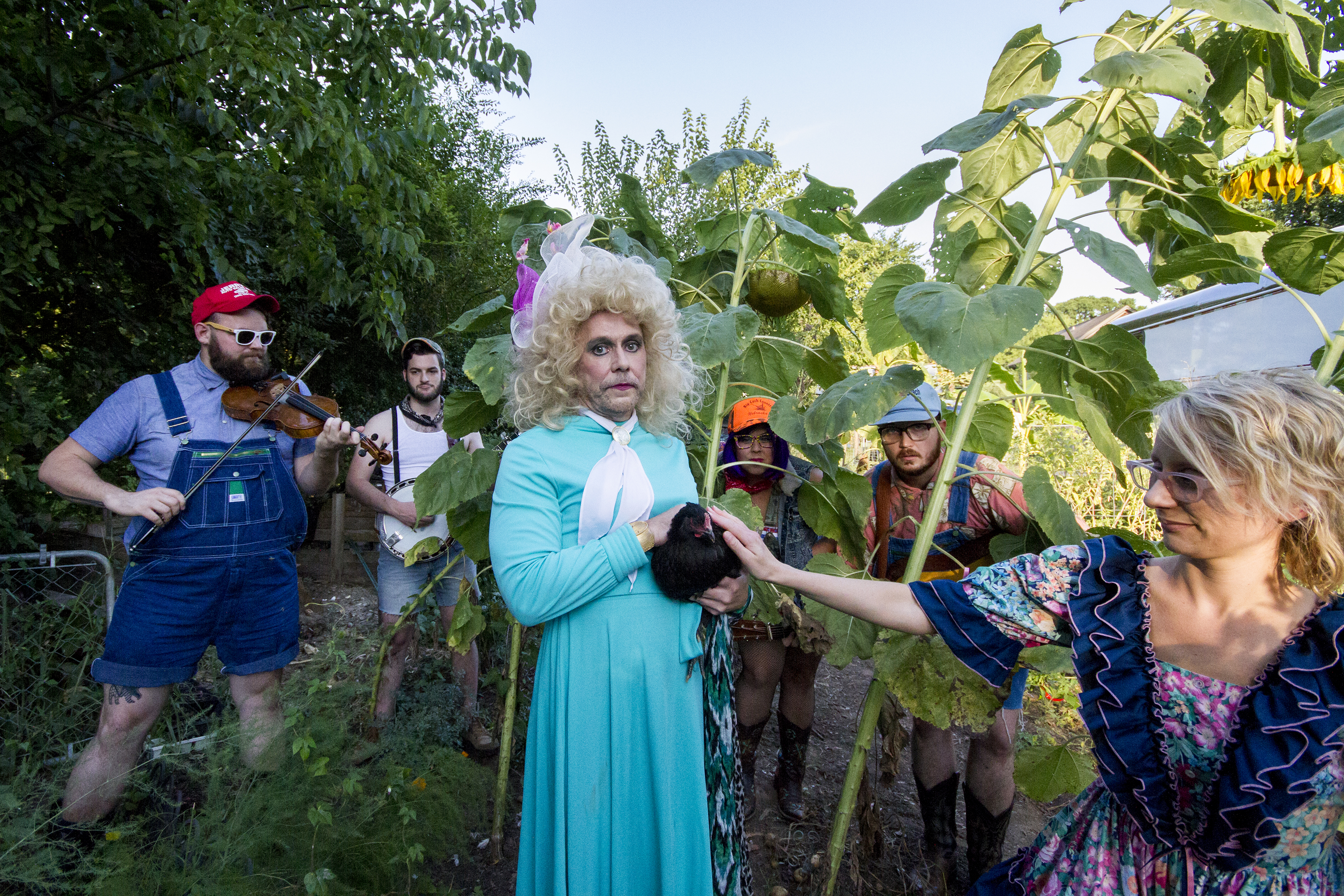 Are there girls in town that you'd like to sing with someday? Maybe we can get that Lee Ann Womack or that Kacey Musgraves to come to a show. That'd be a hoot and a half.
I would love for either one of those ladies to come along. Now, they do have to realize, if someone is in my show … I feel like I have been buried long enough … I would love for these women to come and sing in my show, but they have to always remember …
You're the star.
I am the star. They are welcome to come along, but they best not try to outshine me.
I don't see how they could, really.
Well, I agree with you. Some would not agree. I'm never too refined not to take off my shoes and kick a woman's ass if they try to take over the show.
You'd take 'em right down to fist city, would ya?
Amen. I'll take 'em right to fist city. And not in a good way. Not in a way that would be pleasurable to them.
All of a sudden, you've gone from playing little dive bars on the west side to the big, fancy City Winery … with your first show in the main room coming up. That must feel pretty good.
You know, for a little girl from Cocke County, TN, it's a little much. It's exciting. I'm starting to feel the pressure a little bit. I do need to give a shout out to Miss Emilee Warner. She heard us. I think she knows Vaseline. She gave us this opportunity and she's become a huge support for us. So I just have to give her that shout out. She's made a lot of this possible at City Winery. And once you give an eagle its wings, it just takes off.
You're first show there was the night that the Supreme Court ruled on marriage equality during Gay Pride weekend here in Nashville.
That is true. See again … my background is in church music and gospel and I think sometimes God just moves in a way. He just knew that was the night of my first show. He just gave me that little extra edge there with the SCOTUS decision. Once again, I have to give all glory to God on that one. He just lined the stars up right for us there.
So playing the big room at City Winery … what is next for Marlene Twitty-Fargo?
Well, I'll tell you. We honestly and truly … for some reason, and I haven't been able to figure out why, but I'm very thankful … we've had a huge gay following, from the start.
I wonder why that is.
I don't know why. I think a lot of it is, those gay boys just love sparkly things. When I get out there in my wigs and my dresses, they just love to have somebody to look at.
And Dolly doesn't play as often, so somebody's gotta …
Exactly. The gay boys love my sparkle and my lesbians just really seem to love the country side of me. For some reason, I've appealed to that audience and I'm so thankful. So we would like to maybe do some Gay Pride celebrations around the country. We're always open to any sort of venue where we travel.
We feel like our show is a lot of fun and it's really raunchy, but the deeper meaning of Marlene and the Twat Biscuits is, there's nothing wrong with being different. And for those who have sometimes felt like outsiders, you can actually embrace that and totally enjoy your life. So, our deeper message is that you just gotta keep going because, even though you may feel a little different, life's a beautiful thing.
---
Photos by Samantha Angel