Whether you're finding spiritual healing at the "vortexes," hiking Coffee Pot Rock, or practicing morning meditation at a wellness spa, Sedona, Arizona, is brimming with opportunities for introspection. Touted as the "red rock playground," the town is informed by the landscape and is home to many sacred structures, including labyrinths, stupas, and medicine wheels.
Stemming from Native American influences, Sedona's immense metaphysical community offers healers, intuitives, and spiritual guides. Deep, red canyons and clear, star-studded skies make every turn look like a movie backdrop, which is why John Wayne has visited more than once.
Getting There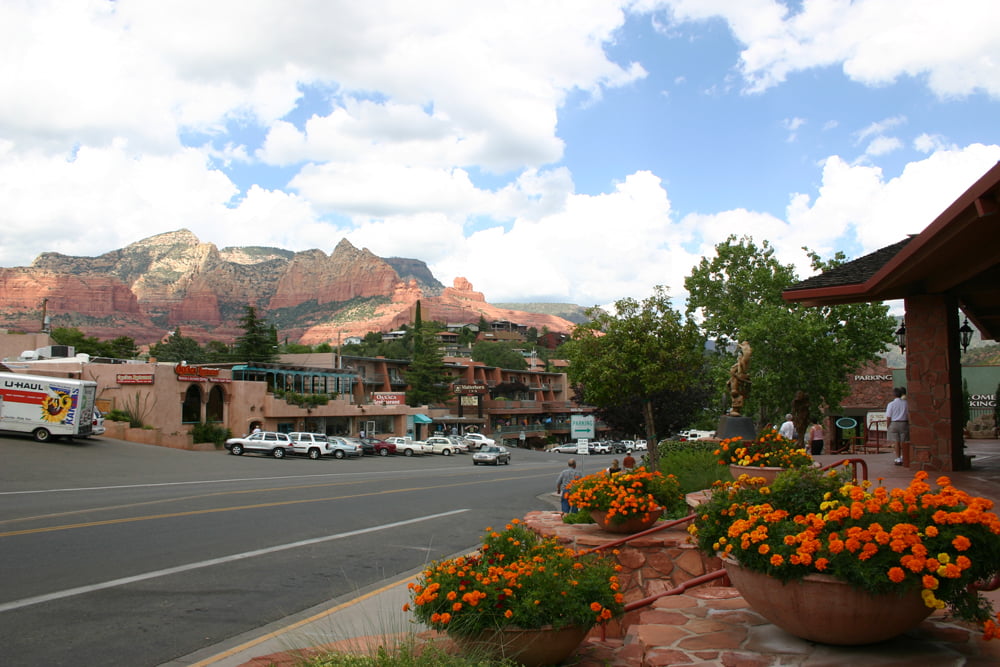 Sedona is centrally located two hours north of Phoenix, two hours south of the Grand Canyon, and 30 miles south of Flagstaff, so the opportunities for day trips are numerous. The closest major airport is the Phoenix Sky Harbor International Airport (PHX). While in Sedona, trolleys are an admittedly touristy, but albeit worth it way to see the area. Try the Sedona Trolley or the Red Rock Magic Trolley.
Where to Stay
You can go as high-brow or as bare-bones as you like with style ranging from wellness spas to camping in a canyon. Sumptuous retreats like Enchantment Resort and Red Agave Resort offer wellness packages and all-inclusive experiences. If you're looking for a more humble abode (read: cheaper), La Petite Sedona fits the bill and has expansive views of the red rocks. Accommodations in Sedona are one of the most enchanting parts of the trip, so go all out — you're on vacation.
Eats & Drinks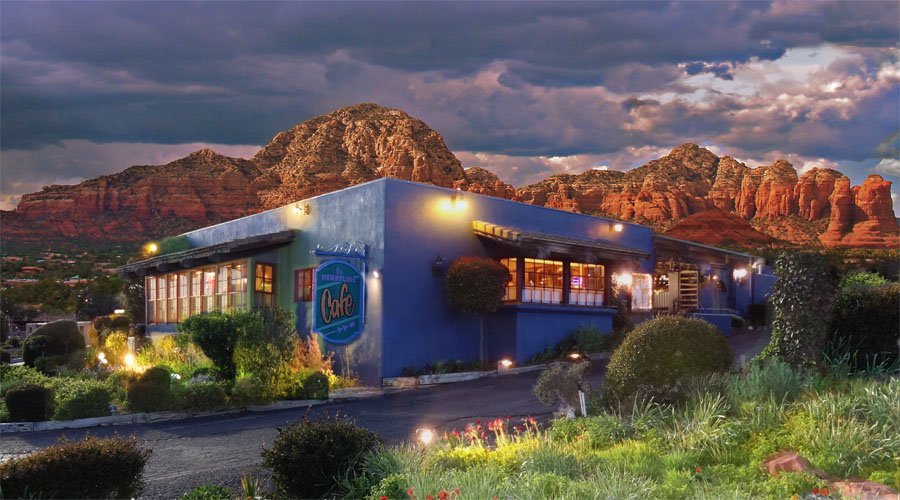 Photo: Heartline Café via Heartline Café's Facebook
First settled because of the year-round water and fertile soil, Sedona was well-positioned to become the culinary hotspot it is now. Trout from Oak Creek and wine from grapes grown on Arizona's lush hillsides are menu staples. Check out Heartline Café for fresh and healthy food with a view of the red rocks and a dog-friendly patio. Coffee Pot Restaurant is your go-to for a diner-style restaurant and aptly named after Coffee Pot Rock, of which you'll have spectacular views while eating omelettes.
As you might expect, you can find some crunchy restaurants like ChocolaTree Organic Oasis, whick only uses "local artesian well water" to create their menu of entirely organic and gluten-free goods. Sound Bites Grill has a robust live music calendar, ranging from jazz to rock and serves a full menu including "Fleetwood Mac & Cheese." For Arizona brews, head to Oak Creek Brewery and Grill for multi-award-winning beer and a full menu.
The Arts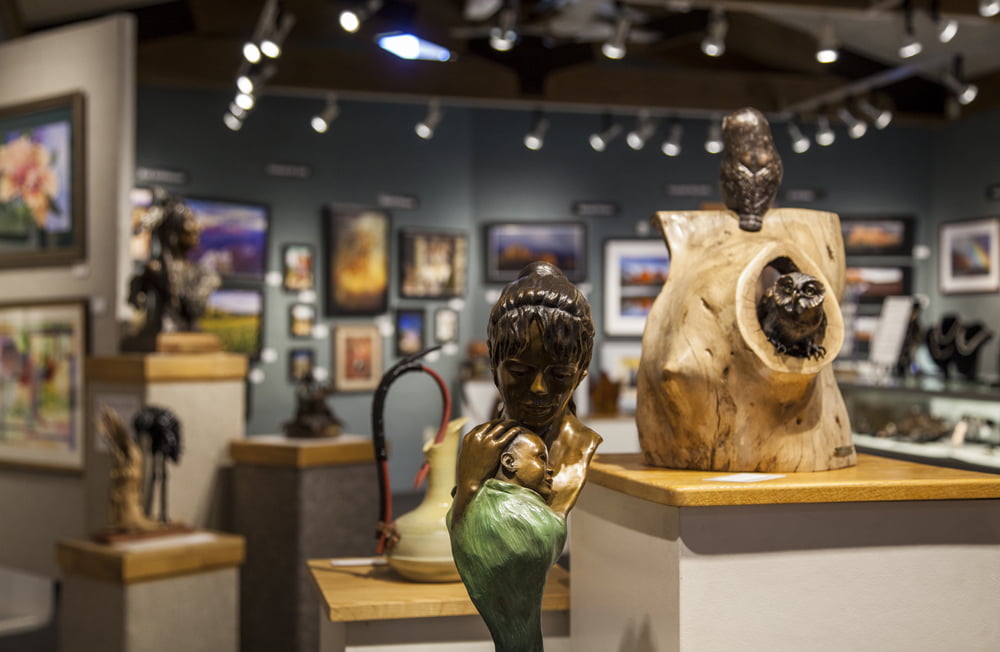 Photo: Gallery Sculptures by Sedona Chamber of Commerce & Tourism Bureau
A definably artful town, Sedona's hand-woven rugs, Western bronzes, and turquoise adorn every gallery along Gallery Row. Native American influences are dominant in local art. German Dada artist Max Ernst's most famous work, Capricorn, was inspired by the rugged landscape in Sedona, where he lived for years. The Tlaquepaque Arts & Crafts Village (pronounced T-la-keh-pah-keh) is fashioned after a traditional Mexican village and was originally conceived as an artists' haven — this spot is the go-to for seeing and buying handmade local art.
The Outdoors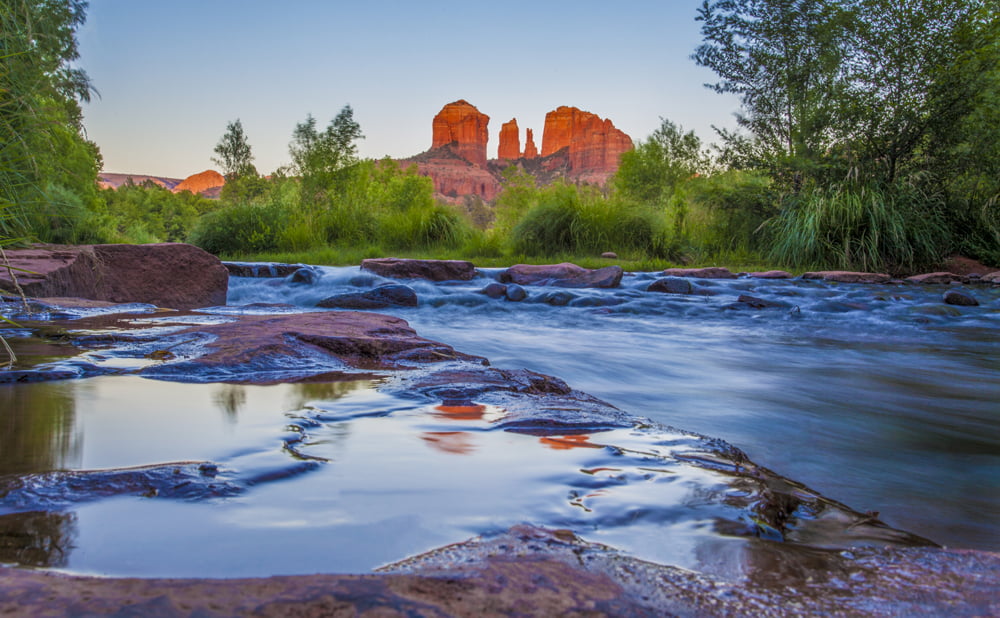 Photo: Cathedral Rock by Sedona Chamber of Commerce & Tourism Bureau
Not only are the surrounding red rocks and canyons astonishing, they are also easily accessible, presenting a world of hiking and biking trails. The red rock formations were named after their shapes and offer some pretty humorous titles from Coffee Pot Rock to Snoopy and Woodstock. Cathedral Rock and Bell Rock are two popular hikes. Bell Rock is also one of the most prominent vortex sites in Sedona, if you buy into the notion of Earth's energy converging in a swirling concentration. A popular tourist destination, local healers and intuitives categorize the vortexes as female, male, or balanced and tout their positive effect on the body and human consciousness, although there's no electricity involved.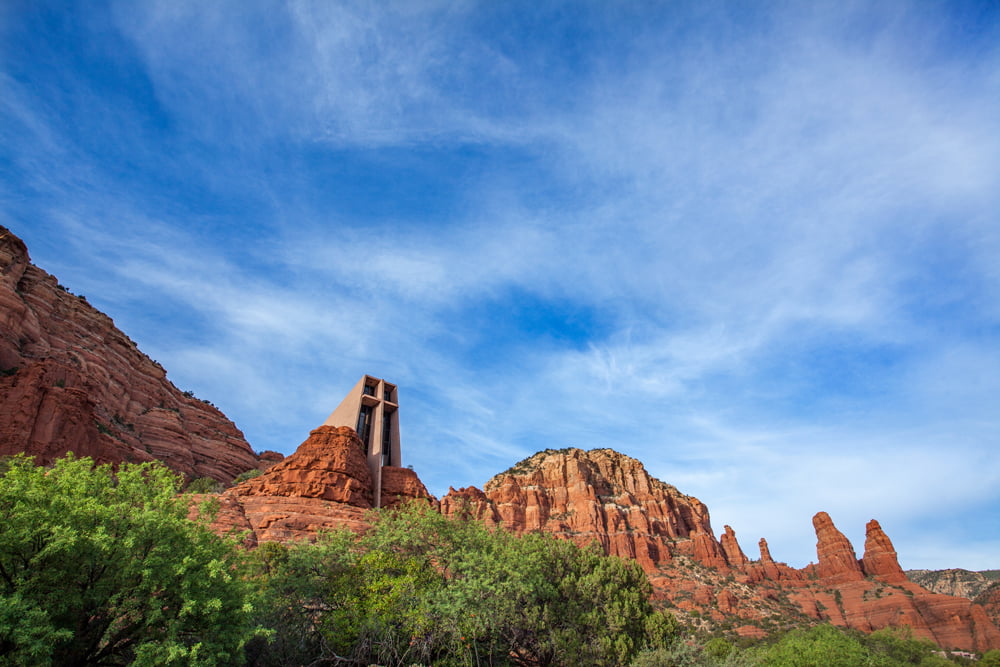 Photo: Chapel of the Holy Cross by Sedona Chamber of Commerce & Tourism Bureau
The Chapel of the Holy Cross is an old Catholic church built into the rock formations — an architectural feat free for the public to explore.
Festivals
Yep, they deserve their very own category in this bumpin' festival destination town. There's a festival for every hobby. Bird watcher? The Sedona Hummingbird Festival brings bird onlookers to town in July. Music fan? You'll love the Red Rocks Music Festival. Film fiend? The Sedona International Film Festival in February brings worldwide talent to town. Wino? Taste local spirits at the Sedona Winefest. Bike lover's rejoice! The Sedona Mountain Bike Festival highlights the bike culture and expansive trail network in town yearly.
---
Lede photo by Sedona Chamber of Commerce & Tourism Bureau