The Bluegrass Situation is pleased to announce the artists for Bluegrass Underground's milestone Season X on PBS. From March 27 through March 29, the Bluegrass Underground TV taping from The Caverns in Pelham, Tennessee will treat music fans to performances by the finest in roots music and Americana.
This special 10th anniversary taping features cutting-edge singer-songwriters Cam, Yola, Courtney Marie Andrews, and Sam Lewis, and harmonious duos Mandolin Orange and three-time Grammy-nominated Milk Carton Kids, as well as legends like Asleep at the Wheel and Blind Boys of Alabama, and rising stars like bluegrass phenom Molly Tuttle, groove-driven jam band Goose, and psychedelic soul group Black Pumas, plus a surprise act to be announced in the coming weeks.
Jam-packed into one epic weekend of underground concerts, the performances will be captured for the 10th anniversary of the multiple Emmy Award-winning Bluegrass Underground series on PBS. To be in attendance at the 3-day live taping event is a music lover's ultimate experience. The milestone Season X will premiere in the fall of 2020 on PBS stations nationwide.
"It's amazing that Bluegrass Underground is the second-longest music series on American Public Television," says Todd Mayo, Bluegrass Underground creator and co-producer. "And we look forward to the next 10 years of partnering with PBS in presenting the quality and diversity of roots music from one of the most iconic music destinations in the world, The Caverns in Grundy County, Tennessee."
Three-Day & Single-Day Tickets go on sale on Friday, November 22 at 11 am CT at TheCaverns.com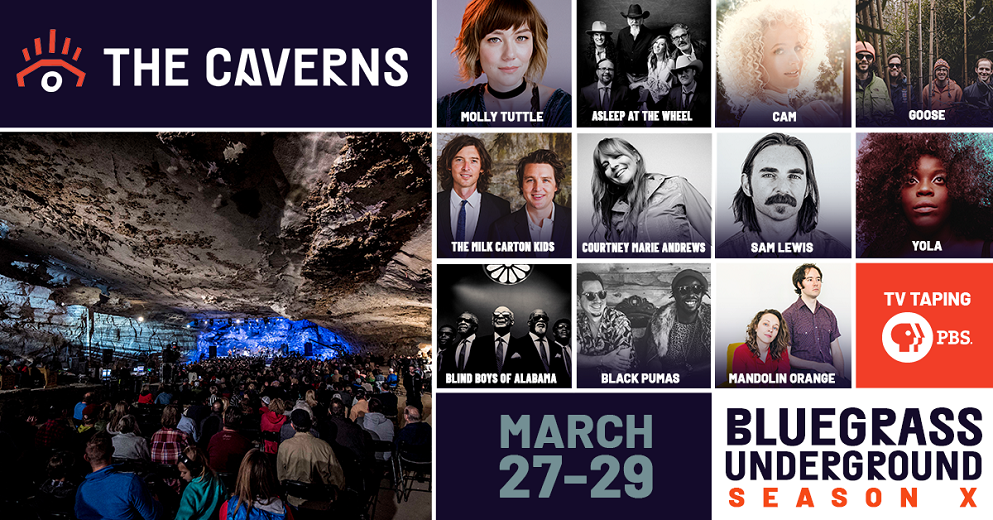 Here's the lineup for Bluegrass Underground Season X PBS TV Taping in The Caverns:
March 27:
● Molly Tuttle: An artist on the leading edge of bluegrass music, steeped in tradition while driving the genre forward in today's musical landscape.
● Goose: This New England band's mix of rock, funk, tropical grooves and extended jams will turn The Caverns into a subterranean dance party.
● Cam: From a GRAMMY nomination to headlining the Ryman Auditorium, this multi-platinum country singer-songwriter is a force to be reckoned with.
● Asleep at the Wheel: Ray Benson has now been leading a Western Swing band longer than Bob Wills, and he brings his iconic group to The Caverns for their 50th Anniversary Tour. Historic.
March 28:
● Sam Lewis: Best-known for touring and collaborating with Chris Stapleton (who helped inaugurate Bluegrass Underground in 2008), this singer-songwriter is one of the defining talents of modern Americana.
● Courtney Marie Andrews: Powerful vocals, passionate songs from one of today's finest singer-songwriters.
● The Milk Carton Kids: One of Americana's best live acts, the duo of singer/guitarists Kenneth Pattengale and Joey Ryan combine close harmonies, wonderful original songs and humor.
● TBA: Bluegrass Underground will be announcing the day's fourth artist in coming weeks. Who doesn't love a surprise?
March 29:
● Blind Boys of Alabama: A rousing Sunday in The Caverns with the five-time GRAMMY Award-winning gospel group that helped create the genre.
● Black Pumas: Austin, Texas is known for its dynamic live music scene. Black Pumas are the city's leading soul/funk band. Enough said.
● Yola: Demolishing genre with her evocative voice and debut record Walk Through Fire, Yola establishes herself as the Queen of Country Soul from the very first note.
● Mandolin Orange: Intimate and emotional, the music of multi-instrumental duo Emily Frantz and songwriter Andrew Marlin draws you into their world with a sound that floats like a butterfly, but speaks to the heart.
---
While the national festival season remains in hibernation, Bluegrass Underground and The Caverns will welcome spring to the rolling hills of Tennessee with its unique, world-renowned combination of top artists, award-winning sound and lighting production, and breathtaking natural beauty, creating an underground festival experience like none other. Bluegrass Underground events feature a clean and comfortable, fan-friendly environment, complete with high-quality concessions and beverage offerings, including craft beers.
Tickets & travel packages and Stay-and-Cave hotel packages make for a perfect and easy getaway weekend. Packages include the best seats to all tapings, lodging accommodations for two, transportation to and from the venue, food, and commemorative merchandise. There is no better way to experience the Bluegrass Underground tapings than a Stay-and-Cave package. Packages and tickets will go on sale on Friday, November 22nd at 11am central at TheCaverns.com
Bluegrass Underground is underwritten on PBS by Tennessee Tourism and by Grundy County, Tennessee. The 12-episode series is presented to PBS nationally in partnership with WCTE in Cookeville, Tennessee, which serves the Upper Cumberland and Middle Tennessee.