Barely three minutes into the brand new documentary, Linda Ronstadt: The Sound of My Voice, the viewer is already presented with none other than Dolly Parton, who exclaims, "Linda could literally sing anything." 
Over the course of her singular, era-defining career Ronstadt did sing almost anything — from The Pirates of Penzance to American standards to Mexican folk songs — but she's rarely referenced in the same breath as bluegrass. The BGS x Linda Ronstadt history notwithstanding, it's understanding that the twain rarely meet, in conversation and consideration. Of her most easily recognizable hits, among them "Willin'," "You're No Good," and "Desperado," perhaps "Blue Bayou" is the closest to bluegrass — and in its Ronstadt iteration, less so than in other covers of the languid ballad. 
Scratch the surface, though, no matter how slightly, and her bluegrass cred runs deep. This should come as no surprise, given her immaculate performances alongside Dolly Parton and Emmylou Harris on Trio and Trio II — the first song the three sang together, informally, at Harris's house in L.A. was "Bury Me Beneath the Willow." The Sound of My Voice digs a little deeper still, reminding that Ronstadt's very first hit, "Different Drum," recorded with folk-rock trio the Stone Poneys, was discovered by Ronstadt, who first heard the song from a now almost-forgotten bluegrass band, the Greenbriar Boys. 
Elsewhere in the film, Ronstadt mentions that during her early days in the city she frequented Los Angeles' The Ash Grove, the foremost folk and bluegrass venue there in the '60s and '70s. She also made appearances and recorded with the Seldom Scene, and remained close friends and musical confidantes with John Starling. One of the last studio recordings Ronstadt ever released was a duet of the Hazel Dickens and Alice Gerrard classic, "Pretty Bird" with bluegrass legend Laurie Lewis. The track was released on Ronstadt's Duets project as well as Lewis's The Hazel and Alice Sessions and the pair worked together prior, as well, performing as "The Bluebirds" with Maria Muldaur at Wintergrass Music Festival in 2005.
The bluegrass tendrils are there, undeniably, woven alongside so many other influences and inspirations and impressions that informed Ronstadt's art. Still, it was surprising to this writer to find that in June 1996 Bluegrass Unlimited, the foremost and longest-running print publication dedicated solely to bluegrass music, had featured a lengthy, in-depth interview with Linda Ronstadt herself. Even by author Dan Mazer's own admission, "Ms. Ronstadt's bluegrass/country connection is tenuous at best." And yet, for nearly five thousand words, the article displays that Ronstadt isn't just tangentially connected to bluegrass, it is a permanent part of her musical self. 
In honor of the new documentary film, and in appreciation of this connection to bluegrass — and in an attempt to shout it from the proverbial rooftops! — we're reprinting Dan Mazer's interview with Ronstadt exactly how it appeared in 1996, split into two parts, but in its entirety on BGS. Special thanks to the team at Bluegrass Unlimited for partnering with BGS to spotlight how bluegrass has touched one of the most important and truly iconic voices to ever grace this planet. — Justin Hiltner, BGS Associate Editor
(Read part two of "Linda Ronstadt Talks Bluegrass" here.)
"Linda Ronstadt Talks Bluegrass"
By Dan Mazer. Bluegrass Unlimited, June 1996
While preparing an article on the influence of bluegrass on today's country music, I had the opportunity to interview several prominent country stars. During discussions with Bluegrass Unlimited's editorial staff about artists to interview, the name Linda Ronstadt came up. 
Linda Ronstadt? It seemed an odd choice at first. Ms. Ronstadt has had a long and varied career, and while her forays into bluegrass with the Seldom Scene have been recognized and celebrated within the bluegrass community, as an artist, she just didn't seem to fit in with the likes of Marty Stuart, Hal Ketchum, and Patty Loveless. On the other hand, her classic recordings of "Blue Bayou," "Silver Threads and Golden Needles" and "When Will I Be Loved?" are still copied by country music cover bands some 20 years after their release. Some of her work as also been covered by bluegrass artists. 
Because Ms. Ronstadt's bluegrass/country connection is tenuous at best (especially in recent years, when her recordings have featured opera, Big Band and Mexican music), it was with little hope that I sent an interview request to Ms. Ronstadt's publicist. To my surprise and delight, the request as answered quickly with a call from the publicist to set an appointment for a telephone interview. Ms. Ronstadt called me from her home in Los Angeles, and graciously granted me a significantly longer interview than we had arranged – that was just because the conversation was so interesting and enjoyable! She is remarkably well-spoken, intelligent and passionate. In the end, we decided not to include Ms. Ronstadt's remarks in the profile of country artists with bluegrass roots. 
Ms. Ronstadt grew up in Tuscon, Ariz. Her family listened to a broad variety of music on the radio. Opera, country, rock 'n' roll, and jazz filled the house. Some radio shows also featured bluegrass. "We were right in the pat of XERF, Del Rio, Tex," she said. "And we (had) the Louisiana Hayride. We were right there, where there was a lot of big transmitters, and not a lot of interference. So I heard (bluegrass) when I was little, growing up.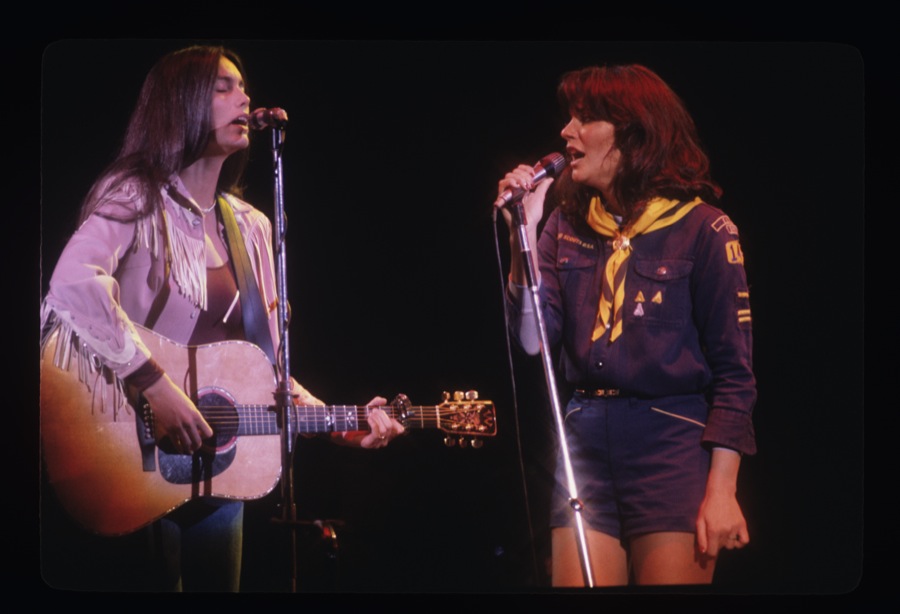 "When we were kids just listening to stuff on the radio, we tried to sing it. My brother and sister and I could always harmonize real early. So we used to sing the stuff we heard on the radio. We heard Bill Monroe, and we heard Flatt and Scruggs, we heard Homer and Jethro doing a sendup of 'Don't Let The Stars Get In Your Eyes.' I had such a cross-section! And then, when I was in high school, I think it really intensified.
"I've always been interested in harmony. I've always been a harmony singer. When I was a real little child, I could sing harmony. I'm always surprised when children say, when they're three, that they can't. But all my brothers and sisters could, real early. I could hear strange harmonies, too. But I understood Mexican harmonies better, and they have a tendency to be very, very clear kind of parallel thirds."
(Author's Note: "Parallel thirds" refers to what, in bluegrass, corresponds to the lead and tenor part singing close harmony at the interval called a "third." Brother duets also feature this harmony.) 
As an artist, Ronstadt doesn't feel authentically connected to bluegrass. "I feel that I would have had to live in the rural south, and grow up in the mountains," she said. "There's just such a difference between mountain South and plantation South. Culturally and musically."
Since she grew up near the Mexican border, and her father is Mexican, Ronstadt mostly sang Mexican music as a child. "There's a great deal of similarities (between bluegrass and Mexican music)," she noted. "One of them is that the three-part harmony stuff that we sang a lot is Mexican mountain music, and it's country music. The music of an agrarian lifestyle is what I've always been most attracted to. I love it, and having grown up in a kind of isolated, rural setting, it was something that reflected what I was witnessing around me. 
"I've always had an ear for any kind of a thrilling, wild, high tenor. And again, in Mexican music, there's a loose parallel, especially up in the mountains, where they sing real high in this falsetto, in the huapango style.
"The language and the pronunciation of the language – whatever the rural accent is – influences the style of singing and the vocal intonation so profoundly! With bluegrass music it was those ways of pronouncing 16th Century English, probably, frozen in those mountains. But in Mexico, of course, it was the indigenous language of nahuatl, which was what was mostly spoken there, which gave the pronunciation and forced the tonality into that nasal thing. 
"Also, having to communicate across long distances, you get a real high, ringing (tone). Men get a lot of power out of that high register; way more than women do, which is why – having absolutely nothing to do with sexism –I feel that bluegrass is very wonderful when it's three male voices. Mariachi music, also (is an example), which is from a different region (Jalisco). But when all those male voices are singing up in the high register, it's a different sound from a woman's voice singing up in a more comfortable register. I can sing bluegrass tenor pretty well, but it doesn't quite have the power that it will ever have from a man forcing himself up way high in that register. It just doesn't have the same dynamic. It's still good. I call it 'pink grass.'"
Until recently, bluegrass has been almost entirely a male reserve. Ronstadt feels that there is good reason for that, although, as she pointed out, "There was old-time music before that, which of course, happily embraced women singers. But I still think it was just that thrilling sound of those male voices in two- and three-part harmony, pushed way, way up high, that really gave it a very distinctive characteristic. And it's pretty hard to compromise that, regardless of your sexual politics, without making it into something different. 
"There are women singers today that have what I think (are) very, very good, and very authentic-sounding bluegrass voices. I think Claire Lynch has a wonderful voice. I love her singing! And those girls that sing with Alison Krauss; the Cox Family. But it's hard to say. Where do you draw the line? Is that bluegrass, or is that old-time? I think that's a combination; both things." 
When thinking of acts that embrace and also expand bluegrass, the Seldom Scene immediately comes to mind. Many people argue with some justification that the inclusion of a banjo defines an act as a bluegrass band. Bill Monroe, Flatt and Scruggs, Reno and Smiley and the Stanley Brothers all performed certain songs (usually gospel numbers) without the banjo, but the Seldom Scene broke new ground with their unprecedented, mellow guitar-based sound. Furthermore, because Ben Eldridge's banjo playing is unparalleled for taste and restraint, the Seldom Scene can be mellow even on tunes that include the banjo. They also distinguished themselves by using Linda Ronstadt as a backup vocalist on some of their earlier recordings. They remain her favorite bluegrass band. 
"They really are an urban band with very, very strong rural influences," she said. "They had all the benefit of a sophisticated, cosmopolitan atmosphere, which Washington, D.C., certainly is, and they were able to refine in any direction they wanted to. I really think they made an extraordinary synthesis. I love that band; I always have.
"Mike (Auldridge) is such a unique player. Nobody sounds like him. He's got that real beautiful, lyrical, velvet thing that happens, but it's still got plenty of strength and guts behind it. There are more famous Dobro [resonator guitar] players than that, but I like him the best and I always call him when I want a Dobro [resonator guitar] player.
"John Starling is an exceptional singer, and has a wonderful sense of the groove. He's a very, very fine guitar player. Emmylou Harris and I both spent so many hours and hours and nights and nights and months and months with him, way on into the night, just grooving on that sound and exploring it! He's given us a wealth of something. It's hard to define. But just having that superb musicianship to lean on, and the focus of his sensibility, which is very keen and very well-developed in that direction. 
"I remember getting snowed in at John Starling's house with Lowell George, and Emmy, and Ricky Skaggs (in 1974 or 1975). Fayssoux Starling was there, who was a good singer. And we sang forever! I mean, we sang all night, and they were there for three days. I was sick, so i was there for a month, they were there for three days, and in that time, Ricky Skaggs taught me a whole lot about how to sing bluegrass harmony. I knew a little bit about it, but he really showed me how the suspensions worked, and it helped me to refine it a lot. I understood (the suspensions), but didn't know quite how to really imply them. He Walked me through 'em, and after that, I had 'em."
(Author's Note: "Suspensions" is a musical term referring to creating tension in a chord by sounding a not that is not in the chord, and then releasing that tension by lowering the dissonant note. For example, a guitarist will sometimes play a "D" chord and add a high "G" note on the third fret of the first string for one measure, then release that fret, so that the "F#" note rings.)
Ronstadt is surprised that she is sometimes cited within country music. "I was never a country singer," she stated. "I never thought of myself as a country singer. Always very surprised if anybody else did. I was a pop music singer, and I used various root forms that were acceptable to me, and that was one of the things that was readily acceptable to me. 
"I've always had a little rule about my singing. If it wasn't there in the living room by the time I was eight years old, it generally won't be very successful if I take a swing at it, at least to my standards. But thanks to the radio, there was a lot of stuff in play by the time I was eight. And thanks to the fact that my family has very eclectic kind of taste, anyway. 
"So, when I came into pop music, I played songs that I loved. I didn't care whether they were written by George Gershwin or Hank Williams. A song that would really inspire me for one reason or another, I'd try to sing it. And I'd always try to put it into its appropriate setting. So if it (was) a bluegrass song, I'd try to put it in that kind of setting, and I knew enough about the mechanics of how it worked, so that I would do that. Then there were these singers and players that I really admired, and tried to emulate. But that thrilling high tenor sound, there's just nothing like it." 
The closest Ronstadt has come to recording bluegrass in recent years was on the "Trio" album, which featured her along with Dolly Parton and Emmylou Harris. A follow-up recording was eagerly anticipated, but never materialized. "The 'Trio' record became so difficult, schedule-wise, that we all gave up," she said. "But Emmy and I did quite a lot of singing together. We had a great time! See, Emmy and I started out with this idea to do a record together, where we would use some guest artists. And we sort of progressed down that road, but it never got to where everybody would agree on a release date. Everybody did agree at some point, but the people kept changin' their minds.
"But Emmy and I really are kind of locked on to each other musically. Emmy and I have sung some stuff together that's gonna be on my record; Emmy and I have sung some stuff together that's gonna be on her record. And we also did some stuff with Valerie Carter, who's just a great singer." 
Ronstadt's bluegrass influence is definitely shown in her current release.
(Read part two of "Linda Ronstadt Talks Bluegrass" here.)
---
Photos courtesy of Shore Fire Media
Article appears courtesy of Bluegrass Unlimited