At this point, you know the routine. We say something like, "LOL, remember when we used to get off our asses?" Then we pause. Then we say, "NOT ANYMORE!"
Stay on your ass, okay? We've got plenty of musical time-fillers for you while you do, including the debut episode of Whiskey Sour Happy Hour, a livestream show from our friends at Music City Roots coming out of a long hibernation, and much more.
Did we miss something that's helping you stay on your ass this week? (We probably did.) Let us know in the comments and on social media!
Whiskey Sour Happy Hour, Episode 1
After technical difficulties gave us a somewhat rocky start last night, Whiskey Sour Happy Hour's debut episode was a smashing success! A surprise appearance from comedian Jenny Slate, Ed sang three-part harmony with himself on "Ocean of Diamonds," Watkins Family Hour played through a window pane — if you missed it, you missed a joyous hour and fifteen minutes of quarantine bliss.
Good news. You can watch the entire thing on YouTube! So no cryin' over spilt whiskey sour, get watchin' — and get DONATING at this link.
---
Free Dirt Records Revue, April 25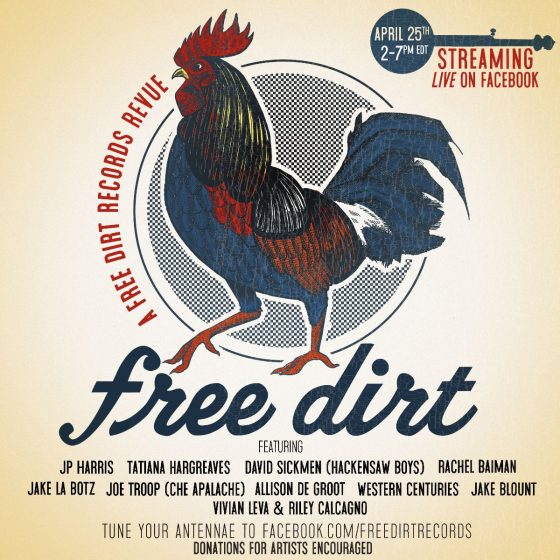 Ardent BGS fans will recognize many of the artists on Free Dirt Records' Revue lineup, given almost all of them have found themselves within the wordpress "pages" of the Bluegrass Situation over the years. Tune in on Free Dirt's Facebook page on April 25, 2-7pm EDT for some of the best of folk, bluegrass, Americana, string band, country, and beyond. Your donations will directly support the out-of-work creators on the lineup.
And, you can read along on BGS while you watch! We've got articles and content on Allison de Groot & Tatiana Hargreaves; JP Harris; Rachel Baiman; Jake Blount; Western Centuries; Che Apalache; and plenty more, too.
---
Marcus Mumford: "You'll Never Walk Alone" (Tonight Show: At Home Edition)
It has been truly remarkable to see the efforts of artists all around the world during this unusual time in history. Marcus Mumford was recently featured on Jimmy Fallon's adapted Tonight Show: At Home, singing a masterpiece from a legendary songbook. Paying homage to two of the greatest composers to ever write for theater and film, Mumford performs a softened rendition of "You'll Never Walk Alone," a selection that he recently recorded for television.
In classic Mumford fashion, the performance grows from a delicate melody into an earnest decree, offering hope and comfort. Jimmy Fallon and co. are hosting a slew of performances such as this on the Tonight Show, which has been continuing with a new, socially distant M.O. With all this time to Stay On Your Ass, it's nice to see regularly programmed content is taking strides to not only keep us entertained, but to do so in a socially responsible manner.
---
The Milk Carton Kids' Sad Songs Comedy Hour
Joey and Kenneth of the Milk Carton Kids take their dry, wry, sly style of music and wit to the internet with their formerly brick-and-mortared show, Sad Songs Comedy Hour. Episodes have featured, yes, Sarah Jarosz, as well as Mythbusters' Adam Savage, Sara Bareilles, Cecile McLorin Salvant, and others.
Each episode will champion a different charity, chosen by each week's guest artist. Watch them all and give at sadsongscomedyhour.com.
---
Music City Roots Live from Quarantine, April 23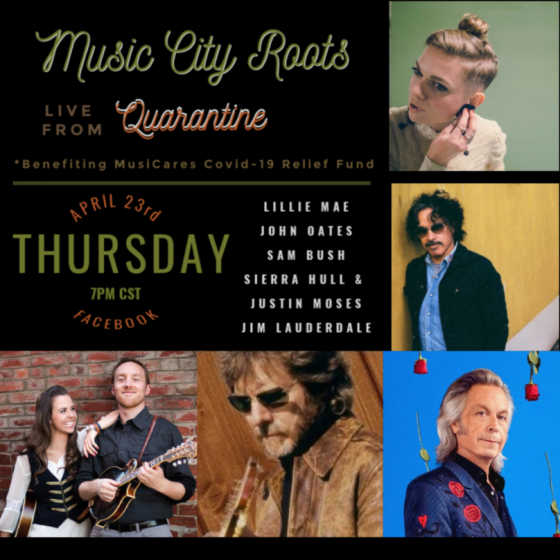 If you've been missing Music City Roots as much as we have, here's a true silver lining from this COVID-19 crisis: MCR is back! Their online version of the popular Nashville radio show and weekly gathering — which had been on hold for months as they searched for their new soon-to-be home at Madison Station — will debut tonight, April 23, on YouTube, right here. Also raising money for MusiCares' COVID-19 Relief Fund, the bill features some folk, country, and bluegrass clout.
We have read along links for MCR, too! Sam Bush; Jim Lauderdale; Sierra Hull & Justin Moses; John Oates; and Lillie Mae, too.
---
Justin Hiltner and Jonny Therrien contributed to this article.