"Food, like a concert, is never the same experience twice," Chef Edward Lee told me during our interview back in October 2018. "You can't remove the human element from either." 
Back at the end of March of this year, about two weeks into the nationwide shutdown, we re-released Chef Lee's episode to highlight the work he has been doing through the Restaurant Workers Relief Program and the Lee Initiative to feed and raise funds for out-of-work restaurant workers all over the country. The human element was removed from both the restaurant and concert industry in a way that no one could have predicted just three weeks earlier. 
The Shift List was created to explore the creative relationship that chefs have with music, and to that end, the unique experience and vibe they provide to diners at their restaurants. Over two seasons as host and producer of the show, I've been fortunate to speak to thirty chefs in four countries and a dozen world-class cities, including London, Copenhagen, Montreal, and my hometown of Los Angeles. It was a privilege to eat their food in the restaurants that they built. 
There's a lot of uncertainty around when we'll all be able to eat out at restaurants freely, the way we used to, so for now, The Shift List will conclude its 30-episode run and serve as a time capsule for an experience that we never knew we were taking for granted. 
To commemorate this, I've selected five episodes to help inspire your own cooking playlists, and have included a few of my personal favorite discoveries from the show that always set a great tone when I want to focus on cooking at home. A special 'Best of The Shift List' playlist is up now over on our BGS Spotify page. — Chris Jacobs, host
Ashleigh Shanti (Benne On Eagle) – Asheville, NC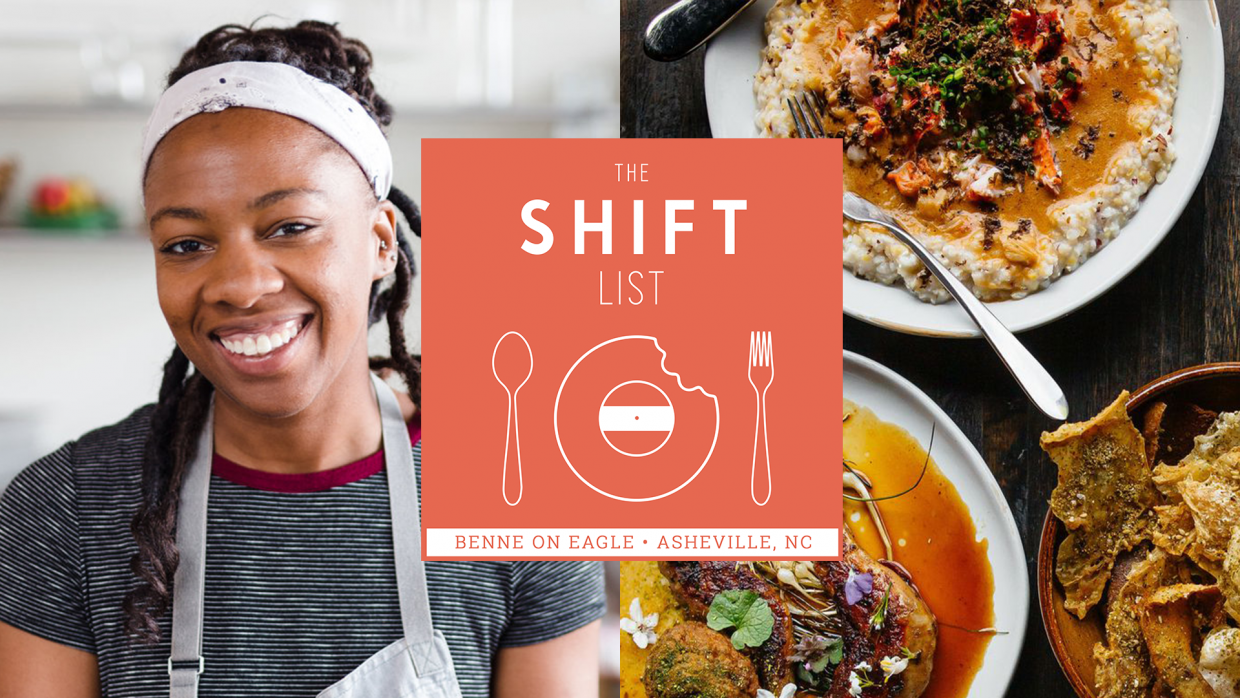 LISTEN: APPLE PODCASTS • SPOTIFY • STITCHER • MP3
If Chef Ashleigh Shanti weren't running the kitchen at Benne On Eagle, a restaurant that pays homage to the rich African American culinary traditions that once thrived in an Asheville neighborhood known as The Block, she'd like to try her hand at being a rapper. Her Shift List included A Tribe Called Quest, Kendrick Lamar, and plenty of Pharrell Williams.
Favorite tracks: 
A Tribe Called Quest – "Check The Rhime" 

Nina Simone – "My Baby Just Cares For Me" 

Kendrick Lamar – "DNA" 

The Neptunes – "Frontin' (Feat. Jay Z)"
---
Tom Harris (The Marksman Pub, St John) – London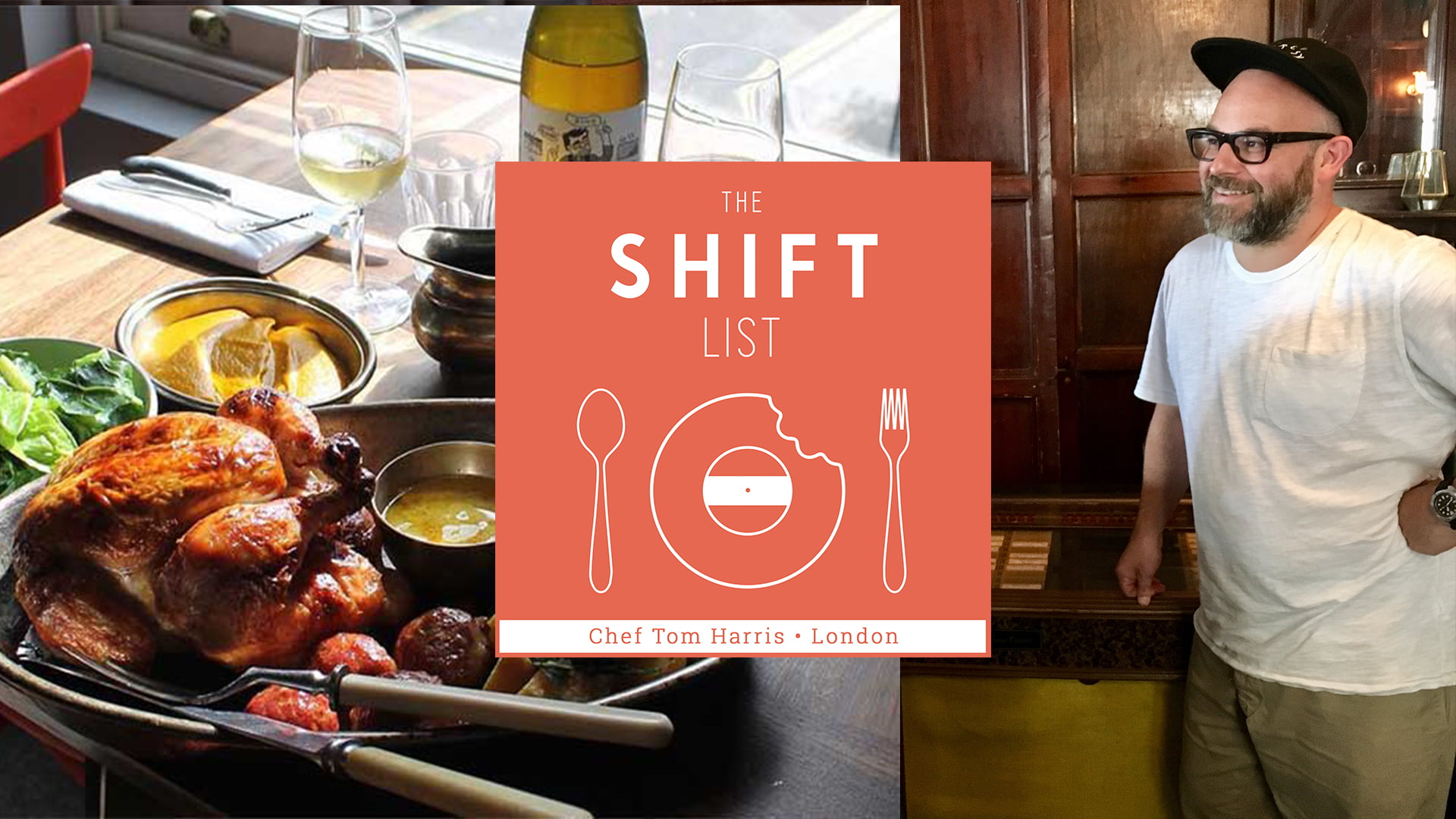 LISTEN: APPLE PODCASTS • STITCHER • MP3
Chef Tom Harris explained what a proper English pub is, threw down some amazing jazz/funk/Afrobeat playlists (including Fela Kuti, Roy Ayers, and James Brown), and explained why recipes should be described in musical terms.
Favorite tracks:
Fela Kuti – "Mr. Follow Follow" 

Johnny "Hammond" Smith – "Shifting Gears" 

Moses Boyd – "Rye Lane Shuffle" 

The English Beat – "Mirror In The Bathroom" 
---
Jessica Largey (formerly Manresa, Providence, Simone) – Los Angeles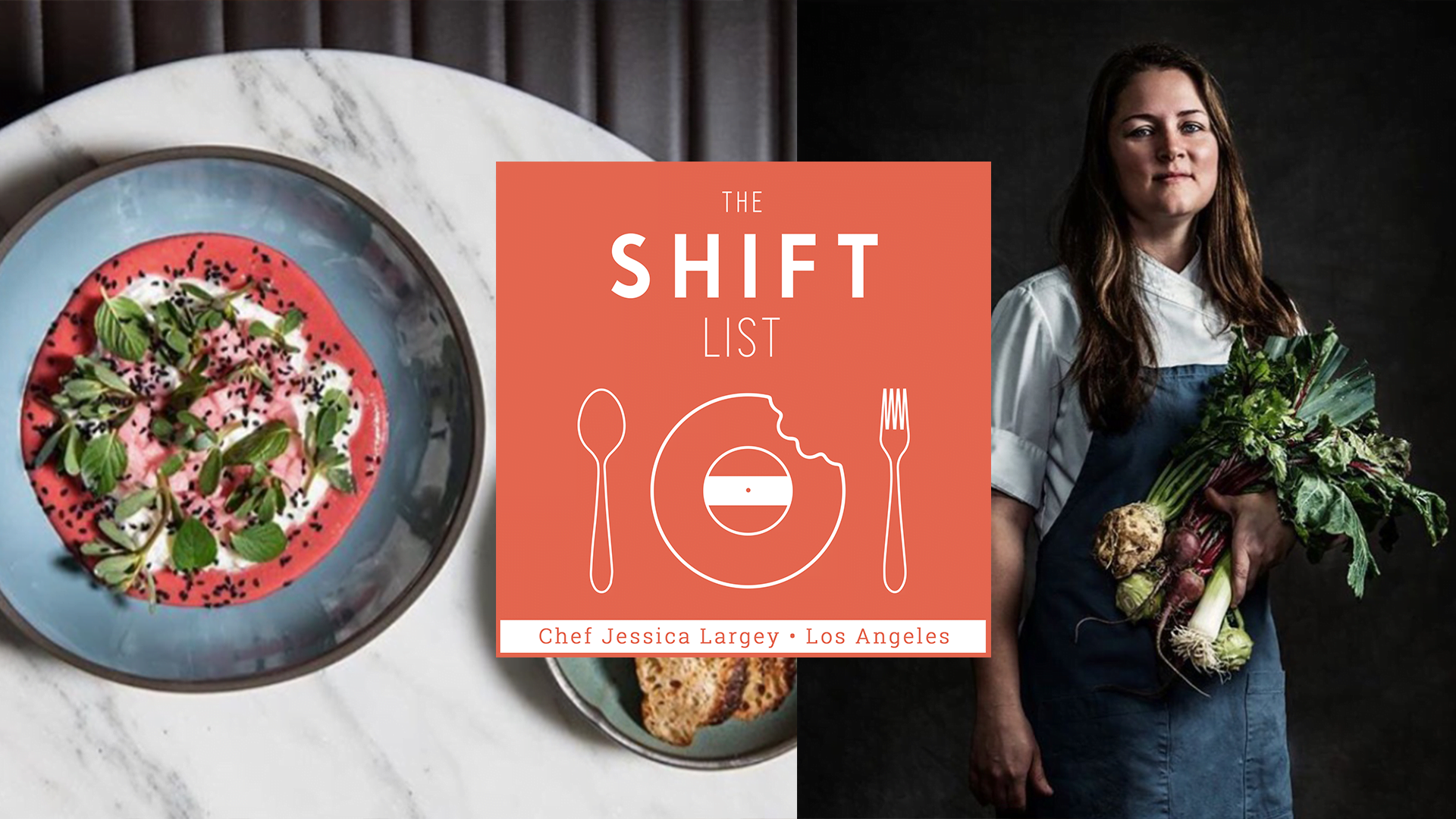 LISTEN: APPLE PODCASTS • STITCHER • MP3
Chef Jessica Largey's Shift List included The Clash, David Bowie, and Neko Case. In her episode she reveals why Nina Simone was the namesake of the DTLA restaurant she helmed for a year in 2018.
Favorite tracks:
Shakey Graves – "Dearly Departed" 

Ben Sollee – "Mechanical Advantage" 

David Bowie – "Golden Years" 

Gap Band – "Outstanding" 
---
Miles Thompson (formerly Michael's Santa Monica) – Santa Monica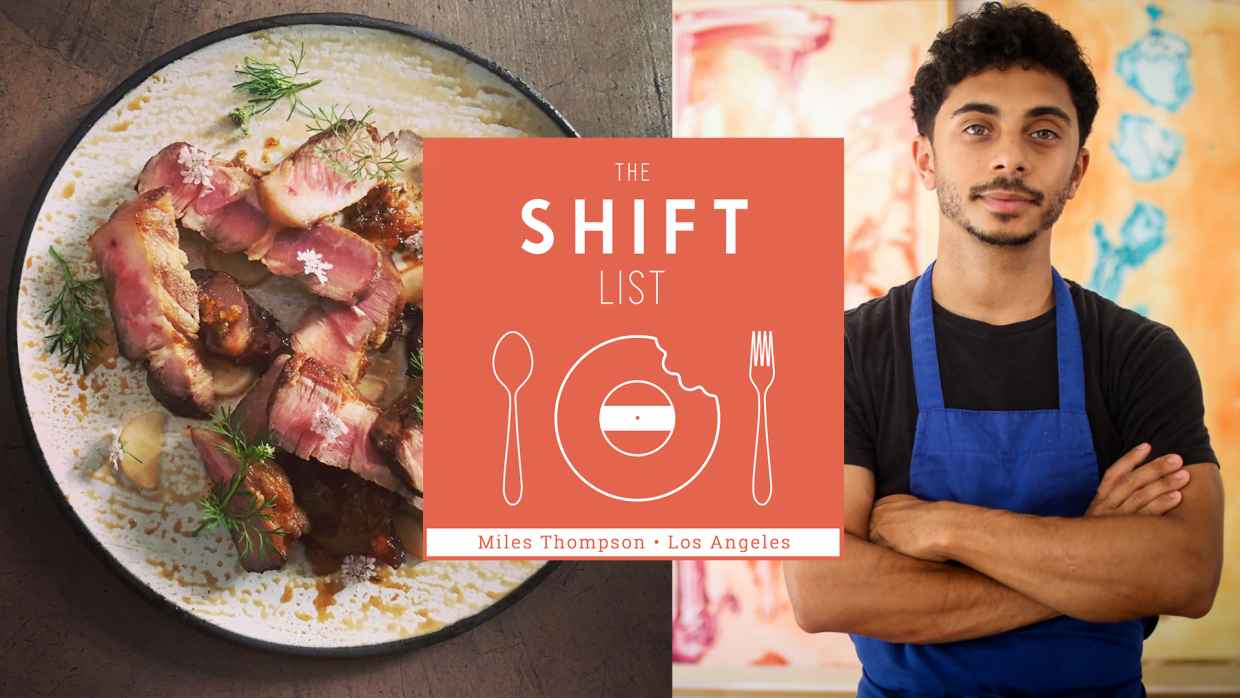 LISTEN: APPLE PODCASTS • STITCHER • MP3
When Chef Miles Thompson describes food, it sounds like jazz – "salt, umami, acid, sugar, spice, crunch!" His Shift List included the trippy guitar stylings of Bill Frisell, the rootsy wanderings of Jason Isbell, and classical suites from the likes of Debussy and Isaac Albéniz.
Favorite tracks:
Bill Frisell – "Telstar" 

Bill Frisell – "Del Close" 

Agustiín Barrios Mangoré – "Julia Florida"

The Beatles – "Savoy Truffle" 
---
Matt Orlando (Amass, noma, Per Se) – Copenhagen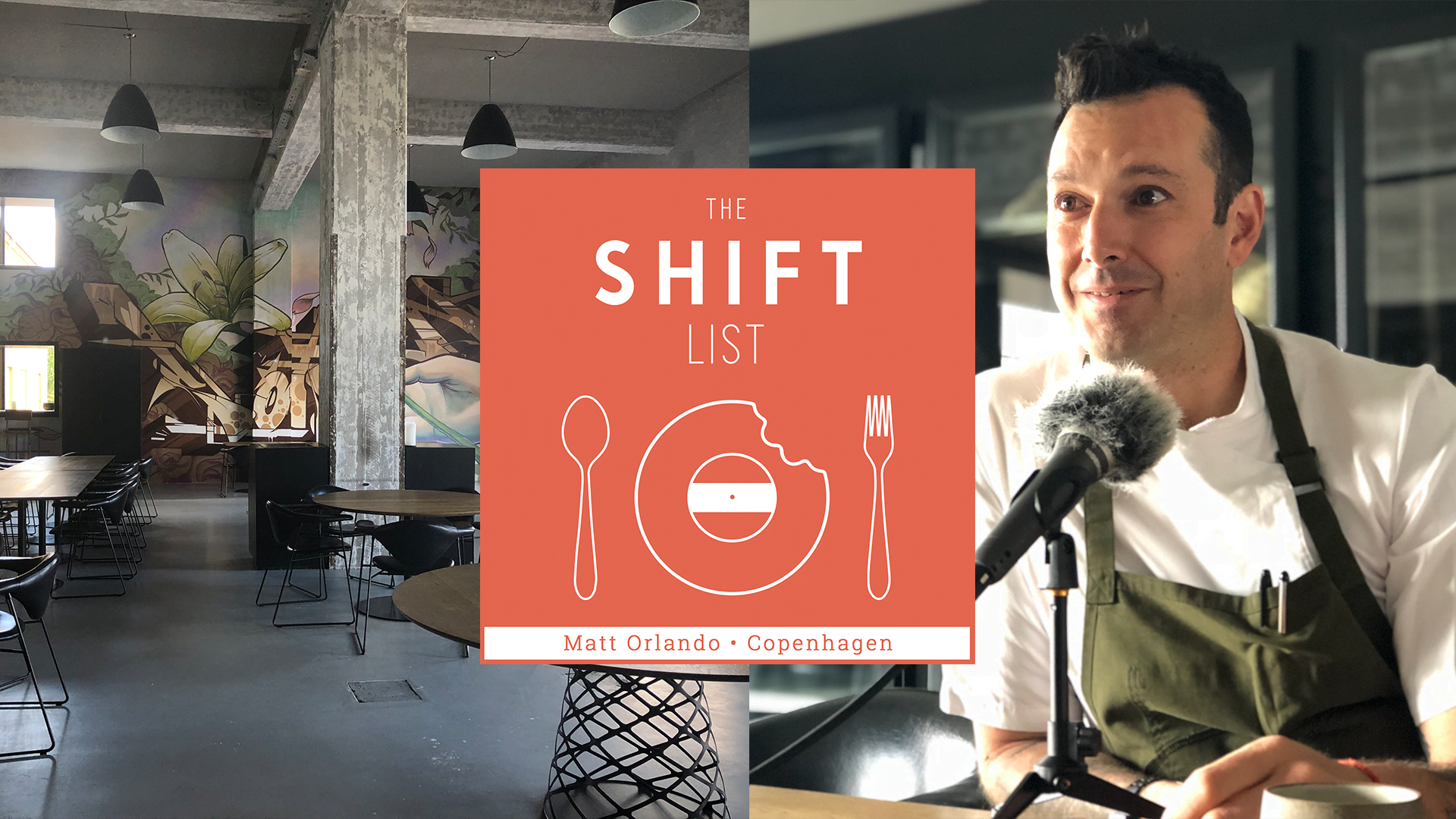 LISTEN: APPLE PODCASTS • STITCHER • MP3
Chef Matt Orlando's Amass restaurant in Copenhagen is a fine dining establishment located in a sprawling industrial warehouse that is covered in graffiti and proudly blasts obscure and "sometimes aggressive" hip hop. His Shift List included Bay Area legends Hieroglyphics, plenty of Wu Tang Clan, and some obscure Scottish reggae music to round it all out.
Favorite Tracks: 
Hieroglyphics – 3rd Eye Vision (Note: this is the entire album. Just let it run. There is no better music to cook to!)
---